Capitalism Isn't The Reason We're Unhappy – OpEd
Many critics of capitalism have given up trying to claim capitalism makes people poorer. Faced with so many obvious gains in the standard of living, and in reducing poverty worldwide, markets have won the economic debate over whether or not capitalism is the path to material riches.
But the doctrinaire anti-capitalists have other strategies. They've now branched out into blaming capitalism for a host of other social, ecological, and psychological ills.
Sometimes, the tactic is to blame capitalism for destroying the earth. Other times, it's to claim that capitalism, in spite of the material plenty it delivers, makes us miserable.
For example, George Monbiot, columnist at The Guardian blames pro-capitalist ideology for making people, sad, lonely, and unhealthy. Writers cite polls claiming people in richer countries — i.e., more capitalistic ones — are more miserable than people elsewhere. Holly Baxter at The Independent suggests capitalism is the reason elderly people are now so lonely and isolated: capitalism makes us more concerned with buying things than with visiting poor, dying Aunt Ethel.
Claim: Capitalism Wants Us to Be Sad, Needy Consumers
And it's all by design, it seems. According to Monbiot and other critics of "neoliberalism" — by which they just mean anything resembling a market system — the capitalist ideology is designed to isolate us, and turn us into soulless consumers. This then paves the way for an endless cycle of misery and consumption.
For a more academic phrasing of this idea, we could consult Ankita Singh's article "Capitalism, Consumerism, and Popular Culture" which examines how capitalism creates a downward cycle of despair. This persistent unhappiness, Singh explains, "is caused [by] the sense of alienation one feels in today's urban corporate culture." Consequently, consumers attempt to "compensate" for their capitalism-caused "emptiness" by "indulg[ing] in inanimate objects offered by the consumerist culture."
At this point, all that is left for the capitalists to do is to tell us what products to buy. And fortunately for the capitalists, Singh tells us: "The power of advertising is such that it can create a demand where none exists, of a commodity which is not needed."1
Much of this general concept can be traced back to Marxist psychologist Erich Fromm, who in Escape from Freedom (1941) wrote:
In capitalism economic activity, success, material gains, become ends in themselves. It becomes man's fate to contribute to the growth of the economic system, to amass capital, not for purposes of his own happiness or salvation, but as an end in itself.
That is, through capitalism and its propagandists (i.e., advertisers) human beings are reduced to "a cog in the vast economic machine" who no longer pursues his own happiness, but only serves the interests of "capitalism."
There are a couple of problems with this theory, though.
One is that a capitalist economy does not rely on endless consumption to sustain itself. The second is that advertising doesn't work the way many assume it does.
Capitalism Doesn't Cause Consumerism
For starters, it is not the case that the capitalist system is built on consumption or that it requires us to mortgage our future in order to buy ever-larger amounts of consumer goods. After all, it is for a good reason that capitalism has historically been much associated with misers — the quintessential literary example being Ebenezer Scrooge — who shunned consumerism. Saving (i.e., deferred spending) is every bit as essential to capitalism as is consumption. It is governments and their central banks, not markets, that seek to maximize consumption always and everywhere.
Moreover, saving and investment are key ingredients in increasing wages, growing the capital stock, and increasing future consumption. In a market economy, many firms, such as retirement funds and banks, directly profit from more saving and investment.
Spending every last dime on another trinket or bauble is not a recipe for robust capitalism.
How Advertisers Are Supposedly Making Us Miserable
At this point, the purveyor of the capitalism-makes-you-sad theory could still insist: "sure, maybe capitalism overall doesn't require us to relentlessly consume. But certainly there's a portion of the capitalist system, such as toy sellers and auto makers, who need us to consume. And to get us to do so, they use advertising designed to keep us hoping we can fill that hole in our souls with just one more trip to the mall."
There's a (small) kernel of truth to this. Many capitalists do indeed want us to buy consumer goods, without much regard to the consequences to each consumer personally. In hopes of getting us to spend, they employ advertising. And advertising often promotes feelings of inadequacy to get us to consume more.
This particular kind of advertising was developed at least as early as the nineteenth century. It was then perfected in the 1920s.
Typical examples of the formula include:
Why be ugly … when you can use Zenith Cold Cream?
Why be fat … when you can take Acme Diet Pills?
This formula was so widespread by the 1920s and 1930s, in fact, that Sigmund Freud joked the "boldest and most successful piece of American publicity" would be an ad using the phrase "Why live if you can be buried for ten dollars?"2
Nowadays, a lot of modern advertising is more nuanced and less in-your-face than this formula. Modern advertising often appeals to humor. Nevertheless, advertisers nowadays still rely on the strategy of presenting consumption as a sort of self-improvement. They offer a glimpse of a life of better looking people, more luxurious cars, and more fulfilling friendships. It's the life you might have if you only consume the right products and services.
But do people actually believe what advertisers tell them?
Clearly, people don't buy everything advertisers tell them to. If they did, as Ludwig von Mises noted, candle makers could convince us to abandon light bulbs with a few ad campaigns.
Indeed, studies conducted to determine the effectiveness of ads have never been conclusive. A 1931 consumer survey revealed the "only 5 percent of the public believed any of the more obviously outrageous claims made by ads." Only 37 percent believed any ads at all.3
A 2013 survey concluded only 21 percent of consumers agreed "ads are somewhat accurate." 21 percent also said they will even "refuse to purchase products due to brand advertising."
Some might claim this is only survey data, and thus questionable. But then there are countless cases in which ad campaigns failed to achieve results. A 2015 study from the University of Texas, for example, showed alcohol ads have increased 400 percent over the past forty years. Meanwhile, per capita alcohol consumption has gone down. Yes, advertising can be helpful in promoting a certain brand. But it hasn't been shown to increase a person's overall spending.
So, it seems people don't spend more just because capitalists tell them to. And its unclear that many even believe what ads have to say. If this is the case, it's hard to see how "capitalism" has succeeded in its nefarious plan to make us miserable consumers, assuaging our loneliness with another round of mindless spending.
Are We More Miserable than Our Forebears?
In spite of the unconvincing reasoning behind the capitalism-makes-you-sad narrative, many continue to find it plausible. This is largely because many people remain convinced that people were happier — or at least had an easier time — in the past.
Certainly, there's no statistical data to support this. Those happiness measurements we sometimes read about in the popular media (such as this one) are usually based on totally subjective self-reported survey data and offer absolutely no means of comparing the present with the past. Attempts to systematically asses "happiness" in the past were virtually nonexistent.
Quality-of-life indicators reconstructed from the past (such as working hours, living space, life expectancy, and homicide rates) don't often make the era of our grandparents or great-grandparents look especially wonderful. The nineteenth century — an era before modern methods of mass marketing and mass consumption — wasn't an era of carefree indifference to the requirements of daily work and toil. The poverty of the "good old days" was not exactly a source of personal fulfillment and contentment.
But perhaps we need to look deeper into the past?
On this, Murray Rothbard suggests the imagined Golden Age before capitalism existed. It was, according to the myth, an era of "Happy Craftsmen and Happy Peasants" who had a "sense of belonging" and all were "sure of his station in life." No one suspected he ought to be buying a new car or a new bedroom set. No such options were available at all.
Was living in poverty with no access to advertisements or capitalism the real key to happiness? Rothbard is skeptical and notes that people — should they really want to flee capitalism — are largely free to pursue this supposedly happier type of living in communes like the utopians or hippies of old. He concludes:
Not only has almost no one abandoned modern society to return to a happy, integrated life of fixed poverty, but those few intellectuals who did form communal Utopias of one sort or another during the nineteenth century abandoned these attempts very quickly. And perhaps the most conspicuous non withdrawers from society are those very critics who use our modern "alienated" mass communications to denounce modern society.
It's comforting to think there is some time or place in which human beings were not troubled by feelings of unhappiness, emptiness, or inadequacy. It's unclear, however, where or when this place has existed. In the mean time, few seem willing to give up their modern amenities to investigate first-hand.
*About the author: Ryan McMaken (@ryanmcmaken) is a senior editor at the Mises Institute. Send him your article submissions for Mises Wire and The Austrian, but read article guidelines first. Ryan has degrees in economics and political science from the University of Colorado, and was the economist for the Colorado Division of Housing from 2009 to 2014. He is the author of Commie Cowboys: The Bourgeoisie and the Nation-State in the Western Genre.
Source: This article was published by the MISES Institute
Notes:
1. Singh calls to mind a line from the 1999 film Fight Club in which a main character declares modern workers in a capitalistic system are "slaves with white collars. Advertising has us chasing cars and clothes. Working jobs we hate so that we can buy sh-t we don't need."
2. Ann Douglas, Terrible Honesty:Mongrel Manhattan in the 1920s (New York: The Noonday Press, 1995), p. 144.
3. Ibid., p. 68.
Toronto-area rapper blames systemic racism for months of misdiagnosis
TORONTO — When Matthew John Derrick-Huie went to the doctor with chest pain and shortness of breath in 2017, he didn't know he was about to embark on a two-year medical nightmare.
The 24-year-old Canadian rapper who goes by the stage name "John River," told CTV News that he went to the emergency room five times before doctors took him seriously and on that fifth visit, they gave him a spinal tap to test for meningitis.
"I felt I had been trying and pushing so hard with every fibre in my body," he said. "I'm not a quitter. I don't think I'm weak. I don't believe in giving up in any capacity in my life and even for me, I was unbelievably outmatched.
For the next 60 days, River visited family doctors, specialized clinics and emergency rooms as often as 30 times in search for an answer, but failed to find one. Some doctors told him he was suffering from anxiety and depression and prescribed him antidepressants, but he knew that wasn't the issue.
"One physician told me that I was in a depressive state and I just didn't realize," he said.
"I said: 'Respectfully, I lost my house twice when I was 17, my cousin who used to live with us was murdered…with all due respect, if I was going to have an anxious breakdown, I feel like it would've happened already.'"
It wasn't until River's family took to social media that they were able to find a doctor who would take a look at River's case. The doctor soon discovered River's brain was sagging in his skull due to low cerebrospinal fluid levels. The doctor believed River's spinal canal had been leaking since that meningitis test two months prior. Cerebrospinal fluid leaks are a known complication of spinal tap procedures.
"I understand (cerebrospinal fluid) leaks are what some people would call a rarity and a difficult diagnosis, but I don't think that's applicable here," he said.
Rivers questions why doctors didn't follow up with him after the original operation and given him an immediate treatment to fix the leaking.
"They knew they had given the patient a procedure in which you told him: 'For the next two days, you may feel like you want to die.' If you don't proceed with a follow-up procedure, one would have to assume that that patient is still out there."
River required eight months of recovery and also wonders why no one would listen to his pleas for help.
"I absolutely, unequivocally, no doubt, feel that it absolutely had to do with the fact I was a young black man," he said.
River adds that he felt multiple instances of racism as he dealt with health-care providers, including one visit when a nurse accused him of visiting the hospital solely for drugs.
"She said to me: 'I know you are here for drugs, why don't you just tell us which drugs they are and we'll expedite this process,'" he said. "How is it within a two-minute time period (that) you were able to come to the distinction that I either came to your hospital to abuse narcotics or to sell narcotics?"
River said it was only after he spoke publicly about his medical situation on Twitter that other members of the black community reached out to him with similar stories dating as far back as the 1970s.
Dr. Onye Nnorom, a family doctor who works with the University of Toronto to advance the health of black people in Canada, said River's experience in the health-care system is one of many similar stories she's come across.
"I do hear about experiences of racism and I've heard about it not only from my patients, but also from family members (and) from colleagues, so it is certainly a problem," she said. "I think one of the biggest problems is that we're not able to collect data to demonstrate it."
Nnorom adds she's also heard from black patients who've been accused of seeking drugs instead of medical care.
"The (health-care provider) is making assumptions about their appearance and thinking that they're a drug dealer," she said. "That's going to affect the way the health-care provider is able to diagnose and treat the patient.
"From the patient's end, that really makes a person feel like they're not being respected."
Racism within the Canadian health-care system is not only an issue among black Canadians. In 2017, an external review found several Indigenous women had felt pressured into sterilizing themselves immediately after childbirth at a hospital is Saskatchewan.
Additionally, a report concerning the case of Brian Sinclair, who died of a treatable bladder infection in 2008, found emergency staff at a hospital in Winnipeg ignored him for 34 hours because they assumed he was homeless or intoxicated.
In 2018, the Canadian Public Health Association acknowledged that "we are all either overtly or inadvertently racist and that the influence of this racism affects the health of individuals and populations" and offered several recommendations for all levels of government and health-care providers, including a complete review of their policies and to provide "system-wide anti-racism and anti-oppression training for all staff and volunteers."
Kathleen Finlay, the CEO and founder of The Center for Patient Protection, called River's treatment "appalling."
"Anytime a person presents multiple times to a hospital or a health-care provider for the same symptoms or worsening of their symptoms, that should send up big red flags, that should not be happening," she said. "Fortunately, the outcome here worked out well, but patients can actually die in these situations."
The Ontario Ministry of Health declined to comment directly about River's case, but said in a statement Thursday that the government "is committed to providing all people in Ontario with a health-care system that is focused on them."
"(The People's Health Care Act, 2019) states that the health-care system should be centered around people, patients, their families, and should be guided by a commitment to equity and to the promotion of equitable health outcomes," a spokesperson for the department wrote in the statement.
The ministry adds it does not collect data on a patient's race that could be used to measure access to treatment.
River, who was nominated for a MuchMusic Video Award in 2015, took two years away from music to deal with his health situation. He has since returned to his promising career and plans to advocate for equality within the health-care system.
"The only thing that's on my mind every day is how much pain I went through," he said. "I could never consciously allow somebody else to go through what I went through."
"If we save one life because of the pressure that we apply today, then I can say to myself: 'OK, I did my job.'"
River's first song since the ordeal, titled "Burn the Boats," discusses his misdiagnosis and how he is now "back from the dead" following the complications.
ROTHENBURGER: What we need in this country is a special racism court
ANOTHER PERSONALITY LOST his job Friday over racist remarks.
The latest offender is Calgary Flames head coach Bill Peters, who resigned after revelations he used racist slurs against a player a decade ago.
The case is pretty typical when it comes to process. An indiscretion is revealed, social media lights up, an employer assesses the damage and acts accordingly. Loss of employment is often the resulting punishment.
There's got to be a better way, a practical approach based on common criteria and effective assessment.
Aside from legislation against hate speech, the court of public opinion has mostly been in charge of defining racism and the appropriate punishment for those found guilty of it.
Social media are the vehicle of choice both for committing acts of racism and for meting out retribution, but racism means different things to different people.
Quoting the dictionary definition of racism is of little use, since we have a habit of either expanding it or contracting it to fit our own opinions for each situation. As an exercise, consider the following, and rank them according to your own view of the seriousness of the offence.
1. A hockey commentator chastises "you people" who immigrate to Canada but don't wear poppies on Remembrance Day.
2. A prime minister is found to have worn "brownface" at costume parties.
3. An NHL coach makes racist remarks to a hockey player.
4. A woman taunts people sitting near her in a restaurant, saying they aren't true Canadians.
Are any of these situations more egregious than the others? What factors do you consider in defining them as racist, or not, and in making your own judgment as to what should happen?
In each of those cases, apologies weren't enough. Don Cherry tried to apologize but was fired anyway. Justin Trudeau apologized and almost, but not quite, lost his job. The woman in the restaurant apologized but was fired. Bill Peters apologized but was suspended, then resigned.
Immediacy isn't always an extenuating factor, either. Cherry was immediately fired from his TV job, and so was the Lethbridge woman in the restaurant, but Trudeau's and Peters' indiscretions happened years ago. There seems no statute of limitations when the public's indignation is aroused.
What about intentions? Does it matter if someone offends inadvertently, or is ignorance no excuse? It's pretty clear, for example, that Trudeau wasn't trying to be racist — he just likes to dress up on occasion, and has a habit of making bad choices.
Was Don Cherry intentionally being intolerant, or did he just get carried away with his fervor about the need to honour veterans? Many have said the latter. Did Cherry understand that "you people" is widely viewed as being racist, or is it just the way he speaks?
Clearly, there's a difference between using racial slurs to intentionally belittle someone, but is the end result the same?
Premier John Horgan last week announced the creation of the Resilience BC Anti-Racism Network. By the sounds of it, it's mostly an information, training and prevention program, not one that hands out punishment, but it might prove to be an important step.
The move came after Ravi Kahlon, the NDP MLA for Delta North, spent his summer travelling the province gathering ideas on how to deal with racism. He's flying the idea of fining people for lesser offences relating to racism, the kind that currently don't make it to court.
None of the examples I gave above was prosecuted other than by public opinion which, as I said, carries a lot of weight. The offences weren't committed by organized hate groups, weren't part of any campaign against minorities, didn't involve violence.
But they have consequences, both to the perpetrator and the target. Society has decided it's no longer the sort of thing we just put up with. The question is, how can their seriousness be defined, and how can appropriate repercussions be decided? There are no guidelines, and it would help if there were.
So, following up on Kahlon's idea, what if a sort of bylaws court for hate offences was developed that could take care of things like the Burnaby convenience store case in which a customer berated clerks for not speaking English, or the examples above?
After all, we could take the position that racism is racism is racism, and one example is as ugly as the next, but is that really fair?
Suppose this special court operated under a set of criteria such as the ones I've mentioned. How much time has passed since the incident? Was an apology offered? Was the offence intentional? What language was used and to what degree are the terms offensive? Did it involve an overt slur? Did it occur in a public setting? Was it a first or second offence?
With those things in mind, our brief list might rank the restaurant rant and Peters' insults ahead of the others, followed by Cherry and Trudeau. You might view it differently but the point is that one offence isn't always the same as another, and that penalties should be somewhat different from one another.
Should those penalties involve community service? A public apology? Fines based on a system similar to traffic offences?
Such a system would have to be complaints based, and it would be a challenge to enforce. But each time it was, it would make a statement that if you engage in racist talk or actions, even though it falls short of violence or an all-out hate campaign, you'll pay a price.
And, employers could make decisions based on these independent evaluations by the court system, instead of on the highly fallible court of public opinion.
Mel Rothenburger is a former mayor of Kamloops and newspaper editor. He writes five commentaries a week for CFJC Today, publishes the ArmchairMayor.ca opinion website, and is a director on the Thompson-Nicola Regional District board. He can be reached at mrothenburger@armchairmayor.ca.

Remembering everyday violence against women and girls on Dec. 6
It's the National Day of Remembrance for the 14 women who were killed at the L'école Polytechnique in Montréal for being women and for being students in a discipline that, at the time, was wholly male-defined.
Across the nation and on different social media platforms, the remembrance is being marked by symbols and personal testimonies.
It's a reminder that the violence has not ended despite the overworked sector of civil society — women on the front lines in shelters, rape crisis centres and counselling centres.
While the collective outpouring of grief that marks this day is anchored in a remembrance of the murders of women at the polytechnique, it is also imperative that high-profile acts of violence don't overshadow the everyday, routine forms of violence that women suffer.
Six deaths every hour
The report of the Canadian Femicide Observatory for Justice and Accountability notes that around the world, every hour, six women are killed by men they know.
Femicide, or the killing of women because they are women, is underpinned by patriarchal ideologies that define how women should comport themselves. This ideology, grounded in the belief that men own women and that women need to be controlled, is also at the heart of gender inequities.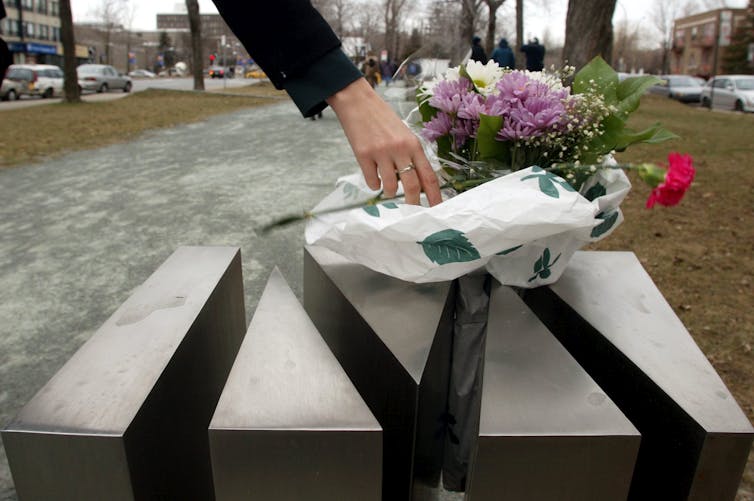 Although the tragic events at the polytechnique occurred 30 years ago, women and girls in Canada today continue to suffer from the effects of patriarchal ideologies. They experience that patriarchy differently, depending on where they are located in the matrix of domination — the axes of race, class, gender, religion, age, ableism and sexuality that criss-cross society and heighten the vulnerabilities of some women more than others.
The Missing and Murdered Indigenous Women and Girls Inquiry reveals the extent to which Indigenous women, girls and LGBTQ+ are dehumanized and subjected to violence. Canadian statistics reveal that a woman is killed every five days by an intimate partner or a family member. Murder is the finality in the continuum of violence that women and girls experience.
Privilege does not shield
We can't forget these deaths — the murders that are reported in short, terse paragraphs in the news, or that are accounted for only by organizations situated in particular communities, or remembered by close family and kin.
These deaths testify to the presence and power of patriarchal values and traditions. Similarly, while groups like the incels have attracted power and attention, they remain the tip of the iceberg. There are countless everyday expressions of male power and violence that work to constrain women.
Much like how the focus on racism that tends to be restricted to the actions of extreme hate groups and their acts of violence, the systemic, everyday racism that permeates society also needs to be named and dealt with.
The takeaway of the murders at the polytechnique is this — violence that is endemic and coursing through society is violence that crosses the boundaries of race, class, age, sexuality, gender and religion. It's violence that is anchored in the view that women are inferior, less than men, and to be controlled by men.
The 14 women killed at the polytechnique were white, middle class and educated, and this did not shield them from patriarchal violence. What then about the women who have no such privileges? How best can we remember them?