Surveillance Capitalism in the Information Age
Early this year, Shoshana Zuboff's The Age of Surveillance Capitalism arrived to herald the new form of economic oppression we have watched creep into our lives. Zuboff, a professor emerita from Harvard Business School known for her research on information technology in the workplace, set a monumental task for herself—to develop a constellation of vocabulary that encircles the boundless hype of modern technology companies. Ultimately, I was disappointed by her approach, but she has drawn on such a complicated framework that I should explain it first before I say more.
To start, Zuboff walks us through the recent history of US tech companies—the dotcom bust that traumatised the industry; the success of Apple and its electronics sold on the conceit of consumer choice; and the surveillance-favourable environment created by the US National Security Agency (NSA) and CIA's investments in the 'war on terror'. All these factors, Zuboff argues, steered us away from both an egalitarian information workplace and the libertarian dream of a cyberspace frontier. Pressured by ravenous venture capitalists, start-up founders like Mark Zuckerberg and Larry Page created surveillance capitalism instead.
Unlike industrial capitalism, which profits from exploiting natural resources and labour, surveillance capitalism profits from the capture, rendering and analysis of behavioural data through 'instrumentarian' methods that are designed to cultivate 'radical indifference […] a form of observation without witness' (379). The surveillance capitalists found an untapped reservoir of information that their services were collecting for internal analytics and programming, and they saw an opportunity: they could sell that 'data exhaust' to advertisers. For them, the humans attached to that data are just accessories.
In her writing, Zuboff often compares the instrumentarianism of surveillance capitalism to the totalitarianism that Hannah Arendt describes in The Origins of Totalitarianism. Zuboff draws links between the charting of cyberspace by surveillance capitalists and Arendt's analysis of British imperialism as a forerunner of totalitarianism. Ultimately, she denies their equivalence, since totalitarianism arises in a state, whereas instrumentarianism arises in companies. (Though, with all the public–private partnerships going on, I'm not sure that they're so easily separated.) As a result, Zuboff is more concerned with surveillance by corporations than government surveillance. Her critique of surveillance companies is often to the extent that they begin to resemble a tyrannical, authoritarian state.
Zuboff sees the resulting economic structures as completely unprecedented—a rogue capitalism. Where before companies relied on the original sin of 'primitive accumulation', surveillance companies like Facebook and Google rely on the continual process of 'digital dispossession' (a concept Zuboff has expanded from David Harvey). We are each continually rendered understandable and profitable for these companies. More than government surveillance designed to quash free will, Zuboff worries that surveillance companies will harness human free will as a means to their ends. They are indifferent to us, yet dependent on the monotony of guaranteed outcomes that we can provide.
Zuboff describes the full cycle of that exploitation, which starts with a company's 'incursion' into an unexploited domain of behaviour, continues with the 'habituation' of users to that incursion and finishes with the 'adaption' and 'redirection' of any attempts at critique or reform. (The coerced data that built Google Street View is the paradigmatic example.) To that purpose, surveillance companies use a rhetoric of exceptionalism to mask our dispossession. They wash their works with the semblance of ethics and accountability to avoid meaningful reform. They put 'nudges' in choice architecture, like surveillance-friendly default settings, to take advantage of the limited time and attention of users. They also take advantage of their corporate standing to dabble in human experimentation and political influence, without abiding by the standard research ethics of consent from, and cooperation with, research participants. The list is long and grows ever longer.
Zuboff argues that companies like Facebook and Google are able to do all this because they have monopolised how they are viewed (here, Zuboff borrows from Émile Durkheim's work on the division of knowledge production and specialisation). Their work is hidden in proprietary closed-source code; they use non-disclosure agreements and vertical organisation to obfuscate their practices. They poach academics from universities. The CEOs of major surveillance companies often have near-controlling levels of shares, which allows them to direct their companies as they wish. The resulting divisions make it hard for anyone other than surveillance capitalists to make authoritative pronouncements about what exactly they do.
This is all, for Zuboff, a worrying arsenal arrayed against the quintessential project of contemporary liberalism—the individual. She sees surveillance capitalism as an extension of the psychological research of B.F. Skinner: his theory of 'behaviourism' counted people as reducible to their behaviours and reflexes. Skinner aimed to improve social cohesion and workplace efficiency, regardless of individual will. Zuboff outlines episodes that exemplify surveillance capitalism's affinity for behaviourism, like the development of biometrics and Rosalind Picard's research into affective computing for autistic users being subsequently co-opted by surveillance start-ups. All this goes to show that surveillance capitalism is inexorably working to weaken our sacrosanct right to personal autonomy.
While Zuboff criticises behaviourism and surveillance capitalism for suppressing our sovereignty of self, her goal is also to imagine a valiant, collective resistance to surveillance capitalism. So how does the sovereign self work in a collective process? It's hard to see how democratic process, where we all abide by the will of others to some degree, would avoid many of the individualistic critiques that Zuboff makes of surveillance capitalism. We don't hear much on this from Zuboff, and similar subtle contradictions ultimately dilute much of her messaging. She claims that surveillance capitalism is unprecedented and incomparable to ideologies like totalitarianism and behaviourism, but makes frequent analogies to both. She's against determinism and 'inevitabilism', yet her theory of history is directed by descriptions of ideology (Evgeny Morozov explains her historical approach well in his review.)
Early on, Zuboff carefully describes surveillance capitalism as a capitalism, rather than an offshoot of the capitalism. With that phrasing, she positions surveillance capitalism as having concrete predecessors and as being totally unprecedented, an overextension of capitalism. She argues against a Marxist critique of capitalism as an entire economic system, because she believes Marxism uses an economic determinism that she'd rather avoid (which she juxtaposes to the technological determinism of surveillance capitalists). But, even if you're not an anti-capitalist, this introduces a fissure in Zuboff's theoretical edifice.
When we look at it, are surveillance capitalists really so different than what Marxist theory would describe? Marxist economics defines capitalism by its ability to consume more and broader areas of human life. Companies have been manipulating human behaviour with innovations like company towns, company scripts and union-busting for centuries, and the service economy has forced workers to wear a smile for decades. That surveillance capitalists hide their exploitation under a rosy veil is not new either. Muckraking journalists like Frances Kellor and Upton Sinclair had to uncover the horrible working conditions of industrial capitalism, hidden as they were under the 'scientific management' of Taylorism and Fordism. Zuboff does touch on these topics, but they also make her claims to surprise feel out of place. Capitalists who systematically lied to make a profit are already littered all over US business history and ignoring them is an odd omission.
Furthermore, The Age of Surveillance Capitalism is a very long book. Like The Odyssey, it's full of epic similes to ground the text—sharks, wizards, tapeworms. They are not subtle, and I found their length and frequency to only obfuscate Zuboff's urgent message. The complicated interweaving of narrative, memoir and academic description is also not structured in a friendly manner for the reader. Pared-down prose would have done a lot to improve The Age of Surveillance Capitalism.
So, who is this book for? It's tempting to compare it to magnum opera like Thomas Piketty's Capital in the Twenty-First Century or Hannah Arendt's The Origins of Totalitarianism that appeal to the curious as well as the academic. But, for me, The Age of Surveillance Capitalism doesn't make the bar. Two of Surveillance & Society's recent triptych of reviews of The Age of Surveillance Capitalism critique its representation of legal constructs and its centring in the Global North, although they still find it a useful reference. I do see people specifically curious about how a liberal politic analyses this new form of exploitation or who are mostly unfamiliar with modern surveillance as benefiting the most from The Age of Surveillance Capitalism. For academics, it may be a convenient way to refer to the societal problem of surveillance, but not, perhaps, as a foundational source material. As Kirstie Ball notes in Surveillance & Society's third review: 'this book was not written for us. It is intended as a wake-up call for the educated business reader to recognize the massive power of the tech platforms'. With that in mind, Zuboff's framing of surveillance capitalism as a rogue capitalism suddenly makes sense—the book is proof of the knots that a writer has to tie themselves in to ask capitalists to critique capital.
As for the grander goal of overthrowing surveillance capitalism, while Zuboff accurately describes its horrors, her writing lacks a convincing account of collective action and organisation to counter it. There have been so many hopeful lessons recently, like the workers whose walkouts stopped Google collaboration with the US military or the recent San Francisco local ordnance that outlawed facial recognition software. Other than a short section on artistic projects that obfuscate data and a legal case in Spain, those lessons are missing from The Age of Surveillance Capitalism.
I worry that I have seemed uncharitable throughout this review. I truly started reading The Age of Surveillance Capitalism with enthusiasm; I attended a talk held by Shoshana Zuboff at the MayDay Rooms in London earlier this year, and she is an engaging and charismatic speaker. But as I read, I grew dismayed by her research's translation to the page. Make no mistake, the dangers of surveillance capitalism are real and coherent, and I'm glad for the attention that The Age of Surveillance Capitalism has given to systematic corporate surveillance. With cautionary books like this, however, there's a fine line between praxis and paralysis (as we've seen in debates over how to cover the climate crisis). I fear that for many The Age of Surveillance Capitalism will serve the latter. It's a decent history, but a bad call to arms.
Toronto-area rapper blames systemic racism for months of misdiagnosis
TORONTO — When Matthew John Derrick-Huie went to the doctor with chest pain and shortness of breath in 2017, he didn't know he was about to embark on a two-year medical nightmare.
The 24-year-old Canadian rapper who goes by the stage name "John River," told CTV News that he went to the emergency room five times before doctors took him seriously and on that fifth visit, they gave him a spinal tap to test for meningitis.
"I felt I had been trying and pushing so hard with every fibre in my body," he said. "I'm not a quitter. I don't think I'm weak. I don't believe in giving up in any capacity in my life and even for me, I was unbelievably outmatched.
For the next 60 days, River visited family doctors, specialized clinics and emergency rooms as often as 30 times in search for an answer, but failed to find one. Some doctors told him he was suffering from anxiety and depression and prescribed him antidepressants, but he knew that wasn't the issue.
"One physician told me that I was in a depressive state and I just didn't realize," he said.
"I said: 'Respectfully, I lost my house twice when I was 17, my cousin who used to live with us was murdered…with all due respect, if I was going to have an anxious breakdown, I feel like it would've happened already.'"
It wasn't until River's family took to social media that they were able to find a doctor who would take a look at River's case. The doctor soon discovered River's brain was sagging in his skull due to low cerebrospinal fluid levels. The doctor believed River's spinal canal had been leaking since that meningitis test two months prior. Cerebrospinal fluid leaks are a known complication of spinal tap procedures.
"I understand (cerebrospinal fluid) leaks are what some people would call a rarity and a difficult diagnosis, but I don't think that's applicable here," he said.
Rivers questions why doctors didn't follow up with him after the original operation and given him an immediate treatment to fix the leaking.
"They knew they had given the patient a procedure in which you told him: 'For the next two days, you may feel like you want to die.' If you don't proceed with a follow-up procedure, one would have to assume that that patient is still out there."
River required eight months of recovery and also wonders why no one would listen to his pleas for help.
"I absolutely, unequivocally, no doubt, feel that it absolutely had to do with the fact I was a young black man," he said.
River adds that he felt multiple instances of racism as he dealt with health-care providers, including one visit when a nurse accused him of visiting the hospital solely for drugs.
"She said to me: 'I know you are here for drugs, why don't you just tell us which drugs they are and we'll expedite this process,'" he said. "How is it within a two-minute time period (that) you were able to come to the distinction that I either came to your hospital to abuse narcotics or to sell narcotics?"
River said it was only after he spoke publicly about his medical situation on Twitter that other members of the black community reached out to him with similar stories dating as far back as the 1970s.
Dr. Onye Nnorom, a family doctor who works with the University of Toronto to advance the health of black people in Canada, said River's experience in the health-care system is one of many similar stories she's come across.
"I do hear about experiences of racism and I've heard about it not only from my patients, but also from family members (and) from colleagues, so it is certainly a problem," she said. "I think one of the biggest problems is that we're not able to collect data to demonstrate it."
Nnorom adds she's also heard from black patients who've been accused of seeking drugs instead of medical care.
"The (health-care provider) is making assumptions about their appearance and thinking that they're a drug dealer," she said. "That's going to affect the way the health-care provider is able to diagnose and treat the patient.
"From the patient's end, that really makes a person feel like they're not being respected."
Racism within the Canadian health-care system is not only an issue among black Canadians. In 2017, an external review found several Indigenous women had felt pressured into sterilizing themselves immediately after childbirth at a hospital is Saskatchewan.
Additionally, a report concerning the case of Brian Sinclair, who died of a treatable bladder infection in 2008, found emergency staff at a hospital in Winnipeg ignored him for 34 hours because they assumed he was homeless or intoxicated.
In 2018, the Canadian Public Health Association acknowledged that "we are all either overtly or inadvertently racist and that the influence of this racism affects the health of individuals and populations" and offered several recommendations for all levels of government and health-care providers, including a complete review of their policies and to provide "system-wide anti-racism and anti-oppression training for all staff and volunteers."
Kathleen Finlay, the CEO and founder of The Center for Patient Protection, called River's treatment "appalling."
"Anytime a person presents multiple times to a hospital or a health-care provider for the same symptoms or worsening of their symptoms, that should send up big red flags, that should not be happening," she said. "Fortunately, the outcome here worked out well, but patients can actually die in these situations."
The Ontario Ministry of Health declined to comment directly about River's case, but said in a statement Thursday that the government "is committed to providing all people in Ontario with a health-care system that is focused on them."
"(The People's Health Care Act, 2019) states that the health-care system should be centered around people, patients, their families, and should be guided by a commitment to equity and to the promotion of equitable health outcomes," a spokesperson for the department wrote in the statement.
The ministry adds it does not collect data on a patient's race that could be used to measure access to treatment.
River, who was nominated for a MuchMusic Video Award in 2015, took two years away from music to deal with his health situation. He has since returned to his promising career and plans to advocate for equality within the health-care system.
"The only thing that's on my mind every day is how much pain I went through," he said. "I could never consciously allow somebody else to go through what I went through."
"If we save one life because of the pressure that we apply today, then I can say to myself: 'OK, I did my job.'"
River's first song since the ordeal, titled "Burn the Boats," discusses his misdiagnosis and how he is now "back from the dead" following the complications.
ROTHENBURGER: What we need in this country is a special racism court
ANOTHER PERSONALITY LOST his job Friday over racist remarks.
The latest offender is Calgary Flames head coach Bill Peters, who resigned after revelations he used racist slurs against a player a decade ago.
The case is pretty typical when it comes to process. An indiscretion is revealed, social media lights up, an employer assesses the damage and acts accordingly. Loss of employment is often the resulting punishment.
There's got to be a better way, a practical approach based on common criteria and effective assessment.
Aside from legislation against hate speech, the court of public opinion has mostly been in charge of defining racism and the appropriate punishment for those found guilty of it.
Social media are the vehicle of choice both for committing acts of racism and for meting out retribution, but racism means different things to different people.
Quoting the dictionary definition of racism is of little use, since we have a habit of either expanding it or contracting it to fit our own opinions for each situation. As an exercise, consider the following, and rank them according to your own view of the seriousness of the offence.
1. A hockey commentator chastises "you people" who immigrate to Canada but don't wear poppies on Remembrance Day.
2. A prime minister is found to have worn "brownface" at costume parties.
3. An NHL coach makes racist remarks to a hockey player.
4. A woman taunts people sitting near her in a restaurant, saying they aren't true Canadians.
Are any of these situations more egregious than the others? What factors do you consider in defining them as racist, or not, and in making your own judgment as to what should happen?
In each of those cases, apologies weren't enough. Don Cherry tried to apologize but was fired anyway. Justin Trudeau apologized and almost, but not quite, lost his job. The woman in the restaurant apologized but was fired. Bill Peters apologized but was suspended, then resigned.
Immediacy isn't always an extenuating factor, either. Cherry was immediately fired from his TV job, and so was the Lethbridge woman in the restaurant, but Trudeau's and Peters' indiscretions happened years ago. There seems no statute of limitations when the public's indignation is aroused.
What about intentions? Does it matter if someone offends inadvertently, or is ignorance no excuse? It's pretty clear, for example, that Trudeau wasn't trying to be racist — he just likes to dress up on occasion, and has a habit of making bad choices.
Was Don Cherry intentionally being intolerant, or did he just get carried away with his fervor about the need to honour veterans? Many have said the latter. Did Cherry understand that "you people" is widely viewed as being racist, or is it just the way he speaks?
Clearly, there's a difference between using racial slurs to intentionally belittle someone, but is the end result the same?
Premier John Horgan last week announced the creation of the Resilience BC Anti-Racism Network. By the sounds of it, it's mostly an information, training and prevention program, not one that hands out punishment, but it might prove to be an important step.
The move came after Ravi Kahlon, the NDP MLA for Delta North, spent his summer travelling the province gathering ideas on how to deal with racism. He's flying the idea of fining people for lesser offences relating to racism, the kind that currently don't make it to court.
None of the examples I gave above was prosecuted other than by public opinion which, as I said, carries a lot of weight. The offences weren't committed by organized hate groups, weren't part of any campaign against minorities, didn't involve violence.
But they have consequences, both to the perpetrator and the target. Society has decided it's no longer the sort of thing we just put up with. The question is, how can their seriousness be defined, and how can appropriate repercussions be decided? There are no guidelines, and it would help if there were.
So, following up on Kahlon's idea, what if a sort of bylaws court for hate offences was developed that could take care of things like the Burnaby convenience store case in which a customer berated clerks for not speaking English, or the examples above?
After all, we could take the position that racism is racism is racism, and one example is as ugly as the next, but is that really fair?
Suppose this special court operated under a set of criteria such as the ones I've mentioned. How much time has passed since the incident? Was an apology offered? Was the offence intentional? What language was used and to what degree are the terms offensive? Did it involve an overt slur? Did it occur in a public setting? Was it a first or second offence?
With those things in mind, our brief list might rank the restaurant rant and Peters' insults ahead of the others, followed by Cherry and Trudeau. You might view it differently but the point is that one offence isn't always the same as another, and that penalties should be somewhat different from one another.
Should those penalties involve community service? A public apology? Fines based on a system similar to traffic offences?
Such a system would have to be complaints based, and it would be a challenge to enforce. But each time it was, it would make a statement that if you engage in racist talk or actions, even though it falls short of violence or an all-out hate campaign, you'll pay a price.
And, employers could make decisions based on these independent evaluations by the court system, instead of on the highly fallible court of public opinion.
Mel Rothenburger is a former mayor of Kamloops and newspaper editor. He writes five commentaries a week for CFJC Today, publishes the ArmchairMayor.ca opinion website, and is a director on the Thompson-Nicola Regional District board. He can be reached at mrothenburger@armchairmayor.ca.

Remembering everyday violence against women and girls on Dec. 6
It's the National Day of Remembrance for the 14 women who were killed at the L'école Polytechnique in Montréal for being women and for being students in a discipline that, at the time, was wholly male-defined.
Across the nation and on different social media platforms, the remembrance is being marked by symbols and personal testimonies.
It's a reminder that the violence has not ended despite the overworked sector of civil society — women on the front lines in shelters, rape crisis centres and counselling centres.
While the collective outpouring of grief that marks this day is anchored in a remembrance of the murders of women at the polytechnique, it is also imperative that high-profile acts of violence don't overshadow the everyday, routine forms of violence that women suffer.
Six deaths every hour
The report of the Canadian Femicide Observatory for Justice and Accountability notes that around the world, every hour, six women are killed by men they know.
Femicide, or the killing of women because they are women, is underpinned by patriarchal ideologies that define how women should comport themselves. This ideology, grounded in the belief that men own women and that women need to be controlled, is also at the heart of gender inequities.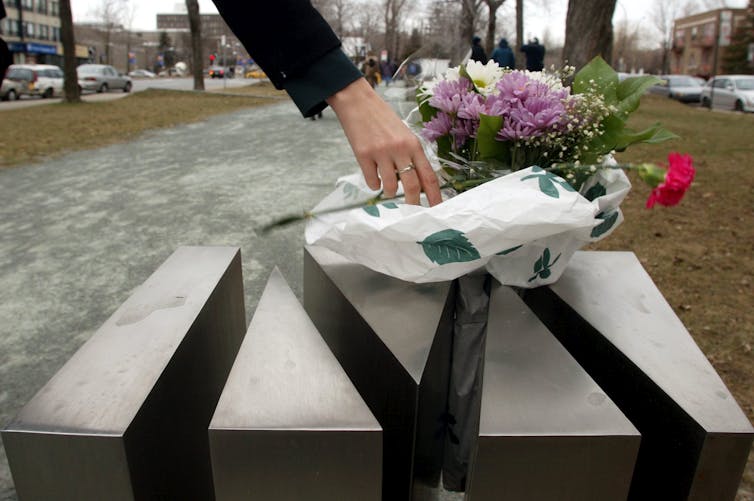 Although the tragic events at the polytechnique occurred 30 years ago, women and girls in Canada today continue to suffer from the effects of patriarchal ideologies. They experience that patriarchy differently, depending on where they are located in the matrix of domination — the axes of race, class, gender, religion, age, ableism and sexuality that criss-cross society and heighten the vulnerabilities of some women more than others.
The Missing and Murdered Indigenous Women and Girls Inquiry reveals the extent to which Indigenous women, girls and LGBTQ+ are dehumanized and subjected to violence. Canadian statistics reveal that a woman is killed every five days by an intimate partner or a family member. Murder is the finality in the continuum of violence that women and girls experience.
Privilege does not shield
We can't forget these deaths — the murders that are reported in short, terse paragraphs in the news, or that are accounted for only by organizations situated in particular communities, or remembered by close family and kin.
These deaths testify to the presence and power of patriarchal values and traditions. Similarly, while groups like the incels have attracted power and attention, they remain the tip of the iceberg. There are countless everyday expressions of male power and violence that work to constrain women.
Much like how the focus on racism that tends to be restricted to the actions of extreme hate groups and their acts of violence, the systemic, everyday racism that permeates society also needs to be named and dealt with.
The takeaway of the murders at the polytechnique is this — violence that is endemic and coursing through society is violence that crosses the boundaries of race, class, age, sexuality, gender and religion. It's violence that is anchored in the view that women are inferior, less than men, and to be controlled by men.
The 14 women killed at the polytechnique were white, middle class and educated, and this did not shield them from patriarchal violence. What then about the women who have no such privileges? How best can we remember them?