Excited Husky Jumps from 3rd Floor to Greet Owner, Knocks Him Unconscious & Breaks His Neck
Dogs throughout the ages have been known for their overwhelming displays of affection and loyalty towards humans, but this latest one might have gone a little overboard. In Beijing, the 67-year-old owner of a Siberian Husky received a gesture of affection that was a little too enthusiastic, when his canine friend got overly excited and leaped on him from the third floor of the building!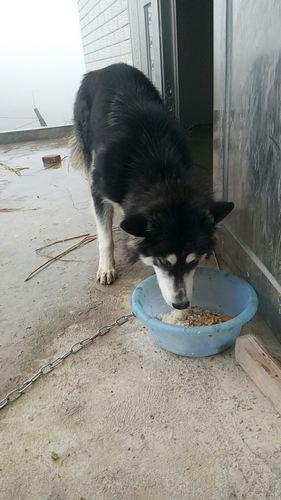 The incident occurred on February 9 (the 5th day of Chinese New Year), when the dog's owner had gone out to visit his relatives. Upon seeing him, the Husky was so happy it jumped down from the third floor (67 metres high), and knocked his owner unconscious upon impact! The Husky actually meant to greet his owner but the impact was so strong, that it even broke his owner's cervical vertebra (the seven bones of the neck), as reported by China Press. That certainly sounds painful! Following that, the elderly man was rushed to the hospital by his relatives.
When asked to recall the incident, the dog's owner said he initially thought a wall up ahead had collapsed. In an interview with Sina, he said,
"We (My family and) were on our way home together, and just as we arrived at the ground floor of our building, I was knocked unconscious by something that fell from the sky." 
When we say that dogs are blessings sent from heaven, this is definitely not what we have in mind!
It was also learned that the Husky was adopted a few months ago. Although the owner does not blame his pet dog, he has since resorted to tying him to a chain leash to keep him in check.
We really hope both the dog owner and his adorable Husky are alright! If you own a large breed of dog, always make it a top priority to train your beloved pet, especially if you don't want them causing a ruckus like this! 
Bianca Andreescu's U.S. Open triumph is an Inspiration to young Canadian tennis players
Bianca Andreescu made history this month, September 2019, when she defeated tennis legend Serena Williams 6-3, 7-5 to win the U.S. Open in New York. This victory sent shockwaves through the sports world and everyone is yet to recover from the shock. Andreescu's triumph was even more remarkable because she had beaten 37-year-old American tennis powerhouse Serena Williams, who has earned 23 grand slam titles.
"It's incredible," says Ryan Schroffel, head tennis professional at Edmonton's Royal Glenora Club quoted on Global News. "With this being the first-ever singles grand-slam victory [by a Canadian], it provides a lot of hope for other up-and-coming juniors that this is possible.
"We're seeing an uptake of kids starting to play the game and starting to believe that this is possible and tennis is a great opportunity."
It can be recalled that even though Serena hadbeen the favourite to with the tournament; Casino goers had staked money and casino coupon codes on both women. A good number of fans believed in Andreescu for her youth, her adrenaline, her game, and her resilience.
Andreescu after her win became the first Canadian to make it to a final at the U.S. Open, and the only one to win a Grand Slam singles title. It was not an easy win, having hard to play against such a pro as Williams.
"[There were] many moments where Bianca had to pull through," Schroffel says. "She even mentioned at the end of the match that the crowd was against her.
"They were obviously pro-Serena because they were in the U.S., but it's something that she had to overcome. She had to overcome nerves."
Schroffel also spoke to the press about Andreescu's sheer willpower, pointing this out as an example of how self-trust can help athletes thrive in the sport.
"At this time last year, she was outside the top 180 [ranked players] in the world," he says. "She came into a fantastic tournament down in Auckland, followed that up winning the Indian Wells (Masters Tournament) and then the Rogers Cup on home soil.
"[It's] very exciting. She's now moving inside the top 10 in the world, which is incredible to see and a true testament to what work ethic and dedication to the sport and resiliency can do."
Schroffel noted that after the win early this month, the sky has become Andreescu's limit as she now stood great chances of dominating the tennis sport.
"She plays with a very unique style and that's something that I believe is going to be the direction in which women's tennis is going to be going," he says. "A lot of what Bianca does is she just mixes up the pace.
"She's got great pace on her shot. She can go toe-to-toe with some of the heaviest hitters (but) she can also change the pace and she can hit more slice, top-spin… she's also quite comfortable at the net and she can beat her opponents in a number of different ways, which is exciting to watch and inspiring to see."
As is to be expected, the teen has been beyond elated with her new status. When asked what the win against Serene Williams meant to her, she said, "It's so hard to explain in words but I'm just beyond grateful and truly blessed."
Top 5 Expert Tips to Win the Lottery
It takes an incredible amount of luck to win the lottery, but with jackpots growing bigger and bigger every year, playing the lottery is definitely worth the try.
As unbelievable as it may seem, the odds of matching all the winning Powerball numbers are 1 in 292.2 million—and 1 in 302.6 million for Mega Millions—according to the Multi-State Lottery Association. This means that players are much more likely to date a supermodel, get bitten by a shark, become the president of the United States, get struck by lightning, amongst other incredible feats than win the lottery.
"I wasn't really expecting much," said Kimberly Morris of Wake Forest, North Carolina, who won the lottery twice in a one day. "I just enjoy playing the lottery."
Nonetheless, while there is really no 'secret' to winning the lottery—with luck playing a major part in becoming victorious—there are still some steps to take to improve your chances of winning, especially by following Lottoland's tips to win the Lotto.
Also, seven-time lottery winner, Richard Lustig in his book titled: Learn How To Increase Your Chances of Winning The Lottery, shared some useful tips to better your chances of winning the lottery.
Richard has perfected his winning strategy though it's more or less a 'trial and error'.
"When the lottery came to Florida, I was like everybody else: 'Wow, buy lottery tickets, win a lot of money, retire, buy a big fancy yacht, whatever, blah, blah, blah,'" he said. "Like everybody else, I was running out and buying haphazardly, buying quick picks, I mean buying tickets with no plan, or no method, or whatever. Like everybody else, I was losing all the time."
1. Avoid autogenerated "quick-pick" numbers from computers at lottery stores
Lustig was able to create a 'winning' strategy from more a less a trial and error approach, however, it proved useful to him. Therefore, he advised that players ignore the autogenerated as while it might appear like every number carries an equal amount of "luck" in the quick pick method, it is quite deceptive.
"Every time you buy a quick pick, you get a different set of numbers; therefore, your odds are always going to be at their worst in that particular game, whatever game you're playing. In this case, the hype, of course, is all about the Powerball right now," said Lustig in a Forbes interview.
2. Use up all your available options
Despite the importance of luck in winning the lottery, having a winning strategy is also important and for many people who play the lottery, they typically limit their choices to "special dates" like anniversaries, birth month and dates and the likes.
However, while these dates carry fond memories, choosing them means you're limiting yourself to less than half the numbers available from 1 through 31. Therefore, if you want to improve your chances of winning, it is best to ensure that you exhaust all of your options in terms of picking numbers.
"If you pick your own numbers and only play birthdays and anniversaries, you're splitting the pot with 20-40 people. If you spread the numbers out across the whole track, you'll either be the only winner or will split it with only one or two people," noted Lustig.
3. Always follow your instincts
It is important to always follow your instincts when selecting lottery numbers you believe would win—and once chosen, you should never go back on them. In his book, Lustig recommended a method to find the numbers that you're most comfortable with.
"Remember, a set of numbers wins the grand prize, not individual numbers," said Lustig.
Therefore, while it is alright to repeat one or two numbers, it is necessary when playing multiple cards to have enough variety when grouping selected numbers. Doing this helps maximize your odds.
4. Consistency is key
Winning the lottery is no mean feat, and if you want to increase your chances of winning a particular game, it is important to consistently follow past and future drawings to get an insight into any noticeable winning patterns.
"Never miss a drawing in the game you're playing. Every Saturday, every Wednesday, every week," said Lustig.
5. Know your limits and never get carried away
Mathematically speaking, playing more games increases your chances of winning, but it is important not to invest so much money into lottery tickets than you're willing to lose.
For example, buying 100 lottery tickets gives you a better odd than buying just 10, but you should only do this if you're able to afford a loss—as purchasing lottery tickets do not count as a proper investment.
"One of the things that I preach to people all the time is budget, budget, budget," Lustig said. "Set a budget of what you're going to spend. Do not get caught up in what's called lottery fever"
Lustig further advised players to never spend the budget for something else to purchase lottery tickets, as sticking to your budget is very important.
"Don't spend grocery money. Don't spend rent money. Figure out what you can afford to spend. Don't worry about how much Joe Blow down the street is spending. … Figure out what your budget is, what you can comfortably afford to spend, and stay within that budget," he continued.
Sledding teen collides with rat in mid-air
Feb. 13 (UPI) — A teenager sledding on a British Columbia hill had his video camera running when he got into a mid-air collision with a rat.
Cole Salsman, 17, had his GoPro camera recording when he went sledding with some friends on Ryan Street Hill in Victoria to celebrate having a snow-related day off from school Tuesday.
Salsman's camera recorded the moment he went over a ramp on his sled and collided with a rat.
"I thought somebody's toboggan snapped and a piece of plastic flew my way," he told CTV News.
The rodent bounced off the sled, landed in the snow and quickly ran away.