Why isn't Muskrat Falls megadam project sparking outrage?
In 2019, the entirely preventable methylmercury poisoning of the traditional country food web of Indigenous people downstream of the Muskrat Falls megadam in Labrador is set to begin. It's remarkable, though perhaps unsurprising in a country with an ongoing history of such atrocities, that this impending criminal act — which violates all aspects of international humanitarian law, has been categorized by some as a war crime and of falling under the definition of genocide — is clearly and plainly happening out in the open, yet sparking little outrage.
It's also funded to the tune of $9.2 billion by a federal government that touts this destruction of Indigenous people's food supply and traditional way of life as part of its green-energy strategy and respectful nation-to-nation relationships.
This week in Labrador, Indigenous and non-Indigenous people who live downstream of the megadam — which also threatens mass casualty drowning because a significant portion of the dam is supposed to be held back by a natural formation composed of quick clay, which liquefies and gives way under intense pressure — are spending their days in a colonial court. Their alleged crime has been to commit a series of peaceful acts of land protection, from occupying the work site for four days in October 2016 to conducting a sacred ceremony.
Direct action October 29
As the Labrador land protectors face fines, restrictions on their movements and associations, and possible jail time — four land protectors have already spent weeks at a time in maximum security prisons — a group of their supporters heads to Parliament Hill on Monday, October 29. On that afternoon, they plan a non-violent rally and direct action, risking arrest to enter the House of Commons and place on the desks of MPs the pictures and words of those most at risk, as well as copies of the scientific reports and treaties being ignored by politicians who claim that the most important relationship is the one they have with Indigenous peoples.
Given the proximity to Halloween, some demonstartors will be wearing masks of Prime Minister Justin Trudeau, Environment Minister Catherine McKenna, Indigenous Relations Minister Carolyn Bennett, and Labrador MP Yvonne Jones will also try and enter to apologize in advance for the Muskrat Falls disaster and demand that federal support be ended.
The Parliament Hill gathering takes place just over two weeks after the passing of Steve Fobister Sr., the former Treaty 3 Grand Chief and Grassy Narrows First Nation Chief who died October 11 at the age of 66 from mercury poisoning. Fobister fought most of his life for the rights of those poisoned by mercury at Grassy Narrows and Wabaseemoong, where up to 90 per cent of the people suffer from the debilitating effects of mercury poisoning. (A vigil honouring Fobister at Toronto's Queen's Park takes place Thursday, October 25 at 7 p.m.)
In a letter to the provincial and federal governments, Fobister's family challenged both Trudeau as well as provincial Health Minister Christine Elliott directly. "Our beloved Steve passed away without ever getting the closure of having a government minister look him in the eye and admit that he was poisoned by mercury," they wrote.
"Instead he was forced to fight for four decades for mercury justice in the face of denial, delay, and discrimination. We call on you to admit at long last that Steve Fobister Sr. lived with mercury poisoning and died from mercury poisoning. Will you respect Steve by speaking the truth, and commit to fairly compensate all Grassy Narrows people for the ongoing mercury crisis that has been denied and neglected for so long? Steve always wanted the government to admit that he had been poisoned by mercury. Now we take up his fight to honour him. Trudeau and Elliott, will you admit that Steve was poisoned, and will you compensate Grassy Narrows fairly for our mercury crisis?"
Ontario chose to poison Indigenous people
A petition to Trudeau and Elliott reminds them that:
"94 per cent of Grassy Narrows people receive no compensation for the mercury crisis which continues to rob them of their loved ones and to ravage their health, culture, livelihood, rights, and environment. The survivors of this avoidable disaster deserve the best possible health care and support, including a Mercury Home and Treatment Centre so that their sick loved ones can be treated with dignity, close to their families."
Last October, Ontario's Environmental Commissioner Dianne Saxe said successive provincial governments in Ontario "chose to allow the ongoing poisoning of the communities," and a report she wrote noted that "after accepting financial responsibility for the mercury contamination, the Ontario government declined to take action for decades, largely ignoring the suffering of the Grassy Narrows First Nation and Wabaseemoong peoples."
Saxe's report pointed out that the contamination "stripped the people of Wabaseemoong and Grassy Narrows of important facets of their cultural practices, livelihoods and health."
It's an all-too familiar story for Rita Monias, a Pimicikamak Okimawin elder who will travel more than 3,000 kilometres from her home in what is also known as Cross Lake, Manitoba, to take part in the Parliament Hill rally October 29. Monias, who helped lead a six-week occupation of the Jenpeg Manitoba generating station in 2014, says she hopes to shine a national spotlight on the role hydro dams have played in devastating Indigenous communities like hers, and to share with MPs — if she is allowed into the House of Commons — that the same future is in store for Indigenous people in Labrador unless the Muskrat Falls megadam is shut down.
(Significantly, Manitoba Hydro International played a major role in helping sanction the Muskrat Falls project, producing a report that was embraced by then Newfoundland and Labrador premier Kathy Dunderdale as ammunition she needed to fight back against those who demanded the seeking of Indigenous consent and solid scientific proof that the megadam would not cause serious damage. In recognizing this connection, a fundraiser for Labrador Land Protectors takes place in Winnipeg on October 27 from 6 to 8 p.m. at the Strong Badger Coffeehouse).
"We have always heard promises of jobs, of compensation, of respectful nation-to-nation relationships, but that's not the reality we see in our communities once hydro dams come in and change everything, destroying our ways of life," Monias says.
"We have seen major displacement, a loss of cultural knowledge, reduced access to traditional foods and medicines and far fewer opportunities to take part in our traditional economy, destruction of our burial grounds and cultural sites, the fear of eating our traditional foods because of methylmercury poisoning, injury and death due to hazardous navigation on the waters, and major changes and reductions in the wildlife whose patterns have been disrupted by the dams. We cannot allow any more environmental devastation on our Mother Earth. We have to protect it."
Unnecessary and avoidable suffering
In 2001, the Manitoba Aboriginal Rights Coalition (MARC) released a report, "Let Justice Flow," which concluded that "the ongoing suffering of Cree and Métis peoples as a result of hydroelectric dams is both unnecessary and avoidable." This followed on the report of the Manitoba Aboriginal Justice Inquiry in 1991, which found that:
"Aboriginal people also argue that they were never told of the environmental destruction that would occur. They say that they were never told that graves would be washed away and fish habitats demolished, nor that an entire way of life for what previously had been strong communities would disappear."
The MARC report quoted Pimicikamak Okimawin resident Bobby Brightnose, who said:
"Our people are grieving, they are grieving for land, the water and a way of life that was brought to an abrupt halt. I remember going along the shoreline to pick medicine with my late grandmother only to find it flooded. My grandmother stood there crying because that was her life. Her life was the land. There is a great deal of grief that needs to be resolved and dealt with among our people in Cross Lake."
APTN reporter Justin Brake recently completed a series of news reports on the impact of hydro dams on the Indigenous people in northern Manitoba. In one segment, Ramona Neckoway, from Nisichawayasihk Cree Nation at Nelson House, truthfully names what is taking place as genocide.
"For me this is a cultural genocide that's going on," she told APTN. "And I don't use those words lightly. I say that because I see that there are entire generations of children in our communities that don't go on the water, that don't understand the importance of that water to who we are, that have never left the reserve, this cage that they've created through colonial policies that have been imposed on us. To me, Nisichawayasihk, our territory, actually is much bigger than the reserve that they allotted to us. And we were using that territory — my mother's generation was using that territory, going to camps, going to these different spaces and actively using that land and that water."
Misipawistik councillor Heidi Cook agreed, noting that the effects of hydro dams have been worse even than residential schools because they have destroyed their homes. She spoke poignantly of how hearing the sounds of the rapids for miles around not only defined a sense of place, but also helped remind people of who and where they were. But after construction and damning the flow of the rivers, there was only silence. Cook told APTN that:
"I felt it myself, personally, that as somebody from Grand Rapids I was robbed of my birthright to know these rapids and to have this beautiful part of my home sing me to sleep at night, and greet me in the morning when I wake up."
In September, the abuses of Manitoba Hydro were the focus of a press conference where one Indigenous woman, Martina Saunders, announced a Manitoba Human Rights Commission complaint, as Manitoba Keewatinowi Okimakanak Grand Chief Garrison Settee reminded reporters that "our people have been oppressed. Our people have been treated as if they are second-class citizens in their own lands."
A coast-to-coast scourge
The devastating impact of hydro dams on Indigenous communities is not limited to Muskrat Falls or Manitoba (nor are such appalling consequences limited to hydro projects, given the endless examples of Canadian extractive industries wreaking havoc in Indigenous communities around the globe). Dozens of other communities face predictions that the scourge of methylmercury poisoning will threaten them with current and planned projects. A group of Harvard scientists wrote in their 2016 report, "Future Impacts of Hydroelectric Power Development on Methylmercury Exposures of Canadian Indigenous Communities," that "all 22 Canadian hydroelectric facilities being considered for near-term development are located within 100 kilometres of Indigenous communities." (eight are in Yukon; two each in Nunavut and Manitoba; four in Quebec, one each in Alberta, Saskatchewan, Ontario and B.C.; and two in Labrador).
They explore both the significant projected increases in the bioaccumulating neurotoxin methylmercury at Muskrat Falls and then point out that modeled poison reservoir levels at 11 of the proposed 21 hydroelectric sites across Canada "are comparable or greater than the Muskrat Falls reservoir." In practical terms, this means that said poison will affect those who rely on a traditional country diet of fish, fowl, seal and other mammals in whom the poison bioaccumulates.
"Country foods are known to confer a wide-range of nutritional and social health benefits to indigenous communities, and nutritious alternative food choices are limited in the Canadian North," the report's authors write. "Past studies suggest reducing or avoiding consumption of country foods may also result in substantial adverse impacts on individual health." They propose that any such project must focus first and foremost on the removal or mitigation of poison risk, noting that interventions "such as the removal of organic carbon from the planned reservoir regions prior to flooding" should be considered.
That recommendation for clearance of the reservoir area at Muskrat Falls has been flat-out rejected by the Newfoundland and Labrador government, and it's an issue on which the federal government remains deathly silent, even as their own experts have urged such mitigation measures. Once reservoir levels rise next spring, the methylmercury accumulation will accelerate, as will the heightened risk of a dam break.
In the meantime, the Canadian government's support for these dangerous dams flies in the face of their legally binding commitments under the Minamata Convention on Mercury, a legally binding treaty negotiated under the United Nations Environment Program to reduce mercury emissions and to protect the environment and human health. When she signed the treaty in April, 2017, Catherine McKenna proclaimed: "Our government is unwavering in its commitment to safeguard the environment and the health of Canadians from the effects of mercury."
The convention Canada signed on to is clear in recognizing  "the particular vulnerabilities of Arctic ecosystems and Indigenous communities because of the biomagnification of mercury and contamination of traditional foods, and concerns about Indigenous communities more generally with respect to the effects of mercury."
But the Trudeau government is plowing ahead nonetheless, having shown with Trans Mountain, the tar sands, Site C, Line 3, LNG and other megaprojects, that it simply does not care about the voices of Indigenous people. The scourge of methylmercury and other poisons contaminating traditional country food webs is one 21st-century version of the Canadian government's 19th-century approach to genocide, when the same strategy of using food as a weapon was employed by John A. Macdonald.
As James Daschuk, author of Clearing the Plains: Disease, Politics of Starvation and the Loss of Aboriginal Life, writes:
"Despite guarantees of food aid in times of famine in Treaty No. 6, Canadian officials used food, or rather denied food, as a means to ethnically cleanse a vast region from Regina to the Alberta border as the Canadian Pacific Railway took shape. For years, government officials withheld food from Aboriginal people until they moved to their appointed reserves, forcing them to trade freedom for rations. Once on reserves, food placed in ration houses was withheld for so long that much of it rotted while the people it was intended to feed fell into a decades-long cycle of malnutrition, suppressed immunity and sickness from tuberculosis and other diseases. Thousands died."
Daschuk adds that Macdonald, acting as "both prime minister and minister of Indian affairs during the darkest days of the famine, even boasted that the Indigenous population was kept on the 'verge of actual starvation,' in an attempt to deflect criticism that he was squandering public funds."
Promises to ancestors
All of these issues provide a backdrop to the trials taking place in Labrador's colonial courts, where land protectors will be speaking many truths about their motivations, their hopes, and their commitments. Among them is Denise Cole of Happy Valley Goose Bay, who was hauled into court for allegedly violating a court order by Nalcor, the provincial Crown corporation behind Muskrat Falls, when she performed a ceremony "to ask for healing and safety for the land, water, and people."
Writing earlier this year, Cole declared:
"My duties to pray and hold sacred ceremony are more important than the unjust court orders that Nalcor uses to keep us away from our traditional lands as they destroy them for their Muskrat Falls hydro project. Creator is watching, Mother Earth is reacting. I know I am on the side of what is right along with many beautiful protectors and supporters across the nation and on our homeland of Labrador. I had to sign an undertaking to stay away from the place of our Labrador ancestors. The Muskrat Falls north side is a very spiritual and sacred place. This court order essentially keeps me away from my 'church' and forces me to dishonour my responsibilities to the land and spirits of Muskrat Falls. I know that right now I have to do that for the greater cause of helping save the river, land, and lives downstream from this megadam disaster. Still rest assured, my resolve is strong and unwavering and there is strength in my tears. I will perform ceremony in this place again, I promise that to the ancestors and Creator."
As supporters gather in Ottawa — unceded, unsurrendered Algonquin Territory — on Monday, Cole's words will be among the many that other land protectors hope to place on the desks of MPs in the House of Commons. When a similar group, including four Labrador Land Protectors, tried to do the same thing in May, 15 of them were arrested and banned from Parliament Hill for 90 days.
The presence of land protectors from Manitoba on Monday will also help mark the fourth anniversary of the six-week occupation of the Manitoba Hydro Jenpeg generation site, where Pimicikamak Okimawin evicted colonial staff and refused to leave. At the time, Tommy Monias, one of the hundreds on site, informed media that:
"We're just doing what we normally do in the last 2,000 years which is hang around in our lands. Hydro is occupying our lands. This is traditional territory of Pimicikamak people. We were always here. It's Hydro that showed up here 31 years ago and occupied our lands. This is where my ancestors have travelled for thousands of years."
It is such outbreaks of democracy that remind us of the words of the sorely missed Steve Fobister, Sr., who said when on hunger strike in 2014 at the Ontario legislature: "Words don't mean anything anymore. Direct action is all I have left. And here I am."
Matthew Behrens is a freelance writer and social justice advocate who co-ordinates the Homes not Bombs non-violent direct action network. He has worked closely with the targets of Canadian and U.S. 'national security' profiling for many years.
Photo: Government of Newfoundland and Labrador/Flickr
Help make rabble sustainable. Please consider supporting our work with a monthly donation. Support rabble.ca today for as little as $1 per month!
Climate Change and Capitalism: A Political Marxist View.
Viewed from the perspective of geological history, our current climatic and economic conditions are unusual. For most of the last 60 million years, the climate has been wildly unstable. It was only 10,000 years ago that it settled into its current stable state, and within this period that the Holocene emerged, during which human societies shifted their relationship with nature though agriculture, and then creating complex settled socio-economic forms, including capitalism.
Despite its omnipresence today, capitalism itself is very young. But it has its roots in that stabilisation of the climate and the subsequent development of agriculture. Fully-fledged global capitalism has been with us for no more than 300 years. In the 4.5 billion year history of the earth, capitalism is a brief moment within the blink of an eye that is human existence.
But this brief moment is a global force. It is capitalism that has placed us on a path to leave the stable climate of the Holocene. Thanks to capitalist development, the earth is currently 0.8 of a degree warmer than the pre-industrial average. Without overthrowing capitalism, we are likely to warm the earth to levels that humans as a species have never lived with.
This should terrify socialists. As I will argue here, the environmental system and the economy have co-evolved. The economy is dependent on the environment. Once we leave the stable climatic conditions of the last 10,000 years, we have very little guidance on how to build a socio-economic system that works. There is no particular reason to think the systems we have developed in one set of environmental conditions will flourish in another. There is also no reason to believe that such conditions provide fertile ground for the development of a more compassionate or humane socio-economic system.
If we want to stand a chance of building socialism in the near future, we must become eco-socialists and stop catastrophic climate change now. At the same time, to stop catastrophic climate change, environmentalists must also become eco-socialists. The dynamics that drive climate change are core to capitalism. Serious action on climate change will necessarily amount to the first steps of a programme to end capitalism.
The economy, the energy system, and the environment: co-evolutionary systems.
The economy, the energy system and the environment have evolved together. They draw on one another, passing materials between them and absorbing one another's wastes. All economic activity ultimately rests on the transformation of material resources. These must be drawn from the environment and then worked by labour. Marx makes this interdependency explicit:
The use values… i.e. the bodies of commodities, are combinations of two elements–matter and labour. If we take away the useful labour expended upon them, a material substratum is always left, which is furnished by Nature.1
Marx uses the example of linen–which is produced by workers (labour) who transform the fibres of the flax plant (environment). But this interdependency also holds true for more modern commodities. For example, the servers that host the files for music streaming services are made of up various minerals and metals that have been rearranged by labour.
An additional interdependency comes in the form of energy. At every stage of the production of a commodity, energy is being used to transform matter from one form to another. Metals are heated, melted and transformed into iPhones. Cotton is grown, harvested, woven, and dyed to make scrubs worn by surgeons. The energy used in these processes cannot be created. It can only be transformed.
All energy used in the economy is entropic: it comes from a repurposing of energy found in the earth system, and exacting it in return for a cost. Coal is dug from the ground and burnt, solar energy is captured by photovoltaics, or in plants that we cook and eat. The energy system which enables economic activity is entirely dependent on the environment.
We see here how the environment influences the economy. The economy is the process of transforming materials extracted from the environment by repurposing energy flows from the earth system. The result of this, is, to quote Marx's citation of the economist William Petty, that when it comes to material wealth, "labour is its father and the earth its mother".2 But at the same time, the environment and the energy system are shaped by the economy. The priorities of the economic system determine the valuation of each element, as well as which materials are extracted, changing the composition, look and dynamics of the environment.
The practice of extraction itself is not exclusive to capitalism. Agricultural practices that pre-date capitalism have reshaped our landscapes. Take sheep farming, for example.3 Heavy grazing tends to change the biological make up of heathland. Eventually, heathland may lose all of its herbs and woody species and become grassland. As grasses can survive for longer as the sheep eat them than woody plants and herbs, the transition from heathland to grassland can make conditions more favourable for sheep grazing as the sheep have more to eat. This is less helpful for bird life, as the grasses are a poor habitat substitute and the sheep compete with birds for certain types of fruit, and reduce the availability of various insects. Through pastoral grazing economic activity has transformed former heathland landscapes.
Climate change is another example of the co-evolution of the economy and the environment, but this time, one specific to capitalism. As we will see, the two are inextricably linked. Without fossil fuel deposits, capitalism could not have become the dominant force it is today. Similarly, without capitalism, fossil fuels may never have become the backbone of the economy.
Coal, the great divergence and the origins of capitalism
Between the mid 1500s and 1900, there was an explosion of coal use in England. On average, English coal use more than doubled every half century during this time period. By 1900 coal represented 92% of English energy use and was providing 25 times more energy than all energy sources combined had in the mid 1500s.
Over this time period the English economy also grew rapidly. For mainstream economic historians, the period from 1700 onwards marks the start of 'the great divergence'. England began the industrial revolution and its economy took off, becoming much larger than other economies that had until that point been a similar size.
It is not a coincidence that coal use and economic growth expanded simultaneously. Coal is a high quality fuel. It offers a much greater amount of energy out for every unit of energy required to produce it than wood, for example. Consequently, it enables more work to be done–more materials transformed – than muscle power alone, or even wood or water–the dominant fuel sources in the nascent English industrial economy.
But the geographical distribution of coal is not, by itself, enough to explain English economic growth or the 'great divergence'. In 1700, China had widespread domestic coal use, just like England. And until 1700 China had a similar sized economy, with similar levels of market activity. But neither Chinese coal use nor the Chinese economy grew exponentially in the way that England's did.
The difference was the consolidation of capitalist social relations in England. We can locate the pressures that lead to capitalism, and the capitalist exploitation of coal, in the agrarian economy of 1500s England. As these pressures grew, they drove coal use and economic growth in England. Though pre-capitalist China was incredibly well-developed, had an extensive use of wage-labour within markets, it never became dominated by proto-capitalists, and so did not develop the same systematic pressures. Coal use and the economy, subsequently, did not see the same qualitative expansion.
Political Marxism and the Fossil Economy
Archetypical of the Political Marxist approach to modes of production, Ellen Meiksens Wood argues that a capitalist economy is one where a majority of people depend on the market to meet their basic needs.4 This distinguishes capitalism from feudalism, in which there is a large peasant class largely self-sufficient in terms of basic needs, and in which the more powerful classes depend not on market power to support their consumption, but on military and extra-economic power. Wood further distinguishes between the form of markets under capitalism and those that characterise pre-capitalist economies. She argues that markets originally functioned and made profit by providing a means of getting goods that could only be produced in one part of the world to other parts, where those goods could not be produced. She goes on to argue that capitalist markets operate differently: profit here is achieved by reducing costs and improving productivity.
Though substantially debated, this approach was developed by Wood (alongside Richard Brenner) as a reaction to what she saw as ahistorical explanations of the role of markets in the development of capitalism—particular the claim, coming from Adam Smith, that capitalism is "…the necessary, though very slow and gradual consequence of a certain propensity in human nature…the propensity to truck, barter, and exchange one thing for another."5 Against this, Wood argues that capitalism began in England because of its unique constellation of social conditions.
In her landmark work The Origin of Capitalism,6 Wood argues that capitalism could only have begun in agrarian England. Unlike other nations with similarly sized economies, England had the unique combination of a large national market, substantial numbers of tenant farmers (as opposed to peasants, tied to the land by social convention), and highly centralised state power. These three components come together to create a transition to a market dominated economy. Highly centralised state power took political and military power away from land owners. So unlike in Holland, for example, the primary way for landowners to exploit the surplus of their workers was through market means rather than direct coercion. This was possible because of the existence of the large national market in which they could sell goods for a profit, and because of the existence of tenant farmers, which meant they could remove unproductive farmers from their land.
It is the development of capitalist markets, as Wood describes them, that creates the conditions for fossil fuel exploitation. Capitalist markets, like all economic systems, turn on the necessity of using economic tools to extract surplus. This dynamic creates capitalism's drives to reinvest in productivity growth and to discipline the workforce in order to increase output. Because landowners were now dependent on the market for their own livelihoods, they tried to reduce costs and maximise outputs. This fundamental change in the nature of production created a system in which the ability of energy to do extra work became very attractive. Although Wood never directly discusses energy, her work has influenced Andreas Malm, whose Fossil Capital7 does pick up the energy question.8
Malm argues that under the conditions of capitalism, coal came to be a tool of social control. Coal centralises production, bringing workers under one roof. This serves the dual purpose of making them less able to embezzle from their employers, allowing improved scales of production, and also enabling employers to more easily regulate the times of work and levels of production. In addition, coal—alongside the machinery it allows—improves productivity: by giving them a greater source of energy than food and their muscles alone, coal increases the amount of output that can be produced by workers.
Only in England did the capitalist class benefit from these features of coal. Economic structures elsewhere followed fundamentally different logics that did not reward productivity and output growth. Though markets existed outside of England, central power and surplus was derived from military and political power, and only peripherally from economic power. Consequently, although productivity increases may have occurred by chance, societies were not systematically driven by the need to continuously produce more, or to do so more productively. As Debeir et al. put it, Chinese coal use:
…did not create new social needs, did not constantly push the borders of its own market outwards…proto-industrialisation and economic growth were remarkable achievements but failed to generate an accelerated division of labour.9
To understand this more fully, let us now examine the nature of capitalist markets in more detail.
Capitalist Markets and the Pressures to Grow
The ecological economists Tim Jackson and Peter Victor call the above dynamic the "productivity trap".10 It occurs because, under capitalism, workers must be able to sell their labour to be able to obtain a decent standard of living. Capitalists depend on market power for their profits and therefore constantly reinvest in productivity gains. Productivity gains mean fewer workers are needed to produce a unit of output. So if output stops growing, employment will fall. This creates a legitimate desire amongst workers for more growth, and gives governments a mandate to do everything they can to expand economic activity.
Moreover, this 'productivity trap' is self-reinforcing. The expansion of markets drives the division of labour. Adam Smith argued that as workers become more specialised, they are better able to improve the production processes they're engaged with. And at a higher level of specialisation you develop whole classes of workers whose job is purely to make production more efficient. In this way market expansion itself leads to productivity gains. But as people become more specialised this means that they come to depend on markets to get more and more of their goods—because (to use a personal example) people who sit in offices reading long-dead economists for a living don't spend much time growing food, sewing clothes, or saving lives. So the expansion of markets creates both the conditions for further growth and the need for it.
We also need to talk about consumer capitalism. Innovations leading to productivity gains do not in themselves create a market for the greater volume of goods produced. This means that capitalism must alter consumption as well as production. Today, this increasingly involves the stimulation and artifical creation of consumer needs and desires by the capitalist class—who need us to keep consuming if they are to continue earning profits. William Morris argued that in order to get and maintain profits, capitalists must sell a "mountain of rubbish…things which everybody knows are of no use". In order to create demand for these useless goods, capitalists stirred up:
a strange feverish desire for petty excitement, the outward token of which is known by the conventional name of fashion—a strange monster born of the vacancy of the lives of rich people
A substantial body of more modern work suggests that current society encourages the idea that consumption is the path to self-betterment. Psychologist Philip Cushman argues that the dominant present configuration of the "self" is as an empty vessel that requires filling up with consumer goods.11 The emptiness, he argues, comes from a lack of community, tradition, and shared meaning. These are not things that will be solved through consumption. Under consumer capitalism, there comes a collective inability to imagine social and personal change except through consumption. As a result, even 'radical' leftist futures tend to revolve around ever increasing levels of material consumption, rather than imagining new ways to live that prioritise our need for community and purpose beyond consumption.
No decarbonisation under capitalism
Because of the structural drivers towards growth that we see under capitalism, it is extremely unlikely that capitalism can avoid catastrophic climate change. The structural drive for growth means that efforts to reduce carbon emissions will be overwhelmed by the expansion of economic activity. This is controversial to most mainstream environmentalists (and to many socialists). But it is the clear experience of the history of capitalism.
To date, resources have not been conserved under capitalism. Rather when we become more efficient or find new resources, this frees up resources that are used by other parts of the capitalist machine. This explains why, for example, renewable energy and nuclear power remain only a small part of the global energy system (Figure 2). Under capitalism, low-carbon energy sources have grown but they have not replaced fossil fuel at any meaningful scale. Instead low-carbon energy is simply another energy pot available to fuel growth in economic activity in order to generate profits.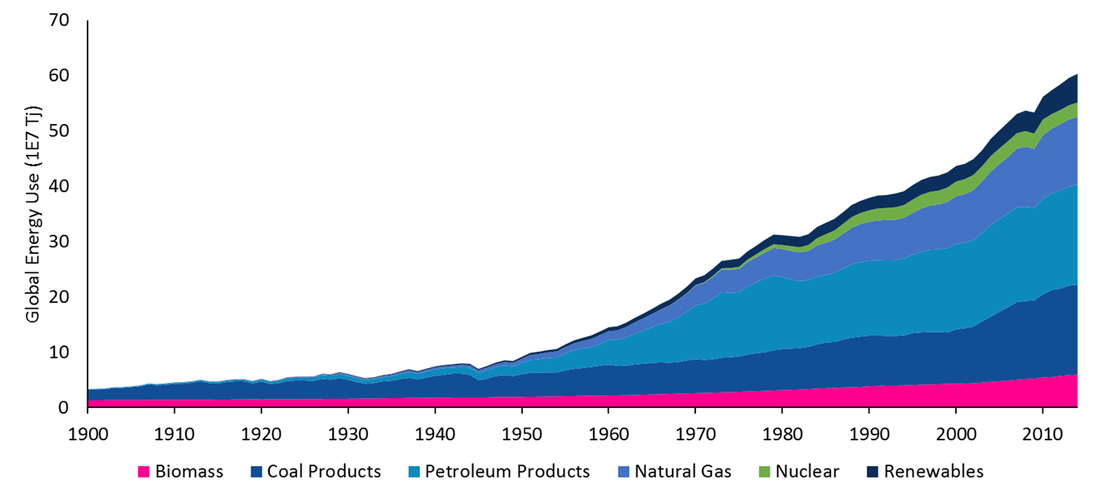 Figure 2 Global Primary Energy Use by type, 1900-2014. Source: Author's own calculations based on data from De Stercke, 2014.
The same is also true of energy efficiency gains. Energy efficiency can be a key contributor for decarbonising the global economy. But only if it is coupled to a plan to limit the size of the economy. Under capitalism, energy efficiency measures actually drive economic growth. This happens for the same reason renewable energy doesn't lead to decarbonisation. Energy efficiency improves productivity and reduces costs. In this way it reinforces capitalist growth imperatives, driving the expansion of the economy which requires more energy to be used overall.
This is also why progressive action on climate change will undermine capitalism. We will only successfully avoid catastrophic climate change if we are able to break the dominance of the market, and break the social imaginary that ineffectually ties fulfilment to consumption.
So, where do we go from here?
The economy, the energy system, and the environment are all inextricably linked. Combining ecological economics and Political Marxism, I have set out a framework in which climate change can be seen not only as a consequence of capitalism but as fundamental to it. Widespread fossil fuel use was enabled by, and necessary for, the capitalist dynamics of productivity growth and expansion. Climate change is a feature, not a bug of capitalism.
To avoid catastrophic climate change, we have to break the expansionary cycle of the economy. Otherwise technological improvements, renewable energy, and energy efficiency gains will do nothing but add to the stock of ways that capitalists grow the economy and their profits. Likewise carbon taxes and other market mechanisms will simply reinforce the core dynamics of the market and any positive effects will be overwhelmed by growth. Growth will increase energy use, including fossil fuel use. This will plunge us into a world that we do not know how to live in. It is likely that 'hothouse earth' will eventually destroy capitalism. But not before destroying the livelihoods of millions through extreme weather, greater incidence of disease, and ecological breakdown. There is no reason to believe this will lead to a better future.
Breaking the expansionary cycle of the economy in a just way requires rolling back markets. We must instead use commons, household, and state-based production as the principal means of meeting the collective needs of society. Only in this way can we break the societal drive for productivity growth and expansion. There is nothing inherently more sustainable in non-market forms of production (all economic activity uses energy), but these systems lack the expansionary drive of markets. Consequently, energy efficiency gains and new technologies can be used to replace fossil fuels rather than add to them.
This transition has the potential to be hopeful, a chance to build a more humane system. This system will be materially poorer than today's society. But this is not 'eco-austerity'. Much of the energy we use today is in producing goods that we do not need, that do not fulfil our needs. Richard Seymour articulates this in the context of the labour theory of value:
The overproduction of 'stuff' is largely achieved by making a costly withdrawal from the worker's body, a form of life-impoverishing austerity. And a great deal of that 'stuff' is not for workers' consumption, but rather, where it is not consumed as profit and dividends, is dead labour whose main effect is to achieve a further extraction of labour. We might think of energy conservation as class self-defence.
Put another way, consumption is an ineffective way of building a good life. Collectively limiting our consumption could open a path to a better economic system.
There are links between such a program and other radical leftist programs for change. Freedom from the market and repurposing of production along the lines of social need rather than profit are central to the post-work movement.12 But this movement lacks a critique of consumerism, and its analysis of capitalism fails to engage rigorously with insights from ecological economics. Visions of mass space flight continue the fantasy that consumption can fulfil us, and rely on the notion of continued expansion of output and energy use. It is unclear why those who advocate 'fully automated luxury communism' (for example) believe that a political programme whose key appeal lies in having more stuff will find itself able to break free from the expansionary cycle that lies at the heart of the ecological catastrophe. If the promise is more mass consumption, doing away with the most reliable and efficient energy sources to which we have access will be a hard political sell. There can be no avoiding growth in fossil fuel use under capitalism. But this does not mean that anti-capitalist programmes are all equally good solutions. The route forward is to embrace these radical impulses, but critique their obsession with consumption, and highlight the destructive dynamics they share with capitalism.
This marks out the terrain for political struggle. Socialists must engage mainstream environmentalists and work with them. We have a common foe in the big capital of the fossil industry. Many environmentalists are critical of the economy as it is, but lack a full analysis of its mechanics. Extinction Rebellion is a key example of this: a critical yet 'apolitical' movement. Yet they offer perhaps our best hope for building institutions that give us community, autonomy, and purpose, and for breaking with the expansionary capitalist fossil economy.
---
A response to this piece by NS eds Tom Gann and Josie will be published next week.
---
Why Karl Marx was right about capitalism
From the moment Karl Marx put pen to paper, pro-capitalist political commentators and academics have attempted to bury his ideas. But successive generations of political activists have continually turned to Marx's ideas, from the best working class fighters who joined the various communist and socialist parties in the early 20th century to the student radicals who stood up to the horrors of Vietnam war in the 1960s, embracing his searing indictment of capitalism and his argument for revolution.
Today, with millions around the world plunged into the indignity and pain of unemployment, hunger and homelessness, and with whole swathes of the Middle East torn apart, Marx's ideas have an enduring relevance. They are essential for understanding why modern capitalism is so obscene. For those of us who want to win a society free of the misery and class inequality that scar our world, they are also indispensable as a guide to action.
"Society as a whole is more and more splitting up into two great hostile camps, into two great classes directly facing each other – capitalists and workers"
– The Communist Manifesto
Despite all the pronouncements that class doesn't exist, that the biggest divisions are those between nations, sexes, or cultures, Marx was right about the nature of capitalism. It is a system defined by the exploitation of the working class by the capitalists. When Marx wrote the Communist Manifesto and later, Capital, capitalism dominated only in pockets of Europe and North America. Most of the the world's population were peasants, independent farmers or tribal groups.
However, capitalism quickly became a global system. Around the world, peasants were thrown off their land and pushed into rapidly-developing urban centres. The working class and the capitalist class grew as nation states were established. Society became polarised between these two main social classes. The working class, which includes white collar and blue collar workers – anyone who has to sell their capacity to labour power to a boss in exchange for a wage – is now more than 2 billion people.
The capitalists on the other hand are a tiny part of the population. Yet they wield enormous power through their private ownership and control over the means of producing wealth in our society, whether that's arable land, the mines, the offices or the factories. They are the ones who get to decide what gets produced and how it's distributed, who will have a job and who will be thrown into poverty. They are the ones who decide whether our natural resources will be plundered or preserved. They are ones who can make or break governments.
As society has become polarised between the working class and capitalists, it has been increasingly marred by grotesque inequality. This is part of the structure of our society, and it helps to explain why the classes not only exist, but are "hostile camps". Wealth doesn't just come from thin air. The profits of the capitalists are not a product of their genius or hard work. They come from paying us less than the value that we produce at work. And because the capitalists are locked into competition with each other, they're always seeking ways to cut costs and maximise the profits they can squeeze out of us.
Capitalism is therefore characterised by a never-ending struggle between labour on one side against the capitalists and their allies in the parliamentary and legal system on the other. This class struggle is waged over the rate of exploitation, over safety and conditions at work, over whether essential services like hospitals and public transport that working class people rely on will be publicly funded or privatised, and so on. This class struggle is sometimes hidden and at other times it is part of an open battle. It can be clearly seen in the attempts by governments to slash social spending and hold down wages.
"What the capitalist class therefore produces, above all, are its own gravediggers"
– The Communist Manifesto
Marx was also right when he argued that the only group in society capable of fundamentally challenging the inequality, war and oppression was the very class that was most impacted by these things – the working class. The horrors of capitalism inevitably push all its victims to resist. But Marx argued that the working class has a special capacity to be the system's gravediggers.
Marx saw the working class as the agent for revolutionary change for several reasons. First, we have numbers on our side. As the poet Percy Shelley famously put it, "Ye are many, they are few". But more important is the centrality of workers to production and profit making. Without our labour in the workplace, not a single wheel of industry would turn, not a single product would be produced. If we withdraw our labour, the source of their profits would dry up.
No other group has this power to challenge the functioning of capitalism in such a fundamental way. The working class brings together all people – blacks, whites, gays, straights, men, women, etc. While everyone has a different identity in some way, it is as workers that they can truly wield power.
While capitalism forces workers to compete against each other for jobs, housing, university places and so on, it brings us together in the world of work where we need to cooperate with each other for our workplace to function. Similarly, to bring the economy to a halt, individual heroism won't do. It requires the active involvement of our workmates. The need for collective action in turn requires that workers build democratic organisations that can inspire solidarity and convince and organise the majority of workers to take action.
This collective nature of working class life and struggle under capitalism gives us the capacity to reorder society in the interests of the majority. In seizing control from the capitalists, workers can't simply divide up the factories, the hospitals and the offices and share them out individually – one person taking a steel furnace, another a heart monitoring machine, another a photocopier. Obviously, none are sufficient for sustaining life. The only way workers can abolish the conditions of exploitation is to collectivise and socialise the means of production and distribution, democratising all aspects of production and decision making. Given the interdependent nature of the world economy, this process would have to be international, hence Marx's call for workers of the world to unite.
"The ideas of the ruling class are in every epoch the ruling ideas"
– The German Ideology
Today, pretty much every idea pushed by the education system, the media, advertising companies etc. justifies capitalism. Ruling ideas include the notion of social mobility – that if we work hard, anybody can make it. They also include the idea that the competitive, individualistic, dog-eat-dog nature of capitalism reflects, not the interests of the elite, but instead our human nature. And because of this "nature", any attempt to radically alter society through revolutionary struggle will inevitably end in dictatorship, so we'd better not try.
Once again, Marx was right when he argued that a key weapon in the hands of the ruling class is ideology – systems of ideas that attempt to naturalise their privileges and the subordinate position of the majority of people. This isn't surprising: the capitalist system tramples on the needs and desires of the majority of people in the interests of a minority. To preserve the status quo and stop the gravedigging, they have to both break up the majority and win some of us over to the idea that nothing else is possible. The ruling class has at its disposal the means of disseminating and promoting its ideas on a huge scale.
Take the mass media, which have the capacity to shape public debate on a national scale. They are far from neutral observers. To deflect attention away from the real problems – like crap public transport and overcrowded hospitals – the media help stoke anti-refugee sentiments whenever they decide to give politicians prime time coverage to talk tough about "stopping the boats". Why would anyone even notice, let alone resent, desperate refugees if it weren't for the mass media carrying front page stories announcing their arrival?
Another key institution for the dissemination of ideas in our society is the education system, where we're taught that to get by in society you need to obey the rules and respect or at least tolerate the authority of those above you. These are the types of classroom lessons our rulers hope you will take with you into workforce. We're also taught about how history is made by great men (and very, very occasionally great women), downplaying the role that masses of ordinary people have played in creating historical change.
The reality of life under capitalism also plays a role in reinforcing pro-capitalist ideas. For instance, because of sexist discrimination in our society, women are generally in lower paid jobs which carry less authority. This fact can in turn reinforce the ideology that women are naturally inferior. The norms under capitalism can become established as natural rather than being seen for what they are – a social construction.
However, while ruling class ideas are dominant, they are never completely hegemonic. Lived experience under capitalism not only reinforces ruling ideas, it also clashes with them. For instance, the promise of social mobility that capitalism holds out to us is continually dashed against the rocks of economic crisis. The clash produces contradictory and mixed ideas in workers' heads. Most workers accept aspects of capitalist ideology at the same time as holding oppositional ideas. If this weren't the case, if we were all brainwashed, radical social change would be all but impossible. The civil rights and women's movements, which were a direct challenge to the ruling ideas, could not have happened.
Key to undermining these ruling ideas is the class struggle itself. When workers go on strike it can reveal to them the real social power that they do have. It can reveal just how indispensable we are to the capitalists and how little we actually need them. It can also undermine the bigoted ideas that workers may hold, because successful working class struggle requires unity in action and solidarity.
Divisions that the capitalist class tries to sow, like sexism and racism, can be overcome because the special oppression of one section of the working class sets back the entire class. As Marx wrote in Capital, "Labour cannot emancipate itself in the white skin where in the black it is branded".
"Philosophers have only interpreted the world, in various ways; the point is to change it"
– Theses on Feuerbach
Marx was not an armchair thinker. He argued that just understanding the world – knowing the real reasons for war, knowing about the lies the ruling class push, knowing that their wealth is based on our exploitation – was not going to change it. For Marx, gaining a deeper insight into the contradictions of capitalism was not some purely intellectual exercise. The point of developing theory was so that it could inform his political practice. The point of learning about historical struggles was so he could better understand the most effective levers for changing society.
Ideas alone were insufficient for altering the world around us. It wasn't the ideas of liberty, fraternity and equality that chopped off the heads of the aristocracy during the French revolution. For ideas to have force, especially those that run completely counter to the common sense under capitalism, they need to be organised and embodied in the actions of working class men and women, which is why Marx played a leading role in radical organisations such as the Communist League.
Far from being a mechanical determinist, Marx understood that the victory of socialism over capitalism was not inevitable. Capitalism, despite being wracked by internal contradictions and periodic economic crisis, is not going to collapse of its own accord. Revolutionary social change needs to be fought for. Indeed, to achieve any progressive social change we need to demand, agitate and organise for it. If you want to see an end to the murderous wars; if you want to win genuine equality for LGBTI people; if you want to see the refugees freed from the concentration camps, then you need to put your actions where your mouth is. As the great abolitionist Frederick Douglass put it, "Power concedes nothing without a demand".
Just a cursory glance at history confirms this. It is working class people who had to fight to win the eight-hour day. It is working class people who have had to fight for and continue to fight for equal pay for women. None of these gains were handed to us by some impersonal law of economic development. Nor were they handed down by some benevolent politician. The leopard has not changed its spots. Twenty-first century capitalism continues to be steeped in the blood and suffering of ordinary people. It's high time our generation learned how to fight with passion and tenacity against this beast.
Capitalism Isn't The Reason We're Unhappy – OpEd
Many critics of capitalism have given up trying to claim capitalism makes people poorer. Faced with so many obvious gains in the standard of living, and in reducing poverty worldwide, markets have won the economic debate over whether or not capitalism is the path to material riches.
But the doctrinaire anti-capitalists have other strategies. They've now branched out into blaming capitalism for a host of other social, ecological, and psychological ills.
Sometimes, the tactic is to blame capitalism for destroying the earth. Other times, it's to claim that capitalism, in spite of the material plenty it delivers, makes us miserable.
For example, George Monbiot, columnist at The Guardian blames pro-capitalist ideology for making people, sad, lonely, and unhealthy. Writers cite polls claiming people in richer countries — i.e., more capitalistic ones — are more miserable than people elsewhere. Holly Baxter at The Independent suggests capitalism is the reason elderly people are now so lonely and isolated: capitalism makes us more concerned with buying things than with visiting poor, dying Aunt Ethel.
Claim: Capitalism Wants Us to Be Sad, Needy Consumers
And it's all by design, it seems. According to Monbiot and other critics of "neoliberalism" — by which they just mean anything resembling a market system — the capitalist ideology is designed to isolate us, and turn us into soulless consumers. This then paves the way for an endless cycle of misery and consumption.
For a more academic phrasing of this idea, we could consult Ankita Singh's article "Capitalism, Consumerism, and Popular Culture" which examines how capitalism creates a downward cycle of despair. This persistent unhappiness, Singh explains, "is caused [by] the sense of alienation one feels in today's urban corporate culture." Consequently, consumers attempt to "compensate" for their capitalism-caused "emptiness" by "indulg[ing] in inanimate objects offered by the consumerist culture."
At this point, all that is left for the capitalists to do is to tell us what products to buy. And fortunately for the capitalists, Singh tells us: "The power of advertising is such that it can create a demand where none exists, of a commodity which is not needed."1
Much of this general concept can be traced back to Marxist psychologist Erich Fromm, who in Escape from Freedom (1941) wrote:
In capitalism economic activity, success, material gains, become ends in themselves. It becomes man's fate to contribute to the growth of the economic system, to amass capital, not for purposes of his own happiness or salvation, but as an end in itself.
That is, through capitalism and its propagandists (i.e., advertisers) human beings are reduced to "a cog in the vast economic machine" who no longer pursues his own happiness, but only serves the interests of "capitalism."
There are a couple of problems with this theory, though.
One is that a capitalist economy does not rely on endless consumption to sustain itself. The second is that advertising doesn't work the way many assume it does.
Capitalism Doesn't Cause Consumerism
For starters, it is not the case that the capitalist system is built on consumption or that it requires us to mortgage our future in order to buy ever-larger amounts of consumer goods. After all, it is for a good reason that capitalism has historically been much associated with misers — the quintessential literary example being Ebenezer Scrooge — who shunned consumerism. Saving (i.e., deferred spending) is every bit as essential to capitalism as is consumption. It is governments and their central banks, not markets, that seek to maximize consumption always and everywhere.
Moreover, saving and investment are key ingredients in increasing wages, growing the capital stock, and increasing future consumption. In a market economy, many firms, such as retirement funds and banks, directly profit from more saving and investment.
Spending every last dime on another trinket or bauble is not a recipe for robust capitalism.
How Advertisers Are Supposedly Making Us Miserable
At this point, the purveyor of the capitalism-makes-you-sad theory could still insist: "sure, maybe capitalism overall doesn't require us to relentlessly consume. But certainly there's a portion of the capitalist system, such as toy sellers and auto makers, who need us to consume. And to get us to do so, they use advertising designed to keep us hoping we can fill that hole in our souls with just one more trip to the mall."
There's a (small) kernel of truth to this. Many capitalists do indeed want us to buy consumer goods, without much regard to the consequences to each consumer personally. In hopes of getting us to spend, they employ advertising. And advertising often promotes feelings of inadequacy to get us to consume more.
This particular kind of advertising was developed at least as early as the nineteenth century. It was then perfected in the 1920s.
Typical examples of the formula include:
Why be ugly … when you can use Zenith Cold Cream?
Why be fat … when you can take Acme Diet Pills?
This formula was so widespread by the 1920s and 1930s, in fact, that Sigmund Freud joked the "boldest and most successful piece of American publicity" would be an ad using the phrase "Why live if you can be buried for ten dollars?"2
Nowadays, a lot of modern advertising is more nuanced and less in-your-face than this formula. Modern advertising often appeals to humor. Nevertheless, advertisers nowadays still rely on the strategy of presenting consumption as a sort of self-improvement. They offer a glimpse of a life of better looking people, more luxurious cars, and more fulfilling friendships. It's the life you might have if you only consume the right products and services.
But do people actually believe what advertisers tell them?
Clearly, people don't buy everything advertisers tell them to. If they did, as Ludwig von Mises noted, candle makers could convince us to abandon light bulbs with a few ad campaigns.
Indeed, studies conducted to determine the effectiveness of ads have never been conclusive. A 1931 consumer survey revealed the "only 5 percent of the public believed any of the more obviously outrageous claims made by ads." Only 37 percent believed any ads at all.3
A 2013 survey concluded only 21 percent of consumers agreed "ads are somewhat accurate." 21 percent also said they will even "refuse to purchase products due to brand advertising."
Some might claim this is only survey data, and thus questionable. But then there are countless cases in which ad campaigns failed to achieve results. A 2015 study from the University of Texas, for example, showed alcohol ads have increased 400 percent over the past forty years. Meanwhile, per capita alcohol consumption has gone down. Yes, advertising can be helpful in promoting a certain brand. But it hasn't been shown to increase a person's overall spending.
So, it seems people don't spend more just because capitalists tell them to. And its unclear that many even believe what ads have to say. If this is the case, it's hard to see how "capitalism" has succeeded in its nefarious plan to make us miserable consumers, assuaging our loneliness with another round of mindless spending.
Are We More Miserable than Our Forebears?
In spite of the unconvincing reasoning behind the capitalism-makes-you-sad narrative, many continue to find it plausible. This is largely because many people remain convinced that people were happier — or at least had an easier time — in the past.
Certainly, there's no statistical data to support this. Those happiness measurements we sometimes read about in the popular media (such as this one) are usually based on totally subjective self-reported survey data and offer absolutely no means of comparing the present with the past. Attempts to systematically asses "happiness" in the past were virtually nonexistent.
Quality-of-life indicators reconstructed from the past (such as working hours, living space, life expectancy, and homicide rates) don't often make the era of our grandparents or great-grandparents look especially wonderful. The nineteenth century — an era before modern methods of mass marketing and mass consumption — wasn't an era of carefree indifference to the requirements of daily work and toil. The poverty of the "good old days" was not exactly a source of personal fulfillment and contentment.
But perhaps we need to look deeper into the past?
On this, Murray Rothbard suggests the imagined Golden Age before capitalism existed. It was, according to the myth, an era of "Happy Craftsmen and Happy Peasants" who had a "sense of belonging" and all were "sure of his station in life." No one suspected he ought to be buying a new car or a new bedroom set. No such options were available at all.
Was living in poverty with no access to advertisements or capitalism the real key to happiness? Rothbard is skeptical and notes that people — should they really want to flee capitalism — are largely free to pursue this supposedly happier type of living in communes like the utopians or hippies of old. He concludes:
Not only has almost no one abandoned modern society to return to a happy, integrated life of fixed poverty, but those few intellectuals who did form communal Utopias of one sort or another during the nineteenth century abandoned these attempts very quickly. And perhaps the most conspicuous non withdrawers from society are those very critics who use our modern "alienated" mass communications to denounce modern society.
It's comforting to think there is some time or place in which human beings were not troubled by feelings of unhappiness, emptiness, or inadequacy. It's unclear, however, where or when this place has existed. In the mean time, few seem willing to give up their modern amenities to investigate first-hand.
*About the author: Ryan McMaken (@ryanmcmaken) is a senior editor at the Mises Institute. Send him your article submissions for Mises Wire and The Austrian, but read article guidelines first. Ryan has degrees in economics and political science from the University of Colorado, and was the economist for the Colorado Division of Housing from 2009 to 2014. He is the author of Commie Cowboys: The Bourgeoisie and the Nation-State in the Western Genre.
Source: This article was published by the MISES Institute
Notes:
1. Singh calls to mind a line from the 1999 film Fight Club in which a main character declares modern workers in a capitalistic system are "slaves with white collars. Advertising has us chasing cars and clothes. Working jobs we hate so that we can buy sh-t we don't need."
2. Ann Douglas, Terrible Honesty:Mongrel Manhattan in the 1920s (New York: The Noonday Press, 1995), p. 144.
3. Ibid., p. 68.