Doug Ford's Ontario: Hard Right Turn
''Ford's 'government for the people' thus pivots, like Trump's regime in the U.S., around ideological appeals to a hard-right provincialism, patriarchal family values set against a hostile world of crime and terrorism, mobilization of ethnic and racial chauvinisms, and mystical market solutions for every ill.''
A decade after the global financial crisis, few of the initial political calculations on the trajectory of world capitalism remain intact. The assessments made by liberals and social democrats alike on the end of neoliberalism and a revival of Keynesian state intervention seem now like a bad joke. And the reading from many on the radical Left that the economic slump would be met by a wave of social resistance and an opening for political rupture have fared no better in either economic analysis or political guidance. Indeed, neoliberalism has regained its preeminence in economic policy through re-financialization and austerity despite its ideological discredit and the endless multiplications of its contradictions.
It is more than a little alarming that it is right-wing political forces that have gained more and more political space in the wake of the crisis. The range of forms of this insurgent right defies a single classification: electoral victories opening political space for a hyper-nationalist alt-right (U.S. and Germany); incorporation of neo-fascist forces into "formal" liberal democratic states (Italy, Hungary, Poland, the Philippines, Austria, Poland, and others); exceptional judicial-political coups (Brazil, Honduras); authoritarian constitutional regimes (Russia, China, India, Turkey); military coups (Egypt, Thailand); and still others.
It is often claimed, in the simple-mindedness that passes for political analysis in Canada, that our inclusionary polity has been innocent of these developments (although Canada is, perhaps, the most orthodox adherent to neoliberal policy precepts in the world). But with the far right gaining political space inside and outside the Conservative Party — as in the long years of the Stephen Harper governments, and now with the United Conservative Party in Alberta, the People's Alliance in New Brunswick, and the Saskatchewan Party and Coalition Avenir Québec governments — this claim bears no scrutiny.
The election of the Doug Ford-led Conservative Party to a majority government in Ontario, Canada's largest province by output and population, should leave little doubt that an authoritarian phase of neoliberalism is sinking deep roots in Canada. Ford's election platform, A Plan for the People, played to the "Ford Nation" built by his brother Rob as mayor of Toronto in its themes of social conservatism, law and order, unwanted "illegal" migrants, and market populism. Ford adopted much of the inflammatory rhetoric of Trump, and a parallel narrative of "making Ontario great again" after years of "criminal" Liberal spending (with the same chants of "lock her up" for then-premier Kathleen Wynne as targeted Hillary Clinton) and domination by cultural "elites" in Toronto. In this, Ford fused a suburban, multiracial bloc of voters with traditional conservative support — many with longstanding hard-right leanings — among rural and wealthy voters. In turn, Ford empowered even more militant — some fascistic and openly racist — elements of the far right to come out from their sewers (as with ex-Rebel Media figure Faith Goldy placing third in a run for Toronto mayor).
There is no policy handbook that guides these emergent authoritarian regimes as they blend nationalism with neoliberalism. Still, features of the Ontario government policy matrix under Ford that fit this pattern can be discerned.
First, the Conservatives are committed to further "liberalisation" of the economy — with "open for business" signs symbolically installed at each border crossing. These policies will be layered into a growth model that is as "extensive" (larger market) as it is "intensive" (higher productivity), and sustains Ontario as a low-cost, low-tax regional production system. Some of Ford's first moves were to scrap the carbon trading system, while simultaneously cutting the gas tax, 750 renewable energy projects, and the Green Ontario Fund (shamefully leaving Ontario without a climate change policy). Shortly after, Ford tabled legislation to roll back modest labour reforms addressing some of the problems of low-paid workers and to freeze a planned increase of the minimum wage to $15 per hour, while also cutting back workplace inspections. New spaces for accumulation are, as well, to be pushed in the "ring of fire" in northern Ontario for mining, opening up "green spaces" for exurban development sprawl, and cannabis privatization.
Second, Ontario fiscal policy has been constrained for decades by targeted maximum fiscal deficits (normed, more or less, to move toward balanced budgets, with total debt kept in a range of 30–35 percent of provincial GDP). This has meant a budgetary practice under the Liberals of keeping program spending below the combined rates of inflation and growth to reduce steadily the size of government as a portion of the economy (with Ontario now having the lowest per-capita program spending in Canada). For the election, the Liberals allowed a modest deficit to fund a range of programs. Ford, in turn, ginned up charges of reckless Liberal spending and appointed a Financial Commission of Inquiry and an Ernst & Young Canada audit of the books to produce a $15 billion deficit (with some dispute over accounting procedures, in the same range as the Liberal projections). The Conservatives, however, promised during the election to increase spending on public transit, housing, childcare, and long-term care beds, with no cuts to services and public employees, and gas, income, small business, and corporate tax cuts. This is all to be funded, Ford argued, by $6 billion in savings through unnamed efficiencies.
This is, to say the least, a confused and incoherent fiscal policy that cannot hold. Indeed, it is austerity that has already been rolled out: a public-sector spending and hiring freeze; axing of a pharmacare program for young people; cuts to a school-repair program, cycling infrastructure, and mental-health funding; and appointment of a Task Force on Healthcare Reform led by a two-tier advocate. The precise mix of spending cuts, user fees, and monetization and privatization of assets will be sorted out in the coming economic statement and budget.
Third, the neoliberal deepening of economic institutions works in conjunction with measures that promote "social discipline" as the hard right sees it. The Conservatives have, for example, moved quickly to turf a modernization of the sex-ed curriculum, as well as materials to deal with reconciliation with First Nations; to legislate CUPE back to work at York University; to cut a basic-income pilot program and social-assistance rate increases (on the road, it seems, to revising some form of workfare); to withdraw from provincial obligations to settle and house refugee claimants; to block new oversight laws on the police; and to re-establish specialized policing units (the "guns and gangs" forces associated with extensive carding of racialized groups) in high-priority neighbourhoods. This is only a partial inventory of the ideological and economic mechanisms to instill the culture of fear and market discipline that Ford is deploying.
Finally, the Ford regime has been unhesitating in reinforcing the anti-democratic and authoritarian tendencies that have been integral to neoliberalism. Indeed, Ford's most dramatic initial move was a unilateral cut to the size of Toronto's city council in the midst of an election (as well as eliminating the elections of several regional government chairs). Ford was so keen to reduce the space for electing, as he put it, "lefties" in Toronto, he belligerently invoked the constitutional notwithstanding clause to limit judicial oversight. The personalization and concentration of power around Ford is notable: the hypercentralization of executive power in the Premier's Office; the ending of public ministerial mandate letters; the centralization of control over ministerial staff appointments and media contacts; the naming of special advisors and commissions to the Premier's Office; the demotion of the ministerial status of First Nations issues; and the altering of parliamentary rules to limit the capacity to oppose government bills.
In sum, Fordism in Ontario is an extraordinarily contradictory — and dangerous — agenda. The antistate, market populism used to sustain the rate of accumulation at any cost exists alongside — indeed, depends upon — an increasingly interventionist and authoritarian state mobilizing its resources and reordering its administrative apparatuses to buttress this process. Ford's "government for the people" thus pivots, like Trump's regime in the U.S., around ideological appeals to a hard-right provincialism, patriarchal family values set against a hostile world of crime and terrorism, mobilization of ethnic and racial chauvinisms, and mystical market solutions for every ill.
Ontario under Ford has not mutated into an exceptional regime existing, as it does, within the faint veneer of liberal democracy. But Ford operates with ever fewer constraints — a nascent Bonapartism? — over his exercise of power. Both Ford's core populist instincts and political calculations authorize and sanction the hard-right sections of his caucus, party, and extra-party militants; and his economic strategy hinges on ever more speculative, politicized, and extreme forms of accumulation. It would be utter folly to predict where this will end (no less in other regions of Canada). It is clear, moreover, that the Liberals are indicted in these very same processes; and the NDP has proven more inept than capable of developing an alternative to neoliberalism, as these policies have also made their claims on its vision and platform. Political fronts, a fighting and transformed union movement, ambitious socialist organizing, and alternatives have seldom been more urgent to confront the challenges of these uncertain and grave times.
Greg Albo teaches political economy at the Department of Political Science, York University, Toronto. He is currently co-editor of the Socialist Register. He is also on the editorial boards of Studies in Political Economy, Relay, Capitalism, Nature, Socialism, Canadian Dimension, The Bullet and Historical Materialism (England). Co-editor of A Different Kind of State: Popular Power and Democratic Administration and author of numerous articles in journals such as Studies in Political Economy, Socialist Register, Canadian Dimension, and Monthly Review.
Examining letter writer's position, socialism and capitalism
Before examining S. Michael Melia's positions (Nov. 18), let's begin with definitions. A quick Google search proves highly enlightening.
Socialism is an economic model that dictates government own or control all commerce and wealth, whereas capitalism is based on private ownership of means of production and of profits generated. Communism is a political system that is also economic since it requires government to be both exclusive owner of the country's assets as well as sole decider of all social norms and national positions.
There is no purely capitalist or socialist economy in the world today. Although the United States administers the Social Security Administration and the government-owned Postal Service, it will remain capitalist regardless of the adoption of other public programs. "To be clear, capitalism implies that markets and market transactions are the principal drivers of economic activity." Nations cannot easily move from one form to another.
Now let's look at Melia's reasoning. Note that facts are empirical, and that much of his letter is either opinion or simply speculation. A faulty premise invalidates an argument from that point on.
1. Capitalist nations have killed or displaced many millions more. Where is proof that additional socialist options will lead to "mass genocide"?
2. Certainly many nations grapple with famine and starvation, however, Melia doesn't state the root CAUSES of those food shortages.
3. Please don't point at Cuba's crisis. Our capitalist health-care system is the worst in the developed world, an indication that this universal need ought NOT be profit-driven.
4. True, in some countries, whether communist or another form of government, criticism is too often brutally suppressed. Again, where is proof that democratic socialism, in which we already engage, leads to that end? In our constitutional, democratic republic, power ultimately resides with the citizens. Melia's catastrophic thinking isn't even close to foregone conclusions.
5. All systems, including capitalism, eventually fail, especially when they're not amended as national and global circumstances change.
Yes indeed, inform, think and choose FOR YOURSELF! And please vote objectively, not according to someone else's biases. Beware of any who don't encourage you to do so!

How America's capitalist system is 'broken,' according to billionaire financier Ray Dalio
"The world has gone mad and the system is broken."
So says Ray Dalio, the billionaire financier and founder of Bridgewater Associates, the largest hedge fund in the world with $160 billion in assets.
There are several problems, including an overzealous lending market, a growing mountain of government debt and a widening divide between the rich and poor that's becoming more tense, he says.
"This set of circumstances is unsustainable and certainly can no longer be pushed as it has been pushed since 2008. That is why I believe that the world is approaching a big paradigm shift," Dalio wrote in a LinkedIn post published Tuesday.
Dalio, 70 and worth almost $19 billion, does not elucidate what that paradigm shift will be in his post, but he has been outspoken in his criticism of the very capitalist system that made him successful. In an interview with CBS' "60 Minutes" in July, Dalio said the U.S. economy must change or there will be a "conflict" between the rich and the poor. And in January, he said "capitalism basically is not working for the majority of people."
In his recent LinkedIn post, Dalio zeroed in on the way money is flowing through the economy.
First, says Dalio, we are in a situation known as "pushing on a string." That is a scenario where central banks (like the Federal Reserve in the United States) are struggling to get their monetary policies to actually stimulate increased spending, according to Dalio's book, "Principles for Navigating Big Debt Crises," which he references in the LinkedIn post. That in turn leads to "low growth and low returns on assets," he says in the book and echoes in the post. "[T]he prices of financial assets have gone way up and the future expected returns have gone way down, while economic growth and inflation remain sluggish," Dalio writes on LinkedIn. "Those big price rises and the resulting low expected returns are not just true for bonds; they are equally true for equities, private equity, and venture capital…."
In the venture capital and start-up space, this means "more companies than at any time since the dot-com bubble don't have to make profits or even have clear paths to making profits to sell their stock because they can instead sell their dreams to those investors who are flush with money and borrowing power," Dalio says.
At the same time, the U.S. government is out of money — and still spending, as deficits continue to grow. Governments need to fund obligations like pensions and healthcare, Dalio points out.
"Since there isn't enough money … there will likely be an ugly battle to determine how much of the gap will be bridged by 1) cutting benefits, 2) raising taxes, and 3) printing money…" Dalio writes.
"They are promises that have to be paid — they will either be paid by higher taxes or they'll be not paid and defaulted on," Dalio told CNBC at the Greenwich Economic Forum on Tuesday. "I don't think they will be defaulted on. I think by and large, they're going to be paid, but if they raise taxes too much, then it changes the nature of that economics."
Climate Change and Capitalism: A Political Marxist View.
Viewed from the perspective of geological history, our current climatic and economic conditions are unusual. For most of the last 60 million years, the climate has been wildly unstable. It was only 10,000 years ago that it settled into its current stable state, and within this period that the Holocene emerged, during which human societies shifted their relationship with nature though agriculture, and then creating complex settled socio-economic forms, including capitalism.
Despite its omnipresence today, capitalism itself is very young. But it has its roots in that stabilisation of the climate and the subsequent development of agriculture. Fully-fledged global capitalism has been with us for no more than 300 years. In the 4.5 billion year history of the earth, capitalism is a brief moment within the blink of an eye that is human existence.
But this brief moment is a global force. It is capitalism that has placed us on a path to leave the stable climate of the Holocene. Thanks to capitalist development, the earth is currently 0.8 of a degree warmer than the pre-industrial average. Without overthrowing capitalism, we are likely to warm the earth to levels that humans as a species have never lived with.
This should terrify socialists. As I will argue here, the environmental system and the economy have co-evolved. The economy is dependent on the environment. Once we leave the stable climatic conditions of the last 10,000 years, we have very little guidance on how to build a socio-economic system that works. There is no particular reason to think the systems we have developed in one set of environmental conditions will flourish in another. There is also no reason to believe that such conditions provide fertile ground for the development of a more compassionate or humane socio-economic system.
If we want to stand a chance of building socialism in the near future, we must become eco-socialists and stop catastrophic climate change now. At the same time, to stop catastrophic climate change, environmentalists must also become eco-socialists. The dynamics that drive climate change are core to capitalism. Serious action on climate change will necessarily amount to the first steps of a programme to end capitalism.
The economy, the energy system, and the environment: co-evolutionary systems.
The economy, the energy system and the environment have evolved together. They draw on one another, passing materials between them and absorbing one another's wastes. All economic activity ultimately rests on the transformation of material resources. These must be drawn from the environment and then worked by labour. Marx makes this interdependency explicit:
The use values… i.e. the bodies of commodities, are combinations of two elements–matter and labour. If we take away the useful labour expended upon them, a material substratum is always left, which is furnished by Nature.1
Marx uses the example of linen–which is produced by workers (labour) who transform the fibres of the flax plant (environment). But this interdependency also holds true for more modern commodities. For example, the servers that host the files for music streaming services are made of up various minerals and metals that have been rearranged by labour.
An additional interdependency comes in the form of energy. At every stage of the production of a commodity, energy is being used to transform matter from one form to another. Metals are heated, melted and transformed into iPhones. Cotton is grown, harvested, woven, and dyed to make scrubs worn by surgeons. The energy used in these processes cannot be created. It can only be transformed.
All energy used in the economy is entropic: it comes from a repurposing of energy found in the earth system, and exacting it in return for a cost. Coal is dug from the ground and burnt, solar energy is captured by photovoltaics, or in plants that we cook and eat. The energy system which enables economic activity is entirely dependent on the environment.
We see here how the environment influences the economy. The economy is the process of transforming materials extracted from the environment by repurposing energy flows from the earth system. The result of this, is, to quote Marx's citation of the economist William Petty, that when it comes to material wealth, "labour is its father and the earth its mother".2 But at the same time, the environment and the energy system are shaped by the economy. The priorities of the economic system determine the valuation of each element, as well as which materials are extracted, changing the composition, look and dynamics of the environment.
The practice of extraction itself is not exclusive to capitalism. Agricultural practices that pre-date capitalism have reshaped our landscapes. Take sheep farming, for example.3 Heavy grazing tends to change the biological make up of heathland. Eventually, heathland may lose all of its herbs and woody species and become grassland. As grasses can survive for longer as the sheep eat them than woody plants and herbs, the transition from heathland to grassland can make conditions more favourable for sheep grazing as the sheep have more to eat. This is less helpful for bird life, as the grasses are a poor habitat substitute and the sheep compete with birds for certain types of fruit, and reduce the availability of various insects. Through pastoral grazing economic activity has transformed former heathland landscapes.
Climate change is another example of the co-evolution of the economy and the environment, but this time, one specific to capitalism. As we will see, the two are inextricably linked. Without fossil fuel deposits, capitalism could not have become the dominant force it is today. Similarly, without capitalism, fossil fuels may never have become the backbone of the economy.
Coal, the great divergence and the origins of capitalism
Between the mid 1500s and 1900, there was an explosion of coal use in England. On average, English coal use more than doubled every half century during this time period. By 1900 coal represented 92% of English energy use and was providing 25 times more energy than all energy sources combined had in the mid 1500s.
Over this time period the English economy also grew rapidly. For mainstream economic historians, the period from 1700 onwards marks the start of 'the great divergence'. England began the industrial revolution and its economy took off, becoming much larger than other economies that had until that point been a similar size.
It is not a coincidence that coal use and economic growth expanded simultaneously. Coal is a high quality fuel. It offers a much greater amount of energy out for every unit of energy required to produce it than wood, for example. Consequently, it enables more work to be done–more materials transformed – than muscle power alone, or even wood or water–the dominant fuel sources in the nascent English industrial economy.
But the geographical distribution of coal is not, by itself, enough to explain English economic growth or the 'great divergence'. In 1700, China had widespread domestic coal use, just like England. And until 1700 China had a similar sized economy, with similar levels of market activity. But neither Chinese coal use nor the Chinese economy grew exponentially in the way that England's did.
The difference was the consolidation of capitalist social relations in England. We can locate the pressures that lead to capitalism, and the capitalist exploitation of coal, in the agrarian economy of 1500s England. As these pressures grew, they drove coal use and economic growth in England. Though pre-capitalist China was incredibly well-developed, had an extensive use of wage-labour within markets, it never became dominated by proto-capitalists, and so did not develop the same systematic pressures. Coal use and the economy, subsequently, did not see the same qualitative expansion.
Political Marxism and the Fossil Economy
Archetypical of the Political Marxist approach to modes of production, Ellen Meiksens Wood argues that a capitalist economy is one where a majority of people depend on the market to meet their basic needs.4 This distinguishes capitalism from feudalism, in which there is a large peasant class largely self-sufficient in terms of basic needs, and in which the more powerful classes depend not on market power to support their consumption, but on military and extra-economic power. Wood further distinguishes between the form of markets under capitalism and those that characterise pre-capitalist economies. She argues that markets originally functioned and made profit by providing a means of getting goods that could only be produced in one part of the world to other parts, where those goods could not be produced. She goes on to argue that capitalist markets operate differently: profit here is achieved by reducing costs and improving productivity.
Though substantially debated, this approach was developed by Wood (alongside Richard Brenner) as a reaction to what she saw as ahistorical explanations of the role of markets in the development of capitalism—particular the claim, coming from Adam Smith, that capitalism is "…the necessary, though very slow and gradual consequence of a certain propensity in human nature…the propensity to truck, barter, and exchange one thing for another."5 Against this, Wood argues that capitalism began in England because of its unique constellation of social conditions.
In her landmark work The Origin of Capitalism,6 Wood argues that capitalism could only have begun in agrarian England. Unlike other nations with similarly sized economies, England had the unique combination of a large national market, substantial numbers of tenant farmers (as opposed to peasants, tied to the land by social convention), and highly centralised state power. These three components come together to create a transition to a market dominated economy. Highly centralised state power took political and military power away from land owners. So unlike in Holland, for example, the primary way for landowners to exploit the surplus of their workers was through market means rather than direct coercion. This was possible because of the existence of the large national market in which they could sell goods for a profit, and because of the existence of tenant farmers, which meant they could remove unproductive farmers from their land.
It is the development of capitalist markets, as Wood describes them, that creates the conditions for fossil fuel exploitation. Capitalist markets, like all economic systems, turn on the necessity of using economic tools to extract surplus. This dynamic creates capitalism's drives to reinvest in productivity growth and to discipline the workforce in order to increase output. Because landowners were now dependent on the market for their own livelihoods, they tried to reduce costs and maximise outputs. This fundamental change in the nature of production created a system in which the ability of energy to do extra work became very attractive. Although Wood never directly discusses energy, her work has influenced Andreas Malm, whose Fossil Capital7 does pick up the energy question.8
Malm argues that under the conditions of capitalism, coal came to be a tool of social control. Coal centralises production, bringing workers under one roof. This serves the dual purpose of making them less able to embezzle from their employers, allowing improved scales of production, and also enabling employers to more easily regulate the times of work and levels of production. In addition, coal—alongside the machinery it allows—improves productivity: by giving them a greater source of energy than food and their muscles alone, coal increases the amount of output that can be produced by workers.
Only in England did the capitalist class benefit from these features of coal. Economic structures elsewhere followed fundamentally different logics that did not reward productivity and output growth. Though markets existed outside of England, central power and surplus was derived from military and political power, and only peripherally from economic power. Consequently, although productivity increases may have occurred by chance, societies were not systematically driven by the need to continuously produce more, or to do so more productively. As Debeir et al. put it, Chinese coal use:
…did not create new social needs, did not constantly push the borders of its own market outwards…proto-industrialisation and economic growth were remarkable achievements but failed to generate an accelerated division of labour.9
To understand this more fully, let us now examine the nature of capitalist markets in more detail.
Capitalist Markets and the Pressures to Grow
The ecological economists Tim Jackson and Peter Victor call the above dynamic the "productivity trap".10 It occurs because, under capitalism, workers must be able to sell their labour to be able to obtain a decent standard of living. Capitalists depend on market power for their profits and therefore constantly reinvest in productivity gains. Productivity gains mean fewer workers are needed to produce a unit of output. So if output stops growing, employment will fall. This creates a legitimate desire amongst workers for more growth, and gives governments a mandate to do everything they can to expand economic activity.
Moreover, this 'productivity trap' is self-reinforcing. The expansion of markets drives the division of labour. Adam Smith argued that as workers become more specialised, they are better able to improve the production processes they're engaged with. And at a higher level of specialisation you develop whole classes of workers whose job is purely to make production more efficient. In this way market expansion itself leads to productivity gains. But as people become more specialised this means that they come to depend on markets to get more and more of their goods—because (to use a personal example) people who sit in offices reading long-dead economists for a living don't spend much time growing food, sewing clothes, or saving lives. So the expansion of markets creates both the conditions for further growth and the need for it.
We also need to talk about consumer capitalism. Innovations leading to productivity gains do not in themselves create a market for the greater volume of goods produced. This means that capitalism must alter consumption as well as production. Today, this increasingly involves the stimulation and artifical creation of consumer needs and desires by the capitalist class—who need us to keep consuming if they are to continue earning profits. William Morris argued that in order to get and maintain profits, capitalists must sell a "mountain of rubbish…things which everybody knows are of no use". In order to create demand for these useless goods, capitalists stirred up:
a strange feverish desire for petty excitement, the outward token of which is known by the conventional name of fashion—a strange monster born of the vacancy of the lives of rich people
A substantial body of more modern work suggests that current society encourages the idea that consumption is the path to self-betterment. Psychologist Philip Cushman argues that the dominant present configuration of the "self" is as an empty vessel that requires filling up with consumer goods.11 The emptiness, he argues, comes from a lack of community, tradition, and shared meaning. These are not things that will be solved through consumption. Under consumer capitalism, there comes a collective inability to imagine social and personal change except through consumption. As a result, even 'radical' leftist futures tend to revolve around ever increasing levels of material consumption, rather than imagining new ways to live that prioritise our need for community and purpose beyond consumption.
No decarbonisation under capitalism
Because of the structural drivers towards growth that we see under capitalism, it is extremely unlikely that capitalism can avoid catastrophic climate change. The structural drive for growth means that efforts to reduce carbon emissions will be overwhelmed by the expansion of economic activity. This is controversial to most mainstream environmentalists (and to many socialists). But it is the clear experience of the history of capitalism.
To date, resources have not been conserved under capitalism. Rather when we become more efficient or find new resources, this frees up resources that are used by other parts of the capitalist machine. This explains why, for example, renewable energy and nuclear power remain only a small part of the global energy system (Figure 2). Under capitalism, low-carbon energy sources have grown but they have not replaced fossil fuel at any meaningful scale. Instead low-carbon energy is simply another energy pot available to fuel growth in economic activity in order to generate profits.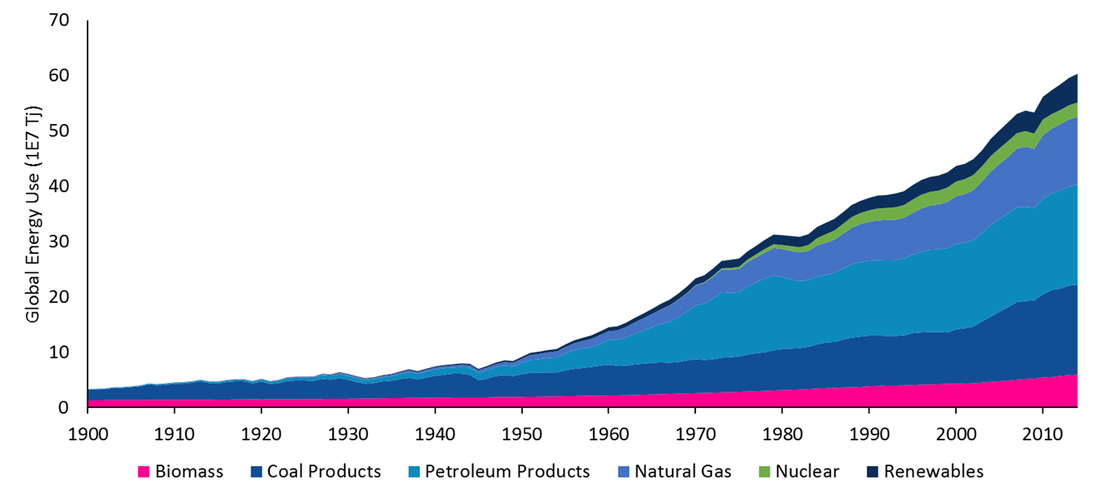 Figure 2 Global Primary Energy Use by type, 1900-2014. Source: Author's own calculations based on data from De Stercke, 2014.
The same is also true of energy efficiency gains. Energy efficiency can be a key contributor for decarbonising the global economy. But only if it is coupled to a plan to limit the size of the economy. Under capitalism, energy efficiency measures actually drive economic growth. This happens for the same reason renewable energy doesn't lead to decarbonisation. Energy efficiency improves productivity and reduces costs. In this way it reinforces capitalist growth imperatives, driving the expansion of the economy which requires more energy to be used overall.
This is also why progressive action on climate change will undermine capitalism. We will only successfully avoid catastrophic climate change if we are able to break the dominance of the market, and break the social imaginary that ineffectually ties fulfilment to consumption.
So, where do we go from here?
The economy, the energy system, and the environment are all inextricably linked. Combining ecological economics and Political Marxism, I have set out a framework in which climate change can be seen not only as a consequence of capitalism but as fundamental to it. Widespread fossil fuel use was enabled by, and necessary for, the capitalist dynamics of productivity growth and expansion. Climate change is a feature, not a bug of capitalism.
To avoid catastrophic climate change, we have to break the expansionary cycle of the economy. Otherwise technological improvements, renewable energy, and energy efficiency gains will do nothing but add to the stock of ways that capitalists grow the economy and their profits. Likewise carbon taxes and other market mechanisms will simply reinforce the core dynamics of the market and any positive effects will be overwhelmed by growth. Growth will increase energy use, including fossil fuel use. This will plunge us into a world that we do not know how to live in. It is likely that 'hothouse earth' will eventually destroy capitalism. But not before destroying the livelihoods of millions through extreme weather, greater incidence of disease, and ecological breakdown. There is no reason to believe this will lead to a better future.
Breaking the expansionary cycle of the economy in a just way requires rolling back markets. We must instead use commons, household, and state-based production as the principal means of meeting the collective needs of society. Only in this way can we break the societal drive for productivity growth and expansion. There is nothing inherently more sustainable in non-market forms of production (all economic activity uses energy), but these systems lack the expansionary drive of markets. Consequently, energy efficiency gains and new technologies can be used to replace fossil fuels rather than add to them.
This transition has the potential to be hopeful, a chance to build a more humane system. This system will be materially poorer than today's society. But this is not 'eco-austerity'. Much of the energy we use today is in producing goods that we do not need, that do not fulfil our needs. Richard Seymour articulates this in the context of the labour theory of value:
The overproduction of 'stuff' is largely achieved by making a costly withdrawal from the worker's body, a form of life-impoverishing austerity. And a great deal of that 'stuff' is not for workers' consumption, but rather, where it is not consumed as profit and dividends, is dead labour whose main effect is to achieve a further extraction of labour. We might think of energy conservation as class self-defence.
Put another way, consumption is an ineffective way of building a good life. Collectively limiting our consumption could open a path to a better economic system.
There are links between such a program and other radical leftist programs for change. Freedom from the market and repurposing of production along the lines of social need rather than profit are central to the post-work movement.12 But this movement lacks a critique of consumerism, and its analysis of capitalism fails to engage rigorously with insights from ecological economics. Visions of mass space flight continue the fantasy that consumption can fulfil us, and rely on the notion of continued expansion of output and energy use. It is unclear why those who advocate 'fully automated luxury communism' (for example) believe that a political programme whose key appeal lies in having more stuff will find itself able to break free from the expansionary cycle that lies at the heart of the ecological catastrophe. If the promise is more mass consumption, doing away with the most reliable and efficient energy sources to which we have access will be a hard political sell. There can be no avoiding growth in fossil fuel use under capitalism. But this does not mean that anti-capitalist programmes are all equally good solutions. The route forward is to embrace these radical impulses, but critique their obsession with consumption, and highlight the destructive dynamics they share with capitalism.
This marks out the terrain for political struggle. Socialists must engage mainstream environmentalists and work with them. We have a common foe in the big capital of the fossil industry. Many environmentalists are critical of the economy as it is, but lack a full analysis of its mechanics. Extinction Rebellion is a key example of this: a critical yet 'apolitical' movement. Yet they offer perhaps our best hope for building institutions that give us community, autonomy, and purpose, and for breaking with the expansionary capitalist fossil economy.
---
A response to this piece by NS eds Tom Gann and Josie will be published next week.
---