Remembering everyday violence against women and girls on Dec. 6
It's the National Day of Remembrance for the 14 women who were killed at the L'école Polytechnique in Montréal for being women and for being students in a discipline that, at the time, was wholly male-defined.
Across the nation and on different social media platforms, the remembrance is being marked by symbols and personal testimonies.
It's a reminder that the violence has not ended despite the overworked sector of civil society — women on the front lines in shelters, rape crisis centres and counselling centres.
While the collective outpouring of grief that marks this day is anchored in a remembrance of the murders of women at the polytechnique, it is also imperative that high-profile acts of violence don't overshadow the everyday, routine forms of violence that women suffer.
Six deaths every hour
The report of the Canadian Femicide Observatory for Justice and Accountability notes that around the world, every hour, six women are killed by men they know.
Femicide, or the killing of women because they are women, is underpinned by patriarchal ideologies that define how women should comport themselves. This ideology, grounded in the belief that men own women and that women need to be controlled, is also at the heart of gender inequities.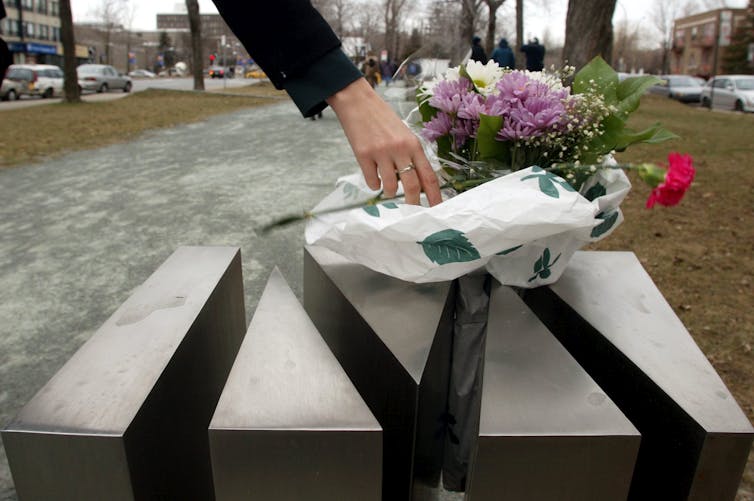 Although the tragic events at the polytechnique occurred 30 years ago, women and girls in Canada today continue to suffer from the effects of patriarchal ideologies. They experience that patriarchy differently, depending on where they are located in the matrix of domination — the axes of race, class, gender, religion, age, ableism and sexuality that criss-cross society and heighten the vulnerabilities of some women more than others.
The Missing and Murdered Indigenous Women and Girls Inquiry reveals the extent to which Indigenous women, girls and LGBTQ+ are dehumanized and subjected to violence. Canadian statistics reveal that a woman is killed every five days by an intimate partner or a family member. Murder is the finality in the continuum of violence that women and girls experience.
Privilege does not shield
We can't forget these deaths — the murders that are reported in short, terse paragraphs in the news, or that are accounted for only by organizations situated in particular communities, or remembered by close family and kin.
These deaths testify to the presence and power of patriarchal values and traditions. Similarly, while groups like the incels have attracted power and attention, they remain the tip of the iceberg. There are countless everyday expressions of male power and violence that work to constrain women.
Much like how the focus on racism that tends to be restricted to the actions of extreme hate groups and their acts of violence, the systemic, everyday racism that permeates society also needs to be named and dealt with.
The takeaway of the murders at the polytechnique is this — violence that is endemic and coursing through society is violence that crosses the boundaries of race, class, age, sexuality, gender and religion. It's violence that is anchored in the view that women are inferior, less than men, and to be controlled by men.
The 14 women killed at the polytechnique were white, middle class and educated, and this did not shield them from patriarchal violence. What then about the women who have no such privileges? How best can we remember them?
Top US admiral bristles at criticism of 'woke' military: 'We are not weak'
Adm. Michael Gilday, chief of Naval Operations, rebuffed pointed interrogations by GOP lawmakers who grilled him over his decision to recommend sailors read a book deemed by some conservatives as anti-American.
The U.S. Navy's top admiral also defended moves to address and root out racism and extremism in the forces as well as its efforts to bolster inclusion and diversity, which have prompted criticism from some conservatives and Republican lawmakers.
"Do you personally consider advocating for the destruction of American capitalism to be extremist?" Rep. Jim Banks, R-Ind., asked Gilday during a House Armed Services Committee hearing Tuesday, referring to a passage from Ibram X. Kendi's book "How to Be an Antiracist," which argues capitalism and racism are interlinked.
Banks continued to interrogate the admiral over specific quotes from Kendi's book, which was a No. 1 New York Times best seller in 2020, and statements he had made elsewhere in the past.
Visibly distraught, Gilday fired back:
"I am not going to sit here and defend cherry-picked quotes from somebody's book," he said. "This is a bigger issue than Kendi's book. What this is really about is trying to paint the United States military, and the United States Navy, as weak, as woke."
He added that sailors had spent 341 days at sea last year with minimal port visits — the longest deployments the Navy has done, he said.
"We are not weak. We are strong," Gilday said.
Rep. Doug Lamborn, R-Colo., also challenged the admiral by citing specific quotes from the book and asked him how those ideas laid out by Kendi would further advance or improve the Navy's power.
Gilday responded by arguing the importance of transparency and open dialogue about racism.
"There is racism in the Navy just as there is racism in our country, and the way we are going to get out of it is by being honest and not to sweep it under the rug," he expounded, adding that he does not agree with everything the author says in the book.
The key point however, he said, is for sailors "to be able to think critically."
The exchange was the latest in vociferous complaints from some conservative leaders and lawmakers who suggest the armed forces are becoming a pawn for the country's culture wars and "wokeness" ideology, as the military takes steps to address issues of racial inclusion, extremism, racism and white supremacy.
And only last week, Sen. Tom Cotton, R-Ark., accosted Secretary of Defense Lloyd Austin about Kendi's book, which Cotton said promoted "critical race theories" at a different Senate Armed Services Committee hearing where Austin was testifying.
Days earlier, Cotton and Rep. Dan Crenshaw, R-Texas — two combat veterans — launched a "whistleblowers" online platform to report examples of "woke ideology" in the military.
"Enough is enough. We won't let our military fall to woke ideology," Crenshaw, a former Navy SEAL, said in a tweet.
Also in February, Austin instructed a one-day stand-down across the Defense Department pausing regular activities to address extremism and white nationalism in the ranks — an issue Austin declared as a priority after a number of rioters at the U.S. Capitol in January were found to have military backgrounds.
The stand down completed in April was an effort to better understand the scope of the problem of extremism in the ranks, Pentagon press secretary John F. Kirby said in a briefing then.
Earlier, Austin had revoked a ban on diversity training for the military.
More recently, in May, a U.S. Army animated ad focused on soldier diversity — featuring the real story of a soldier who enlisted after being raised by two mothers in California — drew criticism and political backlash from some conservative lawmakers.
"Holy crap," Sen. Ted Cruz, R-Texas, said in a tweet. "Perhaps a woke, emasculated military is not the best idea. . . ."
Cruz was referring to a TikTok video that compared the U.S. Army ad with a Russia campaign that showed buff soldiers doing push-ups and leaping out of airplanes, adding that the contrast made the American soldiers "into pansies."
The confrontation Tuesday is also the latest in reproaches by Rep. Banks, who is a Naval Reserve officer, and other GOP members over Gilday's recommendation to include Kendi's book in the Chief of Naval Operations Professional Reading Program.
In February, Banks sent a letter to Gilday arguing that the views promoted in the book are "explicitly anti-American" and demanded Gilday explain the Navy's decision to include it on the reading list or remove it.
Gilday responded to Banks in a letter obtained by Fox News saying that the book was included on the list because "it evokes the author's own personal journey in understanding barriers to true inclusion, the deep nuances of racism and racial inequalities."
Lamborn and Rep. Vicky Hartzler, D-Mo., also wrote a letter to the admiral to convey their concern about the inclusion of Kendi's book as well as Michelle Alexander's "The New Jim Crow" and Jason Pierceson's "Sexual Minorities and Politics."
The GOP lawmakers argued the books "reinforce a view that America is a confederation of identity categories of the oppressed and their oppressors rather than a common homeland of individual citizens who are united by common purposes," Lamborn and Hartzler wrote, according to Fox News.
Looking back on the 1991 reforms in 2021
Our understanding of events refines with time. New developments reframe the issues, and prompt reassessment of the solutions applied, their design and outcomes. What does looking back on the 1991 reforms in 2021 tell us?
For three decades, India celebrated and criticised the 1991 reforms. The reformers of 1991 say that the idea wasn't only to tide over a Balance of Payments (BOP) crisis; the changes they brought in went beyond the International Monetary Fund's (IMF) conditionalities for the bailout. The reforms, they insist, were 'home-grown'. In the years leading up to 1991, technocrats in government had been thinking and writing about how India's economic policies had been blocking the country's rise to potential and the structural changes needed. If the broad range of reforms—including tearing down the industrial license permit raj, an exchange rate correction, and liberalising foreign direct investment and trade policies—could be launched within a matter of days of a new government joining office, they argue, it is because the blueprints were ready, waiting for the go-ahead from the political leadership.
The reformers of 1991 say that the idea wasn't only to tide over a Balance of Payments (BOP) crisis; the changes they brought in went beyond the International Monetary Fund's (IMF) conditionalities for the bailout.
At least two well-regarded technocrats that were important in the 1991 reforms disagree—publicly and in off-the-record conversations. In a media interview last month, one of them, the economic adviser in the reforms team, Dr Ashok Desai, suggested that if there were any reformers in government before the IMF "forced" India to liberalise in 1991, "they hid themselves very well". According to him, after the BOP crisis was resolved, finance minister Dr Manmohan Singh turned "dead against reforms".
The multiple versions of the reforms story make it difficult to separate fact from romance. It cannot be disputed, though, that the 1991 BOP crisis was a turning point for the economy. India had tided over BOP crises earlier with loans from the IMF, repaid them prematurely, and avoided going through with the bailout's conditionalities. 1991 was singularly different because India was on the brink of default, which is likely to have forced politicians to set politics aside and listen to technocrats. Any default on external obligations would have meant hurting India's credibility grievously and an inescapable sense of national shame. The government probably took the view that there was no choice other than to take corrective steps. Prime Minister PV Narasimha Rao named Dr Manmohan Singh, who had been a technocrat in government and was well regarded in global policy circles, as his finance minister. Dr Singh clearly had the Prime Minister's, his party's and the IMF's trust. Records irrefutably show that the Congress party's acceptance of the reversals in the interventionist economic policies of the first four post-Independence decades was not secured by the Prime Minister. He had delegated the task of tackling doubts and resistance within the party to his ministers, in particular, the finance minister and the commerce minister, and an aide in his office. The finance minister defended the reforms on the floor of the house in Parliament.
Taxpayer-funded NPR mocks 'CaPitAliSm,' prompting calls to 'defund' media outlet
National Public Radio (NPR) ignited a social media firestorm Thursday night over a tweet that appears to mock capitalism, despite taxpayer dollars accounting for much of the organization's annual budget.
The outlet posted a story titled "And Now, Crocs With Stiletto Heels" that explores a curious new collaboration between luxury fashion brand Balenciaga and Crocs, the rubber slipper company responsible for fashion faux pas among the millions of comfort-clinging owners nationwide.
The caption accompanying the article, which was written in both uppercase and lowercase letters, appears to mock the collaboration: "CaPitAliSm bReEds InNovAtiOn," it reads. 
The tweet's language sparked outrage on social media, with figures like conservative Tim Young calling out the irony in NPR's three-word post.
"You wouldn't exist without capitalism, clown who is tweeting on behalf of NPR," he wrote.
"Job at public news station wouldn't exist wo capitalism," another user echoed. "Are you guys ok?"
"Our tax money shouldn't pay for this," one person expressed.
"It's still a hell of a lot better than communism at breeding innovation, even if some of the products are silly," one woman fired back.