Toronto-area rapper blames systemic racism for months of misdiagnosis
TORONTO — When Matthew John Derrick-Huie went to the doctor with chest pain and shortness of breath in 2017, he didn't know he was about to embark on a two-year medical nightmare.
The 24-year-old Canadian rapper who goes by the stage name "John River," told CTV News that he went to the emergency room five times before doctors took him seriously and on that fifth visit, they gave him a spinal tap to test for meningitis.
"I felt I had been trying and pushing so hard with every fibre in my body," he said. "I'm not a quitter. I don't think I'm weak. I don't believe in giving up in any capacity in my life and even for me, I was unbelievably outmatched.
For the next 60 days, River visited family doctors, specialized clinics and emergency rooms as often as 30 times in search for an answer, but failed to find one. Some doctors told him he was suffering from anxiety and depression and prescribed him antidepressants, but he knew that wasn't the issue.
"One physician told me that I was in a depressive state and I just didn't realize," he said.
"I said: 'Respectfully, I lost my house twice when I was 17, my cousin who used to live with us was murdered…with all due respect, if I was going to have an anxious breakdown, I feel like it would've happened already.'"
It wasn't until River's family took to social media that they were able to find a doctor who would take a look at River's case. The doctor soon discovered River's brain was sagging in his skull due to low cerebrospinal fluid levels. The doctor believed River's spinal canal had been leaking since that meningitis test two months prior. Cerebrospinal fluid leaks are a known complication of spinal tap procedures.
"I understand (cerebrospinal fluid) leaks are what some people would call a rarity and a difficult diagnosis, but I don't think that's applicable here," he said.
Rivers questions why doctors didn't follow up with him after the original operation and given him an immediate treatment to fix the leaking.
"They knew they had given the patient a procedure in which you told him: 'For the next two days, you may feel like you want to die.' If you don't proceed with a follow-up procedure, one would have to assume that that patient is still out there."
River required eight months of recovery and also wonders why no one would listen to his pleas for help.
"I absolutely, unequivocally, no doubt, feel that it absolutely had to do with the fact I was a young black man," he said.
River adds that he felt multiple instances of racism as he dealt with health-care providers, including one visit when a nurse accused him of visiting the hospital solely for drugs.
"She said to me: 'I know you are here for drugs, why don't you just tell us which drugs they are and we'll expedite this process,'" he said. "How is it within a two-minute time period (that) you were able to come to the distinction that I either came to your hospital to abuse narcotics or to sell narcotics?"
River said it was only after he spoke publicly about his medical situation on Twitter that other members of the black community reached out to him with similar stories dating as far back as the 1970s.
Dr. Onye Nnorom, a family doctor who works with the University of Toronto to advance the health of black people in Canada, said River's experience in the health-care system is one of many similar stories she's come across.
"I do hear about experiences of racism and I've heard about it not only from my patients, but also from family members (and) from colleagues, so it is certainly a problem," she said. "I think one of the biggest problems is that we're not able to collect data to demonstrate it."
Nnorom adds she's also heard from black patients who've been accused of seeking drugs instead of medical care.
"The (health-care provider) is making assumptions about their appearance and thinking that they're a drug dealer," she said. "That's going to affect the way the health-care provider is able to diagnose and treat the patient.
"From the patient's end, that really makes a person feel like they're not being respected."
Racism within the Canadian health-care system is not only an issue among black Canadians. In 2017, an external review found several Indigenous women had felt pressured into sterilizing themselves immediately after childbirth at a hospital is Saskatchewan.
Additionally, a report concerning the case of Brian Sinclair, who died of a treatable bladder infection in 2008, found emergency staff at a hospital in Winnipeg ignored him for 34 hours because they assumed he was homeless or intoxicated.
In 2018, the Canadian Public Health Association acknowledged that "we are all either overtly or inadvertently racist and that the influence of this racism affects the health of individuals and populations" and offered several recommendations for all levels of government and health-care providers, including a complete review of their policies and to provide "system-wide anti-racism and anti-oppression training for all staff and volunteers."
Kathleen Finlay, the CEO and founder of The Center for Patient Protection, called River's treatment "appalling."
"Anytime a person presents multiple times to a hospital or a health-care provider for the same symptoms or worsening of their symptoms, that should send up big red flags, that should not be happening," she said. "Fortunately, the outcome here worked out well, but patients can actually die in these situations."
The Ontario Ministry of Health declined to comment directly about River's case, but said in a statement Thursday that the government "is committed to providing all people in Ontario with a health-care system that is focused on them."
"(The People's Health Care Act, 2019) states that the health-care system should be centered around people, patients, their families, and should be guided by a commitment to equity and to the promotion of equitable health outcomes," a spokesperson for the department wrote in the statement.
The ministry adds it does not collect data on a patient's race that could be used to measure access to treatment.
River, who was nominated for a MuchMusic Video Award in 2015, took two years away from music to deal with his health situation. He has since returned to his promising career and plans to advocate for equality within the health-care system.
"The only thing that's on my mind every day is how much pain I went through," he said. "I could never consciously allow somebody else to go through what I went through."
"If we save one life because of the pressure that we apply today, then I can say to myself: 'OK, I did my job.'"
River's first song since the ordeal, titled "Burn the Boats," discusses his misdiagnosis and how he is now "back from the dead" following the complications.
ROTHENBURGER: What we need in this country is a special racism court
ANOTHER PERSONALITY LOST his job Friday over racist remarks.
The latest offender is Calgary Flames head coach Bill Peters, who resigned after revelations he used racist slurs against a player a decade ago.
The case is pretty typical when it comes to process. An indiscretion is revealed, social media lights up, an employer assesses the damage and acts accordingly. Loss of employment is often the resulting punishment.
There's got to be a better way, a practical approach based on common criteria and effective assessment.
Aside from legislation against hate speech, the court of public opinion has mostly been in charge of defining racism and the appropriate punishment for those found guilty of it.
Social media are the vehicle of choice both for committing acts of racism and for meting out retribution, but racism means different things to different people.
Quoting the dictionary definition of racism is of little use, since we have a habit of either expanding it or contracting it to fit our own opinions for each situation. As an exercise, consider the following, and rank them according to your own view of the seriousness of the offence.
1. A hockey commentator chastises "you people" who immigrate to Canada but don't wear poppies on Remembrance Day.
2. A prime minister is found to have worn "brownface" at costume parties.
3. An NHL coach makes racist remarks to a hockey player.
4. A woman taunts people sitting near her in a restaurant, saying they aren't true Canadians.
Are any of these situations more egregious than the others? What factors do you consider in defining them as racist, or not, and in making your own judgment as to what should happen?
In each of those cases, apologies weren't enough. Don Cherry tried to apologize but was fired anyway. Justin Trudeau apologized and almost, but not quite, lost his job. The woman in the restaurant apologized but was fired. Bill Peters apologized but was suspended, then resigned.
Immediacy isn't always an extenuating factor, either. Cherry was immediately fired from his TV job, and so was the Lethbridge woman in the restaurant, but Trudeau's and Peters' indiscretions happened years ago. There seems no statute of limitations when the public's indignation is aroused.
What about intentions? Does it matter if someone offends inadvertently, or is ignorance no excuse? It's pretty clear, for example, that Trudeau wasn't trying to be racist — he just likes to dress up on occasion, and has a habit of making bad choices.
Was Don Cherry intentionally being intolerant, or did he just get carried away with his fervor about the need to honour veterans? Many have said the latter. Did Cherry understand that "you people" is widely viewed as being racist, or is it just the way he speaks?
Clearly, there's a difference between using racial slurs to intentionally belittle someone, but is the end result the same?
Premier John Horgan last week announced the creation of the Resilience BC Anti-Racism Network. By the sounds of it, it's mostly an information, training and prevention program, not one that hands out punishment, but it might prove to be an important step.
The move came after Ravi Kahlon, the NDP MLA for Delta North, spent his summer travelling the province gathering ideas on how to deal with racism. He's flying the idea of fining people for lesser offences relating to racism, the kind that currently don't make it to court.
None of the examples I gave above was prosecuted other than by public opinion which, as I said, carries a lot of weight. The offences weren't committed by organized hate groups, weren't part of any campaign against minorities, didn't involve violence.
But they have consequences, both to the perpetrator and the target. Society has decided it's no longer the sort of thing we just put up with. The question is, how can their seriousness be defined, and how can appropriate repercussions be decided? There are no guidelines, and it would help if there were.
So, following up on Kahlon's idea, what if a sort of bylaws court for hate offences was developed that could take care of things like the Burnaby convenience store case in which a customer berated clerks for not speaking English, or the examples above?
After all, we could take the position that racism is racism is racism, and one example is as ugly as the next, but is that really fair?
Suppose this special court operated under a set of criteria such as the ones I've mentioned. How much time has passed since the incident? Was an apology offered? Was the offence intentional? What language was used and to what degree are the terms offensive? Did it involve an overt slur? Did it occur in a public setting? Was it a first or second offence?
With those things in mind, our brief list might rank the restaurant rant and Peters' insults ahead of the others, followed by Cherry and Trudeau. You might view it differently but the point is that one offence isn't always the same as another, and that penalties should be somewhat different from one another.
Should those penalties involve community service? A public apology? Fines based on a system similar to traffic offences?
Such a system would have to be complaints based, and it would be a challenge to enforce. But each time it was, it would make a statement that if you engage in racist talk or actions, even though it falls short of violence or an all-out hate campaign, you'll pay a price.
And, employers could make decisions based on these independent evaluations by the court system, instead of on the highly fallible court of public opinion.
Mel Rothenburger is a former mayor of Kamloops and newspaper editor. He writes five commentaries a week for CFJC Today, publishes the ArmchairMayor.ca opinion website, and is a director on the Thompson-Nicola Regional District board. He can be reached at mrothenburger@armchairmayor.ca.

Remembering everyday violence against women and girls on Dec. 6
It's the National Day of Remembrance for the 14 women who were killed at the L'école Polytechnique in Montréal for being women and for being students in a discipline that, at the time, was wholly male-defined.
Across the nation and on different social media platforms, the remembrance is being marked by symbols and personal testimonies.
It's a reminder that the violence has not ended despite the overworked sector of civil society — women on the front lines in shelters, rape crisis centres and counselling centres.
While the collective outpouring of grief that marks this day is anchored in a remembrance of the murders of women at the polytechnique, it is also imperative that high-profile acts of violence don't overshadow the everyday, routine forms of violence that women suffer.
Six deaths every hour
The report of the Canadian Femicide Observatory for Justice and Accountability notes that around the world, every hour, six women are killed by men they know.
Femicide, or the killing of women because they are women, is underpinned by patriarchal ideologies that define how women should comport themselves. This ideology, grounded in the belief that men own women and that women need to be controlled, is also at the heart of gender inequities.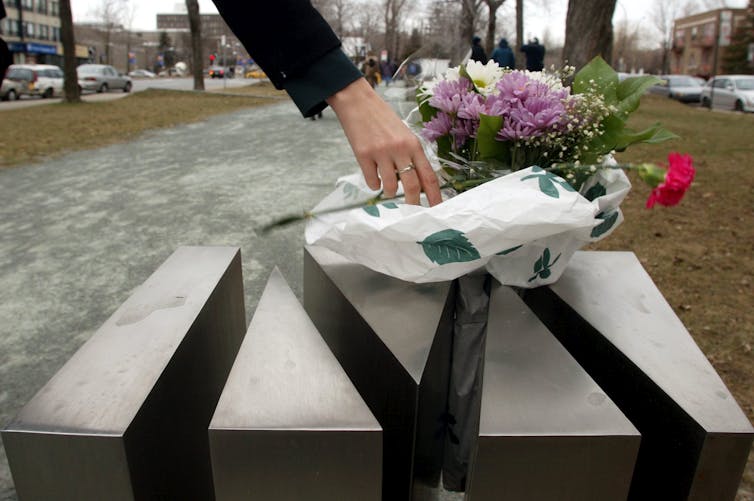 Although the tragic events at the polytechnique occurred 30 years ago, women and girls in Canada today continue to suffer from the effects of patriarchal ideologies. They experience that patriarchy differently, depending on where they are located in the matrix of domination — the axes of race, class, gender, religion, age, ableism and sexuality that criss-cross society and heighten the vulnerabilities of some women more than others.
The Missing and Murdered Indigenous Women and Girls Inquiry reveals the extent to which Indigenous women, girls and LGBTQ+ are dehumanized and subjected to violence. Canadian statistics reveal that a woman is killed every five days by an intimate partner or a family member. Murder is the finality in the continuum of violence that women and girls experience.
Privilege does not shield
We can't forget these deaths — the murders that are reported in short, terse paragraphs in the news, or that are accounted for only by organizations situated in particular communities, or remembered by close family and kin.
These deaths testify to the presence and power of patriarchal values and traditions. Similarly, while groups like the incels have attracted power and attention, they remain the tip of the iceberg. There are countless everyday expressions of male power and violence that work to constrain women.
Much like how the focus on racism that tends to be restricted to the actions of extreme hate groups and their acts of violence, the systemic, everyday racism that permeates society also needs to be named and dealt with.
The takeaway of the murders at the polytechnique is this — violence that is endemic and coursing through society is violence that crosses the boundaries of race, class, age, sexuality, gender and religion. It's violence that is anchored in the view that women are inferior, less than men, and to be controlled by men.
The 14 women killed at the polytechnique were white, middle class and educated, and this did not shield them from patriarchal violence. What then about the women who have no such privileges? How best can we remember them?
What Don Cherry, Canada's Archie Bunker, shows us about cancel culture
Don Cherry's recent Archie Bunker-inspired tirade revealed an alienating view of new and, by implication, racialized Canadians. Cherry inflamed the Canadian culture wars revealing deep ruptures in Canada's social landscape we can't seem to bridge.
The work of Harvard University professor Robert Putnam can help us understand the implications of what the Cherry fiasco unveiled. Putnam argued that Americans are less civic minded and socially connected compared to generations past.
He highlights a myriad of reasons for this such as generational differences, demographic shifts, the rise of individualized media, suburbanization and urban sprawl, which have resulted in longer commutes, growing time constraints, and greater class and racial neighbourhood segregation. He also says economic decline and restructuring have left people with less money for social activities.
These phenomena have led to social divisions and a general decline in socializing, especially with people and communities beyond the boundaries of our usual social milieus.
Putnam used the term social capital to refer to the social ties and bonds of trust that are essential to human existence. He contrasted two types. There is bridging capital when we connect with people outside our social circles. The other is called bonding capital: those connections we make within our communities.
Bonding social capital often encompasses an "us-versus-them" outlook. Ideally that attitude is mitigated by bridging capital. Putnam said that "bonding social capital constitutes a kind of sociological superglue, whereas bridging social capital provides a sociological WD-40."
Putnam laments the historical erosion of bridging social capital in the U.S., which he argues has, for many Americans, resulted in a lack of connectedness to the wider society and a depletion of overall reservoirs of social trust. Broad-based social capital, asserts Putnam, expands our opportunities, helps to broaden our perspectives, and, in general, "makes us smarter, healthier, safer, richer and better able to govern a just and stable democracy."
The Don Cherry fallout illustrates that Putnam's thesis is equally applicable to Canada.
Canada's Archie Bunker
When Cherry, 85, used his venerable "Coach's Corner" segment on a November Hockey Night in Canada telecast to demand, in the most offensive of ways and with the nuanced subtly of a Dustin Byfuglien body check, that everyone wear poppies, he may have been promoting his version of bridging social capital. By encouraging everyone to wear a poppy and admonishing those, particularly new Canadians, who don't, Cherry's aim may have been to bring Canadians of all ethnoracial backgrounds together using collective support for veterans as a rallying point.
This, at least, would be the most generous interpretation of his tirade. But he situated immigrants as a digression from a normative Canadian whiteness ("you people") who pillage the nation's treasure chest (they "enjoy our milk and honey") while offering little or nothing in return — of course, an absurd notion given the vast economic benefits immigrants bring to a nation with a declining birthrate and aging population.
While some have debated Cherry's intent, unbridled racism and xenophobia was what many inferred. His perspective at best was ethnocentric and condescendingly assimilationist. If this was an attempt on Cherry's part to foster bridging capital, that bridge quickly collapsed.
The swift public reaction vividly brought to light escalating divisions in Canada.
---
---
Fervent and polarized debates on the merits and detriments of free speech and cancel culture took centre stage. Accusations of "snowflake," "toxic masculinity" and "fascist" were flung. In a nation increasingly divided by intersections of race, class and regional differences, the turbulent reaction to Cherry's comments and cancelled TV segment illuminated the widening rupture between urban progressivism and "old stock" (read: older, white and conservative) small-town Canadians to whom Cherry has long appealed.
In short, the Cherry debacle revealed that while there is a fair degree of intra-tribal bonding Canadians aren't doing a lot of bridging. The 2019 "CanTrustIndex" revealed a sharp and alarming decline in overall levels of trust among Canadians. We're losing trust in our leaders, dominant institutions, information sources and each other. Research shows that a lack of trust in those who govern us reflects a shortage of bridging social capital.
Unbridged differences
Persisting inequalities and injustices have spurred the proliferation of identity politics over the past few decades. Such activist pursuits may also provide individuals with a sense of belonging when wider social ties have broken down. Progressive identity-based movements like Black Lives Matter have promoted awareness of prevailing inequities and combated social biases of the sort reflected in Cherry's remarks. Those social biases punctuate daily the lives of Canadians who aren't white, heterosexual, middle-class, cis-males.
But, as events like Cherry's downfall remind us, inevitable right-wing political backlash and resultant polarization and divisions will seemingly forever frustrate efforts to nurture bridging social capital. This is unfortunate, as mutually created bridging capital allows for inter-communal trust, collaboration and healthy dialogue.
---
Bridging social chasms would enable us to collectively and rationally decide how to equitably and inclusively welcome newcomers into the Canadian social fabric, and how to treat fairly those who run afoul of present day values intended to promote equity and inclusivity.
Without implying that Cherry is necessarily deserving of a second chance given his cumulative track record, it wouldn't be a bad thing if bridged differences and enhanced social trust resulted in a more forgiving society that defaults to redemption over cancellation.
That beats yelling at each other across divides and fuelling a perpetual impasse.
In the introduction of his book, Putnam suggests that Americans "need to reconnect with each other." We Canadians need to do the same. In terms of making that happen, the fallout from Don Cherry's latest antics shows we have a lot of work to do.