Capitalism is part of solution to climate crisis, says Mark Carney
Capitalism is "very much part of the solution" to tackling the climate crisis, according to the governor of the Bank of England, Mark Carney.
Challenged in an interview by the Channel 4 News presenter Jon Snow over whether capitalism itself was fuelling the climate emergency, Carney gave a strident defence of the economic system predicated on private ownership and growth but said companies that ignored climate change would "go bankrupt without question".
"Capitalism is part of the solution and part of what we need to do," he said in the interview broadcast on Wednesday.
The economist, who previously worked for Goldman Sachs, said he recognised the costs of ignoring climate change were rising, but stressed there were increasing opportunities for "doing something about it", and that capital would shift in this direction.
"Now there is $120tn of capital behind that framework that is saying to companies: 'Tell us how you are going to manage these risks' – that's the first thing," Carney said.
"The second thing the capitalist system needs to do is to manage the risks around climate change, be ready for the different speeds of the adjustment. And then the most important thing is to move capital from where it is today to where it needs to be tomorrow. The system is very much part of the solution."
He added: "Companies that don't adapt – including companies in the financial system – will go bankrupt without question. [But] there will be great fortunes made along this path aligned with what society wants."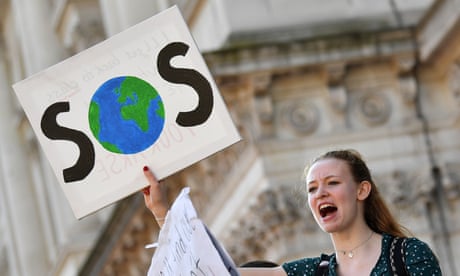 Carney, who is set to step down as governor in January after six years in the post, was interviewed at Coutts Bank in central London on Tuesday evening, where Sir David Attenborough told bankers and financiers the planet was in mortal danger and they "simply must act".
Many experts argue that ending the crisis would necessitate the end of capitalism and the introduction of a new economic model, due to the constant pursuit of GDP growth in capitalist economies where investment in fossil fuels continues to overshadow those in renewables.
Others argue that capitalism harnesses innovation, which is key to the Earth's survival and future prosperity – citing rapid advancements in renewable and clean energies.
In response to Carney's interview, Extinction Rebellion said societies must adopt more sustainable economic systems.
"We are destroying our planet, and business as usual is not going to save us. We must question any system that has led us to this path of mass extinction, and look to more sustainable economic models that are not based on resource depletion and increasing emissions," a spokesperson told the Guardian.
"This is no longer about left versus right, we need to come together to face this. Political persuasion is going to be a distant memory when we are faced with failing crops and empty supermarket shelves."
The UK has committed to eliminating carbon emissions by 2050 through legislation passed last month. However, analysis published this week by the Labour party showed this target would not be met if the UK fully exploited the shale gas reserves in the country through fracking.
COUP-IN-PROGRESS: White Collar Mafiosos Fauci, Pelosi, Cuomo & Cuomo Conspire to Topple Trump
Let's put THE GREAT SCAMDEMIC aside for a moment.
And let's jump ahead to Election Day — November 3, 2020.
Three things are certain based on Deep State's no-holds-barred MO.
First, the DEMs will steal the Senate just like they stole the House during the 2018 midterms.
Second, the DEMs will increase their majority in the House with even more election fraud and theft.
Third, the DEMs will either politically incapacitate Trump between now and Nov. 3…
or, they will outright steal the POTUS election now that the electoral process has been thrown into chaos and confusion…
or, they will let Trump win so that they can impeach and convict him in 2021 with their solid majorities.
Now let's take a close look at THE GREAT SCAMDEMIC, and especially how it will be used to manipulate the 2020 election outcome.
This thing — THE GREAT SCAMDEMIC — goes way beyond the Democrats and Deep State. It goes way beyond CROWNgate and Pedogate. It goes way beyond the Rothschilds and the Rockefellers. It even goes beyond the Cahilla and the Khazarian Mafia … as well as the Black Nobility and the International Banking Cartel & Crime Syndicate.
THE GREAT SCAMDEMIC is so HUGE and has so many objectives that you know it's the end … the final end … … … as in the "End-times" !
But that's not the point here.
What happens between now and Election Day will determine the fate of the American Republic. The future of the American people hangs in the balance with the 2020 outcome like no other election in U.S. history.
The election outcome (and process) will also dictate the inevitable consequences for the Democrat Party, as well the destiny of Deep State. The Patriot Movement also stands to gain or lose a LOT!
This is why TPTB have strategically positioned so many Deep State Democrats all over the place.
We're talking about white-collar mafiosos like Fauci, Pelosi, Cuomo & Cuomo.
The liberal power elite have installed a top hitman in every position that counts.
It's like JFK driving through Dealey Plaza on November 22, 1963 surrounded by the 8 C.I.A. sniper nests (yes, there really were at least eight sniper's nests).[1]
FALSE FLAG ALERT: Obama Foundation tweeted about George Floyd on May 17th, a week before his supposed murder – UPDATE
(Natural News) We have now confirmed that the Obama Foundation was tweeting about George Floyd on May 17th, more than a week before the day Floyd was reportedly killed by police in an act of violence that sparked the worldwide riots we're all witnessing.
George Floyd was killed on May 25th. So what was the Obama Foundation doing tweeting about Floyd on May 17th, when nobody knew who he was?
UPDATE: Some people are saying that Twitter retroactively alters images from the history of your timeline when the source URL changes its image. However, what investigators have already confirmed is that the Twitter URL validator was used by the Obama Foundation to validate this image on May 17th, in advance of releasing it publicly. Thus, the image was VALIDATED more than a week before Floyd's claimed death. This, combined with the new video analysis that claims George Floyd's death was faked using crisis actors, raise serious questions about the authenticity of this event, which appears to have been planned and carried out for political purposes, right in time for the 2020 election. The Obama Foundation Twitter picture is only a tiny fragment in the larger picture that is now emerging of a pre-planned false flag event.
The answer, of course, is that the whole thing was planned in advance. Just like on 9/11 when the media was reporting that the WTC 7 building had collapsed even while it was still standing in the frame directly behind them, it looks like the Obama Foundation got its wires crossed and accidentally started tweeting about George Floyd a week in advance.
Once the first tweet accidentally went out, they couldn't delete it without raising suspicion about it, so they just left it up and are relying on Big Tech's censorship to make sure nobody learns the truth that this was all planned in advanced and rigged as public theater.
In fact, there is growing evidence that George Floyd isn't even dead. We'll cover more on that later. We've already documented the fact that actors are now posing as cops as part of a rioting psyop (psychological operation) that's being used to brainwash more people into supporting the communist uprising.
YouTube is now banning all videos that discuss the Obama Foundation tweet about George Floyd on May 17th, and Facebook has made sure that no one can share any link from NaturalNews.com as a further suppression of truthful, independent reporting.
COVID: The squeeze play on the population
It's a con as old as the hills. The ancient chieftain of a little territory looks out across his domain and says to his top aide, "You know, we have these clusters of people worshiping different gods. That's not good for business. Our business is CONTROL, so we need UNITY. Make up the name of some god, and go out there and sell it. Take down those little shrines and tell all the people they have to believe in the new deity. Use force and censorship when necessary. Later on, I may decide I'M really the name you chose for the new god. We'll see. If you have any trouble right away, call me on my cell. I'll be out sunning by the pool."
Unity of thought. That's what controllers are after.
In the case of this fake epidemic, the population must view WHAT IT IS in the way public officials and the press are describing it. Dissenting analysis must be pushed into the background.
Here is a 4/9 Bloomberg News headline: "5G Conspiracy Theory Fueled by Coordinated Effort." [1] A sub-headline states, "Researchers identify disinformation campaign but not source." The article begins: "A conspiracy theory linking 5G technology to the outbreak of the coronavirus is quickly gaining momentum…"
Obviously, such wayward thinking has to be stopped. And down further in the Bloomberg article, we have chilling news: "Some social media companies have taken action to limit the spread of coronavirus conspiracy theories on their platforms. On Tuesday, Google's YouTube said that it would ban all videos linking 5G technology to coronavirus, saying that 'any content that disputes the existence or transmission of Covid-19' would now be in violation of YouTube policies."
"In the U.K., a parliamentary committee on Monday called on the British government to do more to 'stamp out' coronavirus conspiracy theories, and said it was planning to hold a hearing later this year at which representatives from U.S. technology giants will be asked about how they have handled the spread of disinformation on their platforms."
Independent analysis of the "epidemic" hangs in the balance. The masters of control want to maintain an information monopoly.
It goes without saying that, in order to achieve this monopoly, detailed surveillance of Internet content is necessary.
Another type of surveillance is also part of the squeeze play. Apple.com has the story (press release, 4/10) [2]:
"Across the world, governments and health authorities are working together to find solutions to the COVID-19 pandemic, to protect people… Since COVID-19 can be transmitted through close proximity to affected individuals, public health officials have identified contact tracing as a valuable tool to help contain its spread. A number of leading public health authorities, universities, and NGOs around the world have been doing important work to develop opt-in contact tracing technology."
"To further this cause, Apple and Google will be launching a comprehensive solution that includes application programming interfaces (APIs) and operating system-level technology to assist in enabling contact tracing. Given the urgent need, the plan is to implement this solution in two steps while maintaining strong protections around user privacy."