Capitalism is part of solution to climate crisis, says Mark Carney
Capitalism is "very much part of the solution" to tackling the climate crisis, according to the governor of the Bank of England, Mark Carney.
Challenged in an interview by the Channel 4 News presenter Jon Snow over whether capitalism itself was fuelling the climate emergency, Carney gave a strident defence of the economic system predicated on private ownership and growth but said companies that ignored climate change would "go bankrupt without question".
"Capitalism is part of the solution and part of what we need to do," he said in the interview broadcast on Wednesday.
The economist, who previously worked for Goldman Sachs, said he recognised the costs of ignoring climate change were rising, but stressed there were increasing opportunities for "doing something about it", and that capital would shift in this direction.
"Now there is $120tn of capital behind that framework that is saying to companies: 'Tell us how you are going to manage these risks' – that's the first thing," Carney said.
"The second thing the capitalist system needs to do is to manage the risks around climate change, be ready for the different speeds of the adjustment. And then the most important thing is to move capital from where it is today to where it needs to be tomorrow. The system is very much part of the solution."
He added: "Companies that don't adapt – including companies in the financial system – will go bankrupt without question. [But] there will be great fortunes made along this path aligned with what society wants."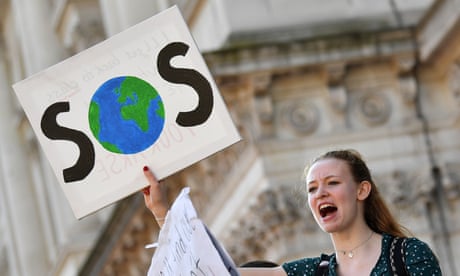 Carney, who is set to step down as governor in January after six years in the post, was interviewed at Coutts Bank in central London on Tuesday evening, where Sir David Attenborough told bankers and financiers the planet was in mortal danger and they "simply must act".
Many experts argue that ending the crisis would necessitate the end of capitalism and the introduction of a new economic model, due to the constant pursuit of GDP growth in capitalist economies where investment in fossil fuels continues to overshadow those in renewables.
Others argue that capitalism harnesses innovation, which is key to the Earth's survival and future prosperity – citing rapid advancements in renewable and clean energies.
In response to Carney's interview, Extinction Rebellion said societies must adopt more sustainable economic systems.
"We are destroying our planet, and business as usual is not going to save us. We must question any system that has led us to this path of mass extinction, and look to more sustainable economic models that are not based on resource depletion and increasing emissions," a spokesperson told the Guardian.
"This is no longer about left versus right, we need to come together to face this. Political persuasion is going to be a distant memory when we are faced with failing crops and empty supermarket shelves."
The UK has committed to eliminating carbon emissions by 2050 through legislation passed last month. However, analysis published this week by the Labour party showed this target would not be met if the UK fully exploited the shale gas reserves in the country through fracking.
COVID: The squeeze play on the population
It's a con as old as the hills. The ancient chieftain of a little territory looks out across his domain and says to his top aide, "You know, we have these clusters of people worshiping different gods. That's not good for business. Our business is CONTROL, so we need UNITY. Make up the name of some god, and go out there and sell it. Take down those little shrines and tell all the people they have to believe in the new deity. Use force and censorship when necessary. Later on, I may decide I'M really the name you chose for the new god. We'll see. If you have any trouble right away, call me on my cell. I'll be out sunning by the pool."
Unity of thought. That's what controllers are after.
In the case of this fake epidemic, the population must view WHAT IT IS in the way public officials and the press are describing it. Dissenting analysis must be pushed into the background.
Here is a 4/9 Bloomberg News headline: "5G Conspiracy Theory Fueled by Coordinated Effort." [1] A sub-headline states, "Researchers identify disinformation campaign but not source." The article begins: "A conspiracy theory linking 5G technology to the outbreak of the coronavirus is quickly gaining momentum…"
Obviously, such wayward thinking has to be stopped. And down further in the Bloomberg article, we have chilling news: "Some social media companies have taken action to limit the spread of coronavirus conspiracy theories on their platforms. On Tuesday, Google's YouTube said that it would ban all videos linking 5G technology to coronavirus, saying that 'any content that disputes the existence or transmission of Covid-19' would now be in violation of YouTube policies."
"In the U.K., a parliamentary committee on Monday called on the British government to do more to 'stamp out' coronavirus conspiracy theories, and said it was planning to hold a hearing later this year at which representatives from U.S. technology giants will be asked about how they have handled the spread of disinformation on their platforms."
Independent analysis of the "epidemic" hangs in the balance. The masters of control want to maintain an information monopoly.
It goes without saying that, in order to achieve this monopoly, detailed surveillance of Internet content is necessary.
Another type of surveillance is also part of the squeeze play. Apple.com has the story (press release, 4/10) [2]:
"Across the world, governments and health authorities are working together to find solutions to the COVID-19 pandemic, to protect people… Since COVID-19 can be transmitted through close proximity to affected individuals, public health officials have identified contact tracing as a valuable tool to help contain its spread. A number of leading public health authorities, universities, and NGOs around the world have been doing important work to develop opt-in contact tracing technology."
"To further this cause, Apple and Google will be launching a comprehensive solution that includes application programming interfaces (APIs) and operating system-level technology to assist in enabling contact tracing. Given the urgent need, the plan is to implement this solution in two steps while maintaining strong protections around user privacy."
Passport to the Brave New World: the vaccine
I have already written about the currency reset and other features of a technocratic future waiting in the wings. —New levels of visible surveillance, social credit scores, universal guaranteed income, Internet of Things, energy-use quotas, smart cities.
—Events can move in several directions, going forward. In this article, I explore one of those directions.
The occasion is this fake pandemic; the big hammer is the vaccine against the phony COVID.
As Fauci mentioned a couple of months ago, it could be a DNA vaccine—new technology—which means it is really gene therapy. Synthesized genes are injected into the body. They purportedly set up immunity. Actually, they PERMANENTLY alter the genetic makeup of the recipient.
As you can imagine, this creates the opportunity to put many different genes into humans. To try to invent "new humans."
The so-called immunity certificates Fauci is now talking about? They would be issued to people who test positive on the new antibody tests for COVID-19—which is an interesting turnaround, because, since 1984, positive tests results have generally been taken to mean "infected." Why the shift?
Because there is a need for these immunity certificates—as an INTRO to condition the population to an IDEA.
If and when the COVID vaccine arrives, the certificates would be used to signify immunity for all those who take the shot.
It would function as a license. Your passport into the Brave New World. You're "immune," so you're allowed to move out of fear mode. And circulate and travel and enter schools…
For DNA vaccines, the reference is the New York Times, 3/15/15, "Protection Without a Vaccine." It describes the frontier of research. Here are key quotes that illustrate the use of synthetic genes to "protect against disease," while changing the genetic makeup of humans. This is not science fiction:
"By delivering synthetic genes into the muscles of the [experimental] monkeys, the scientists are essentially re-engineering the animals to resist disease."
"'The sky's the limit,' said Michael Farzan, an immunologist at Scripps and lead author of the new study."
"The first human trial based on this strategy — called immunoprophylaxis by gene transfer, or I.G.T. — is underway, and several new ones are planned." [That was five years ago.]
"I.G.T. is altogether different from traditional vaccination. It is instead a form of gene therapy. Scientists isolate the genes that produce powerful antibodies against certain diseases and then synthesize artificial versions. The genes are placed into viruses and injected into human tissue, usually muscle."
Here is the punchline: "The viruses invade human cells with their DNA payloads, and the synthetic gene is incorporated into the recipient's own DNA. If all goes well, the new genes instruct the cells to begin manufacturing powerful antibodies."
Here is the punchline: "The viruses invade human cells with their DNA payloads, and the synthetic gene is incorporated into the recipient's own DNA. If all goes well, the new genes instruct the cells to begin manufacturing powerful antibodies."
A Vital Paper: David Crowe challenges the discovery of the COVID-19 virus Apr 24
Canadian author and independent researcher, David Crowe, has spent several decades analyzing and torpedoing SPECIFICS of conventional medical research. At the deepest level.
I'm talking about, for example, the mainstream claims of discovering new viruses.
Crowe doesn't lay on vague brushstrokes. He goes to the core of fabrications and exposes them, chapter and verse.
His new paper, which he continues to update and expand, is: "Flaws in Coronavirus Pandemic Theory".
Here I quote from the section of his paper where he takes up the question of discovery—have researchers actually found a new virus which they assert is the cause of a new pandemic, COVID-19?
At the end of this article, I list the published papers Crowe refers to by number, as he takes apart the very basis of the COVID illusion.
David Crowe: "Scientists are detecting novel RNA in multiple patients with pneumonia-like conditions, and are assuming that the detection of RNA (which is believed to be wrapped in proteins to form an RNA virus, as coronaviruses are believed to be) is equivalent to isolation of the virus. It is not, and one of the groups of scientists was honest enough to admit this":
"'we did not perform tests for detecting infectious virus in blood'" [2]
"But, despite this admission, earlier in the paper they repeatedly referred to the 41 cases (out of 59 similar cases) that tested positive for this RNA as, '41 patients…confirmed to be infected with 2019-nCoV'."
"Another paper quietly admitted that":
"'our study does not fulfill Koch's postulates'" [1]
"Koch's postulates, first stated by the great German bacteriologist Robert Koch in the late 1800s, can simply be stated as":
"* Purify the pathogen (e.g. virus) from many cases with a particular illness.
* Expose susceptible animals (obviously not humans) to the pathogen.
* Verify that the same illness is produced.
* Some add that you should also re-purify the pathogen, just to be sure that it really is creating the illness."
"Famous virologist Thomas Rivers stated in a 1936 speech, 'It is obvious that Koch's postulates have not been satisfied in viral diseases'. That was a long time ago, but the same problem still continues. None of the papers referenced in this article have even attempted to purify the virus. And the word 'isolation' has been so debased by virologists it means nothing (e.g. adding impure materials to a cell culture and seeing cell death is 'isolation')."
"Reference [1] did publish electron [microscope] micrographs, but it can clearly be seen in the lesser magnified photo, that the particles believed to be coronavirus are not purified as the quantity of material that is cellular is much greater. The paper notes that the photos are from 'human airway epithelial cells'. Also consider that the photo included in the article will certainly be the 'best' photo, i.e. the one with the greatest number of particles. Lab technicians may be encouraged to spend hours to look around to find the most photogenic image, the one that most looks like pure virus."