Capitalism is part of solution to climate crisis, says Mark Carney
Capitalism is "very much part of the solution" to tackling the climate crisis, according to the governor of the Bank of England, Mark Carney.
Challenged in an interview by the Channel 4 News presenter Jon Snow over whether capitalism itself was fuelling the climate emergency, Carney gave a strident defence of the economic system predicated on private ownership and growth but said companies that ignored climate change would "go bankrupt without question".
"Capitalism is part of the solution and part of what we need to do," he said in the interview broadcast on Wednesday.
The economist, who previously worked for Goldman Sachs, said he recognised the costs of ignoring climate change were rising, but stressed there were increasing opportunities for "doing something about it", and that capital would shift in this direction.
"Now there is $120tn of capital behind that framework that is saying to companies: 'Tell us how you are going to manage these risks' – that's the first thing," Carney said.
"The second thing the capitalist system needs to do is to manage the risks around climate change, be ready for the different speeds of the adjustment. And then the most important thing is to move capital from where it is today to where it needs to be tomorrow. The system is very much part of the solution."
He added: "Companies that don't adapt – including companies in the financial system – will go bankrupt without question. [But] there will be great fortunes made along this path aligned with what society wants."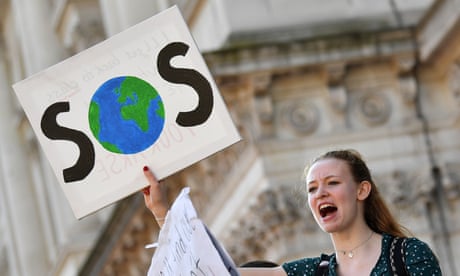 Carney, who is set to step down as governor in January after six years in the post, was interviewed at Coutts Bank in central London on Tuesday evening, where Sir David Attenborough told bankers and financiers the planet was in mortal danger and they "simply must act".
Many experts argue that ending the crisis would necessitate the end of capitalism and the introduction of a new economic model, due to the constant pursuit of GDP growth in capitalist economies where investment in fossil fuels continues to overshadow those in renewables.
Others argue that capitalism harnesses innovation, which is key to the Earth's survival and future prosperity – citing rapid advancements in renewable and clean energies.
In response to Carney's interview, Extinction Rebellion said societies must adopt more sustainable economic systems.
"We are destroying our planet, and business as usual is not going to save us. We must question any system that has led us to this path of mass extinction, and look to more sustainable economic models that are not based on resource depletion and increasing emissions," a spokesperson told the Guardian.
"This is no longer about left versus right, we need to come together to face this. Political persuasion is going to be a distant memory when we are faced with failing crops and empty supermarket shelves."
The UK has committed to eliminating carbon emissions by 2050 through legislation passed last month. However, analysis published this week by the Labour party showed this target would not be met if the UK fully exploited the shale gas reserves in the country through fracking.
Capitalism's connection to our ever-worsening mental health
In 2011, British writer and cultural theorist Mark Fisher penned an essay entitled The Privatisation of Stress, perfectly capturing the relationship between depression, social conditions under capitalism and increasing alienation in the post-Reagan/Thatcherite years.
"It is hardly surprising that people who live in such conditions—where their hours and pay can always be increased or decreased, and their terms of employment are extremely tenuous—should experience anxiety, depression," Fisher wrote. "But . . . this privatization of stress has become just one more taken-for-granted dimension of a seemingly depoliticized world."
I think of Fisher and his writings often. I regularly reread his most famous work, Capitalist Realism, and have always admired his ability to not only write through depression and anxiety but to connect social conditions with our ever-worsening mental health. Despite headlines constantly blaring that our standard of living is ever increasing and our collective wealth is more abundant than ever, social stressors gnaw away at the foundations of our collective psyche.
The death of culture and art, for example, evident in the endless production of music algorithmically designed to evoke feeling but never provoke emotion. Literature circumscribed to appeal to the endless adolescence of an arrested readership. Tent-pole superhero films that have long since ossified and crumbled within the vaults of Disney and Warner Bros. The death of fulfilling labour, where the gig economy has driven the concept of "work" into utter absurdity (no pensions, no benefits, often no pay!), and the death of social institutions, including the church (which forever haunts us with its most destructive remnants, such as dogmatism and puritanism, even in the most liberal social scenes).
And, of course, a political culture that abides no realities, possibilities, no faint hopes outside of the neo-liberal consensus. Nowhere is the death of better things more evident than with the newly minted Joe Biden administration.
From a much-feted Inauguration Day poem by 22-year-old youth poet laureate Amanda Gorman calling for national healing (yet drawing water from the shallow and toxic pool of American exceptionalism that remains permanently tainted by its history of chauvinism, hypocrisy and genocide), to the collective meltdown over Bernie Sanders' frumpy winter attire (viewed by many apoplectic liberals as an offensive gesture to the pageantry of the inauguration; these people can't even be happy when they get what they want), to a trillion-dollar stimulus package that will once again deliver the goods to large corporations while handing out sparse change to working Americans (and yet again denying them universal health care, even during a deadly pandemic), the state of American politics is yet another handshake in the devil's bargain that is capitalism.
Despite the COVID epidemic and endless political urgings for all of us to pull together, Black people continue to die at the hands of police. Children remain separated from their parents and sleep on cold floors behind ICE fencing. Wall Street hedge funds clamour for bailouts because investor pushback on their long-time market manipulations managed to blow up their plans. Suicide hotlines are overworked; polling of Canadians and Americans show we are contemplating suicidal ideation at heretofore unseen levels.
Two million dead: The tragedy of capitalism
Over 2 million have been killed as a result of COVID-19, perhaps the greatest tragedy of the 21st century. Protecting the sanctity of human life should be every country's number one priority in a global pandemic, so what has gone so wrong?
COVID-19 cases continue to soar across the world, with the free-market oriented liberal democracies of the world leading in death tolls and death rates. The UK and United States of America have made it clear that there will not be any mass efforts made to eradicate the virus entirely.
From the start, scientists have stated that the only way to save lives is to freeze human movement in order to starve the virus of its hosts and eventually eradicate it from the population. Countries such as China, Vietnam, Cuba and New Zealand have successfully curbed the spread of the virus, keeping both new cases and related deaths at an all-time low. This was done through rigorous testing and state-wide restriction measures.
According to data confirmed by John Hopkins University, the official COVID-19 death toll in the U.S. hit a grim milestone of 500,000 on February 23. The U.S. and European countries are among the top 10 spots for highest death rates (per million). This is almost a year since the virus first arrived on either continent's shores. In comparison, China's current COVID-19 death toll remains under 5,000 and its neighbor Vietnam's is under 50.
In a press conference led by Prime Minister Boris Johnson and Chief Medical Officer Chris Whitty, plans were discussed for lockdown restrictions to ease over the next few months, with nightclubs anticipated to re-open on June 21. It was stated that the UK public should "expect the disease to become a manageable problem comparable to winter flu." The government will reportedly work toward deciding an "acceptable" number of deaths to justify the complete re-opening of the economy.
In no civilized, morally upstanding society should the mandate of "acceptable" deaths be uttered by the state when these deaths are entirely preventable. The UK government has made an active choice to allow its most vulnerable populations to die.
In the words of Karl Marx, "From each according to his ability, to each according to his needs;" every member of society is as valuable as the next and should have access to an equal quality of life, whether disabled or not. In a truly democratic, people-centered society, the state should mobilize all of its resources and productive forces to ensure that these vulnerable populations receive the highest priority of care and attention. However, latest figures show that the UK has failed to do so.
Sixty percent of people in the UK who have died from COVID-19 were disabled, and people with learning or developmental disabilities are 3.7 times more likely to die from COVID-19. 
Peace And The Council For Inclusive Capitalism
The recently formed Council for Inclusive Capitalism with the Vatican seeks to foster a more equitable financial system. The Council was announced in December of 2020 and comprises a group of CEOs and global leaders in collaboration with Pope Francis.
The group hopes to realise a model of capitalism which enhances equality of opportunity, intergenerational equity, fairness and equity of outcomes. It aims to transform the private sector by garnering actionable commitments from organisations related to the International Business Council's four sustainability pillars: People, Planet, Prosperity and Principles of Governance. The commitments will also advance the Sustainable Development Goals (SDG), contributing to enhance well-being, reduce poverty, improve gender equality and regulate and reduce climate change, among other goals.
The Council comprise part of a broader social movement toward stakeholder capitalism which emerged after the 2008 financial crisis. Stakeholder capitalism holds that businesses have an ethical and social responsibility to consider the interests of their stakeholders as well as their shareholders. Stakeholders include anyone affected by a business' actions: employees, investors, environmental organisations, future generations and members of the public affected by externalities. It stands in contrast to shareholder capitalism, which claims that the sole responsibility of businesses is to maximise shareholder value (MSV).
The Council's founder Lynn Forester de Rothschild cites the financial crisis and the subsequent occupy wall street movement as highlighting the inequities of the financial system. She told Reuters magazine: "Basically, I was a money-is-good, neo-liberal person who believed in the sanctity and sanity of free markets. A rising tide lifts all boats, and all that." UN special envoy Mark Carney argues that the crisis exposed the moral injustices of a financial system operating largely on the basis of MSV. After the crisis, it became obvious that there were banks that were "too big to fail" and financial bubbles that reflected gross economic inequities. Inclusive capitalism attempts to reform the system to cater to a more just distribution of goods and resources.
The success of the Council for Inclusive Capitalism's efforts will depend to a large extent on the protocols they put into place to monitor the goals and progress of the organisations they work with and prevent greenwashing. Further, although it boasts over $10.5 trillion in assets under management, its influence may be too small to make any tangible difference. Stakeholder capitalism also faces considerable adversaries who argue that maximising values besides shareholder value will have a detrimental effect on the market. The latter debate is both technical and ideological.
Setting aside these issues, however, the social movement toward Inclusive Capitalism may have interesting implications for violent conflict. According to the Development for Peace, while economic inequality alone does not predict the rate of violent conflict in a given nation, it is an explanatory factor in conflicts between groups divided by ethnic, religious or cultural identities. Economic inequality exacerbates conflict where intergroup tensions already exist, especially when these inequalities exist along ethnic or sectarian divides. Economically dominant minorities are often targets for discrimination and persecution. In its ideal form, Inclusive Capitalism is purported to enable "all people to pursue prosperity and quality of life, irrespective of criteria such as socio-economic background, gender, ethnicity, religion or age." A widespread shift toward corporations engaging in more stringent Environmental, Social and Corporate Governance (ESG), encouraged by groups such as the Council for Inclusive Capitalism, could thus have secondary social benefits in alignment with the goals of the Organisation for World Peace.