The Anxious Triumph by Donald Sassoon – why capitalism leads to crisis
On 20 January 1981, in his inaugural address as 40th president of the United States, Ronald Reagan declared: "Government is not the solution to our problem, government is the problem." It was the soundbite that defined the end of the 20th century. "Rolling back the state" became the mission of the "market revolution" spearheaded by Reagan and Margaret Thatcher.
In fact, as Donald Sassoon argues in The Anxious Triumph, the idea that the state and the capitalist economy can thrive apart is nonsense. The modern state and economy are twins born together in the 17th century. Through the age of absolutism and the great 18th-century revolutions, their relationship matured into one of ever-greater interdependence. This was most evident in the newcomer nations of the 19th century, like Meiji Japan or Bismarckian Germany. But it was every bit as true of a "liberal" power like Victorian Britain.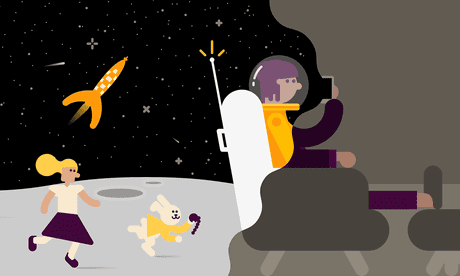 How precisely economic and political interests are articulated varies across the world and depends very much on a nation's place in the international order. Part of the reason classical liberalism could acquire such a hold on Victorian Britain was that the UK moved first. Having constructed a powerful combination of a centralised fiscal state and a global empire, the UK didn't flesh out its nation state apparatus or articulate a strong vision of a national economy until the 20th century. But then, as the historian David Edgerton has recently shown, it did so with a vengeance.
When you say that you want to roll back the state, what you really mean is that you want to reconfigure the relationship. Libertarians, down to today's advocates of cryptocurrency, may dream. But the divorce they fantasise about is not a utopia but a nightmare. Insofar as it has ever existed, anarcho-capitalism is a product of disastrous state failure. Its life is nasty, brutish and short.
Government is not the solution to our problem, government is the problem Ronald Reagan
If the problem of the relationship of government and the economy is nevertheless posed over and over again, it is because on both sides it is fraught with tension. In order to function, as Sassoon stresses, states need politics, and that involves squabbling elites and more or less mobilised masses. Mass politics and modern ideologies, above all nationalism, have explosive potential. Indeed, if taken seriously, the very notion of politics as a process of collective choice and self-empowerment is antithetical to an economic system based on binding contracts between entrenched private interests that have no regard for the political collectivity.
A long line of liberals down to the neoliberals of our own age draw the conclusion that the solution is to tame politics: through law, international treaties, independent central banks and so on. That, not surprisingly, draws political opposition, both from the left and the right. But even more destabilising is the fact that liberals are on the whole hopelessly unrealistic about what actually makes the economy tick.
The arcadia of self-equilibrating markets, falsely attributed to Adam Smith, was one such fantasy. As Sassoon shows, even in the 19th century, not many people really believed in it. The 20th-century version was the macroeconomic idea of the national economy that could be governed like a machine. That, as we now realise, was in large part an artefact of national economic statistics. Numbers like GDP gave us a false sense of common interest in enlarging the collective pie.
Neither the utopian notion of the "invisible hand" nor the Lego-brick conception of the national economy captures the dynamic, disruptive, creative destruction that is the reality of actually existing capitalism. It is a protean force perpetually generating inequality, crises and the all-pervasive anxiety that gives Sassoon's book its title.
There have been periods in which the tensions in this fraught relationship have been highly contained. The mid-20th century, the moment of the Beveridgean welfare state, was one when the state and economy were held in a fine balance. The periods before 1945 and from the 1970s onwards have been more unstable.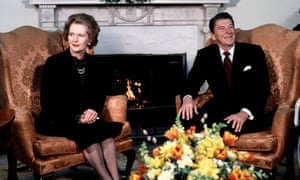 Facebook Twitter Pinterest Margaret Thatcher with Reagan in 1981. Photograph: Bettmann/Bettmann Archive
Sassoon's book speaks to the present by conjuring up the era between the 1850s and 1914, in which the tensions between global capitalism and modern politics came clearly to the fore. This was the first age of modern politics, if not of democracy – the age of Gladstone, Disraeli, Lincoln and Bismarck. It was the age of imperialism and early experiments in social insurance. It was the age of railways, steamships and the boom and bust of the global cotton industry.
Sassoon offers us a sprawling map, studded with fascinating details. Curious about the urban poor in 19th-century Naples? Want to know why liberalism was stunted in late-19th-century Romania? Sassoon is your man. Ever heard of the city of Elkader, Iowa, founded in 1846? No, neither had I. It was named, it turns out, in honour of the Emir Abd el-Kader, leader of the resistance against the French occupation of Algeria.
As one is thrown from cameo to improbable cameo, reading Sassoon becomes a hallucinatory experience. Insights are proffered and then repeated, sometimes several times. Familiar facts mingle with jaw-dropping novelties. The chronology drifts, at times roaring into the present before retracting not just to the 19th century, but deep into the 18th.
Is there some artful design at work behind the apparent confusion? Is the book's swirling disorder meant to mirror its subject? If, as Sassoon remarks, capitalism moves "without a goal or a project", would it be misleading for a historian to impose too much order or narrative coherence? If so, it is a pitfall Sassoon triumphantly avoids. But in a book of 758 pages, the effect is mind-boggling, and not in a good way.
Those craving order may do better to approach Sassoon's book chapter by chapter. Skip over the preface in which he impatiently refuses to define capitalism and the first chapters in which he meanders through the history of 19th-century state formation. Home in, instead, on his detailed discussion of the role of the Japanese elite in industrialisation, or savour his classically Gramscian reading of the failure of the Italian bourgeoisie. Even better is Sassoon's discussion of the global spread of democratic political practice before 1914. Skip the chapter that narrates the history of colonialism as a rather moth-eaten house of horrors. Others do anti-imperialism more convincingly. Instead, enjoy Sassoon's opinionated treatment of French and British parliamentary debates about the rationale of empire.
Or, you could start near the end, where one of Sassoon's best chapters describes how the great recession of 1873 sparked an awareness of globalisation and triggered a wave of protectionism. He surveys the French debate with real flair but is far too dismissive of protectionism in Britain. It was never "fashionable" he blithely tells us, waving Joe Chamberlain aside.
But read on from there and you are in for a final surprise. Suddenly and without warning, just short of 1914 Sassoon calls a halt. From the trade wars of the early 20th century he jumps into the future. Vaulting over the first and second world wars, he takes us on a sweeping overview of pro- and anti-capitalist politics, complete with nods to Venezuela's die-hard Chavistas, and Hyman Minsky, the prophet of the 2008 crisis. It is quirkily brilliant. But it is also a diversion. A history of gilded-age capitalism that rightly insists on the inextricable entanglement of the economy and state power, but which does not address the first world war, lapses into nostalgia. It is a puzzling end to a puzzling book.
Saoirse McHugh: We need to talk about capitalism
N HER FORTNIGHTLY column for TheJournal.ie, Saoirse McHugh of the Green Party writes about what we can do as individuals in the face of climate chaos.
A most ludicrous situation is taking place in which we are disrupting weather systems we have relied on for centuries, poisoning drinking water, destroying habitats that provide food and fuel and pushing ourselves outside of the relatively stable climate we have enjoyed for the past few thousand years.
Despite all of this, most of our media and the great majority of our politicians refuse to talk about the reason why I believe this is happening. What is driving us to continue down such a grim and unpredictable path? The answer is capitalism.
Extracting profit from resources (often privately owned) and labour only to reinvest in further extraction has wreaked havoc on our world. The accumulation of profit as a shaping force in society leaves so much unaccounted for and undervalued.
In general, there is no cost given to implications such as resource use, pollution, and (much and all as I don't like the term) ecosystem services such as air and water cleaning, pollination and nitrogen cycling.
When these are factored into cost it can have an alleviating impact, but of course the natural world does not trade in dollars and no amount of money can ever compensate for species extinction, coral reefs dying or the damage caused by oil spills like the BP Deepwater Horizon oil spill in 2010.
The need for growth and the relentless expansion into and enclosing of new commons, such as carbon use and genetic information, means that capitalism is entirely incompatible with a finite planet and a just world.
Despite all this it is rare to hear our economic system discussed openly in Ireland outside of a few groups or lone politicians. It has developed the impression of being outside of our control, almost like some God imposed this system upon us.
When the conversation comes up politically, our elected representatives shy away from it and speak in vague terms about prosperity and growth. They do not delve into the idea that not only do we have the power to begin changing our economic system, but we have a moral and environmental imperative to do so.
'But look at North Korea and Cuba'
I am not fully sure why there is such hesitancy to speak about capitalism. Is it because decades of American television have well and truly damaged the ability to talk about it without somebody bringing up the Soviet Union and communism?
I myself have had so many conversations where capitalism comes up and is met with: "But look at North Korea and Cuba, look at how many people died in Soviet Russia." No doubt atrocities occurred in countries which were under a different economic system.
However, that argument ignores and minimises the atrocities that have been carried out in capitalist countries. The suffering and destruction capitalism has caused and is continuing to cause in the world is immeasurable.
It is a system with its origins in colonialism and to this very day there is a massive extraction of wealth from previously colonised countries. The social, physical, and economic violence used to keep these relationships in place is beyond comprehension and much of it has become accepted as normal.
It is ridiculous to talk about environmentalism without talking about capitalism, yet many people do so. Not only is it a part of our lives but it is the system within which we all operate.
It is all that most of us have ever known and for that reason people tend to avoid the conversation, perhaps for fear of looking radical or outside of the world of common sense.
The promises of green growth or sustainable capitalism are tempting, yet I fear that every year spent chasing these will-o-the-wisps is a year lost while continuing to worsen our predicament.
There will be no climate justice until we move to a different economic system. We need to halt the extraction of wealth from previously colonized countries and, more than that, repay and compensate these countries as fully as possible.
Obviously, it is not just capitalism that damages the environment. There are discussions of petroleum-based socialism and of communism focused on growth, which are extremely damaging too but we have arrived at a time where capitalism is the dominant economic model.
There is no point in skirting around the issue, we need to transform our economies and recognise that any politician who is not engaging in the conversation about our economic model and ways to change it is wasting everyone's time. 

Letter: Socialism may not be the cure but capitalism is the illness
Socialism may not be the cure but capitalism is the illness. All Hanson offers is more of the same prescriptions that brought us to climate change, inequality, huge government, corporate and private debts, erosion of our infrastructure, a health care crisis, international turmoil, etc.
How about some ownership and something new? If we redefine the goal as sustainability instead of growth, universal equity in services and opportunity, building community instead of dominance, and building a world for the seventh generation in the future, then we must acknowledge that capitalism as we have known it is broken.
Rather than try to pigeonhole the opposition with a derogatory label, let's find a way to utilize human character to fulfill the promise of a better world for all living creatures both now and in the future.
Let's restore our values, do away with capitalism
One of the worst things that colonialism, apartheid and capitalism did to our people was to destroy the black family structures, the writer says.
In this past decade, we witnessed a degeneration of politics across the spectrum, with social media, notwithstanding its use, becoming the worst platform for corrosive politics.
We also witnessed moral degeneration and character assassination as influenced by capitalism.
The moral degeneration in SA is very high and that directly reflects the politics of our country.
This open letter is an invitation for us, more especially ANC and Alliance partners, to think critically about who we are as a society and perhaps champion ways in which we can restore some of the values that we have lost.
No more buyers for the escapism Top Billing is selling
Of all the feasts and feats of Top Billing in the past 23 years, there are perhaps not enough Gucci slides that can quite help it dodge its flip and …Opinion1 month ago
One of the worst things that colonialism, apartheid and capitalism did to our people was to destroy the black family structures. And one of our loopholes as the ANC from 1994 onwards was not to restore our values of ubuntu and revive the black family unit.
Twenty-five years into democracy, it is in our hands as ANC to dissociate ourselves with capitalism because capitalism is an evil that causes the corruption we are seeing now.
It is capitalist ideas that are behind killings of our comrades.
Capitalism is an inherently evil system that thrives on hate, jealousy and inhumanity.
Viwe Sidali, Duncan Village, East London